Business Administration
As the most popular degree program at the College, business administration offers you a solid background in the major functional areas of business — accounting, management, marketing, finance, business information systems and economics.
As a business administration major, you'll be fortunate to have many opportunities to gain realistic business experiences through programs, such as brand management and promotion management simulations, the Fed Challenge, an academic competition sponsored by the Federal Reserve Bank of Richmond, the Innovation Challenge, for which students develop a comprehensive business plan for a new product innovation, and the Student Managed Fund, which puts students in charge of investing and managing $1 million in the real stock market.
We offer both a bachelor's degree and a 4+1 MBA.
Learn in the real world
Watch Video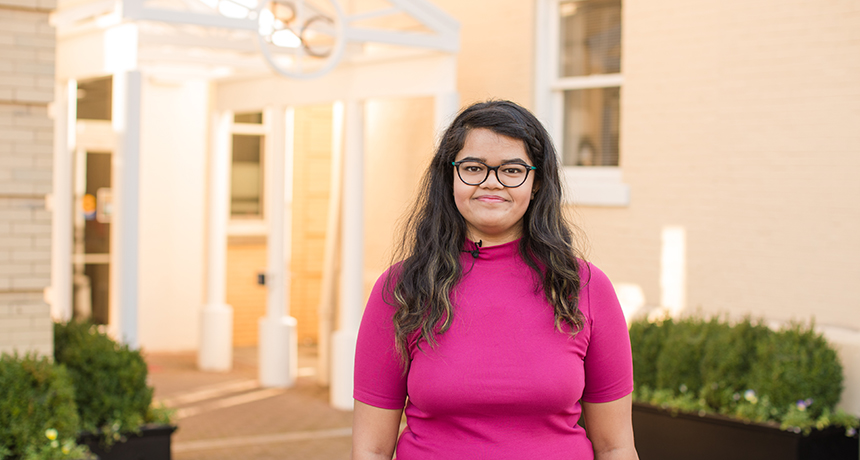 Two students talk about the business major and the opportunites they had outside the classroom.
For more than a decade, The Princeton Review has named Roanoke College to its list of the top 36 great schools for business/finance majors.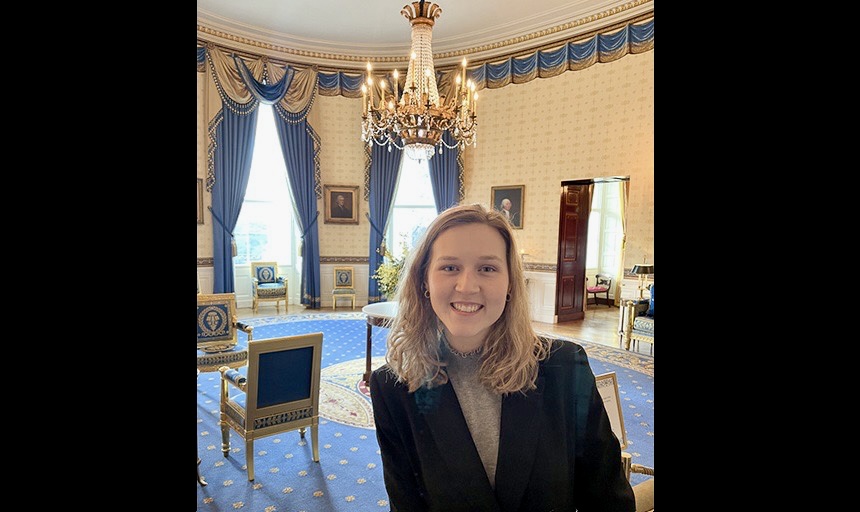 The business administration major was recognized for her insightful analysis and ability to draw connections between complex, multifaceted themes.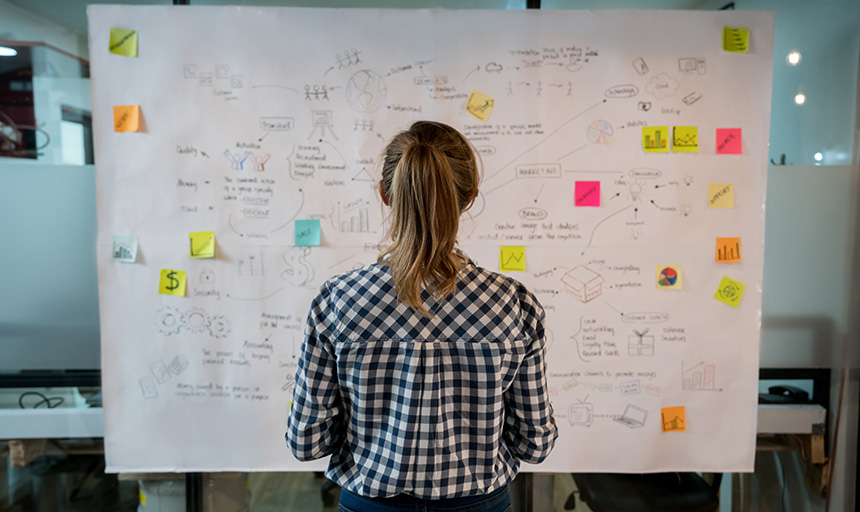 The annual "Shark Tank"-style competition invites students of all majors to take their business ideas to a panel of local experts.
Students Manage $1 Million Investment Fund
Network like a professional
Roanoke offers networking opportunities that not many schools our size do. You'll work with professionals in the local business community. You'll have options for internships or other real-world learning experiences where you can make connections. Faculty will introduce you to people in their extensive networks.
Perhaps most importantly, our alumni are always looking out for other Maroons, as Gabe Umland '19, a business administration major, quickly found out.
"You'll find in your career search that if you type a message to a random Roanoke alum, 'Hey, can we connect for a minute? I'd love to chat for 10 minutes on the phone and see how you got where you are,' every single time they'll respond because that Roanoke connection's so strong, and I think that's really impactful in whatever career search may be," Umland said.
With enthusiastic alumni, strong ties to local business leaders, connections to impressive internships and faculty who can point you in the right direction, networking is a huge part of the business administration experience at Roanoke College.
Our grads work at great organizations, and some start their own.
Sample Course Offerings:
BUAD 248: Business Analytics
BUAD 322: Student-Managed Fund
BUAD 499: Business Policy

View all courses
Center for Leadership and Entrepreneurial Innovation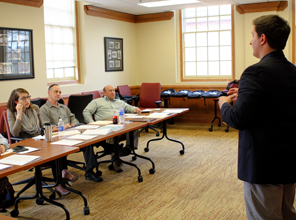 The "Pitch" Business Contest
This provides aspiring entrepreneurs the chance to develop a business plan and present it to a team of outside reviewers from the business community. The business concept deemed the best wins "seed capital" to help with start-up costs for the business.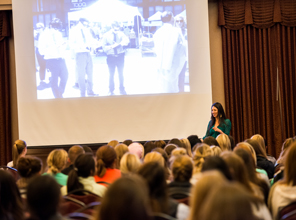 CLEI Monthly Speaker Series
Successful entrepreneurs are invited to campus to share their experiences with students, faculty, staff, alumni and the general public. This series focuses on current entrepreneurial topics, such as women and entrepreneurship, starting a business as a result of adversity and social entrepreneurship.
Pi Lambda Phi Series
The Pi Lambda Phi Fraternity invites successful individuals to share their experiences on campus with students, faculty, staff, alumni and the general public.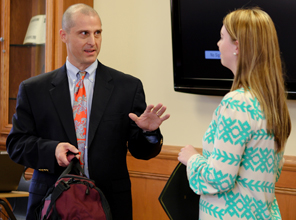 Entrepreneur in Residence
Each year a successful entrepreneur is awarded the title of Entrepreneur in Residence. This individual engages with Roanoke College students in a variety of ways from speaking to mentoring.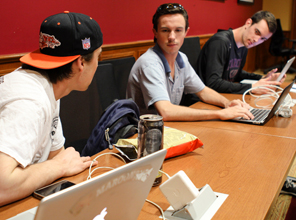 Collegiate Entrepreneurs Organization (CEO)
This student organization is focused on helping like-minded future entrepreneurs connect and share ideas.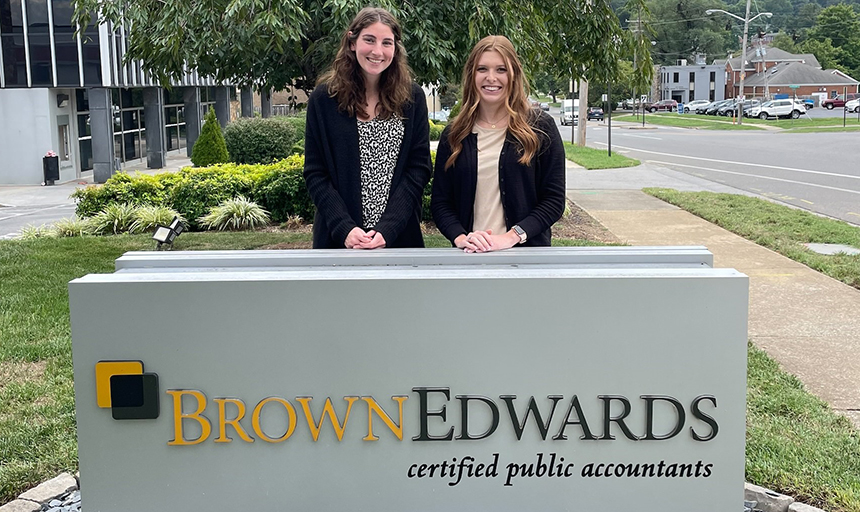 Internships lead to full-time jobs at top-100 firm
Connections and experience led Olivia MacCluen '21 and Olivia Simmons '21 to get jobs immediately post-graduation at Brown Edwards, a top-100 accounting firm located in Roanoke. "Nothing looks better on a resume than experience," Simmons said, and that's just what they got at Roanoke. Through various internships, on-campus jobs and connections through the business administration program, MacCluen (left in the photo above) and Simmons (right) were set up for success.
Both of them were business administration majors and both had internships at Brown Edwards, and agreed that the internships catapulted them into full-time positions.
"The internship at Brown Edwards definitely helped me land the full-time job," Simmons said. "I was able to make connections with supervisors and express my interest in working in public accounting."
MacCluen said the well-rounded education she got in the business administration program at Roanoke is helping her do the job well.
"I graduated feeling like I was proficient in all aspects of business, rather than just specializing in one sector," MacCluen said. "Additionally, I thought the Business Policy class was an amazing way to tie together everything I learned over my four years. It was so cool to be able to see that what I learned could really be applied to the real world."
Inside a real business
Watch Video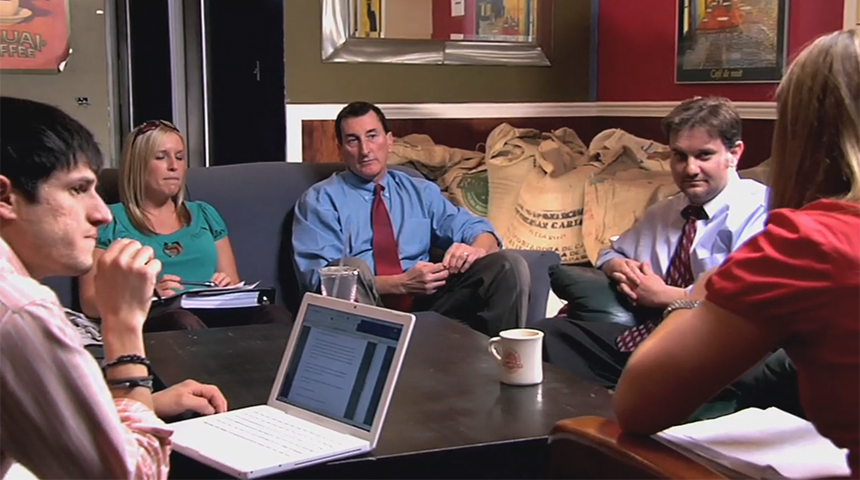 "I think I'm learning a lot more in this class because it's hands-on." Danny Lopez, Business Administration major
Our students intern at great companies
Certificate program gives students edge with Fortune 500 companies
Roanoke College offers a unique two-year certificate program that teaches students software skills attractive to top companies around the world.
It's called the Data and Econometric Analysis Joint Certificate Program with SAS, which stands for Statistical Analysis Software. The program teaches students to use SAS software, which is employed by major businesses and government institutions, including 93 of the top 100 listed on the 2014 Fortune Global 500, according to SAS. It provides the kind of real world learning that students need to compete for top jobs. SAS is a key word on resumes and is likely to draw immediate attention from employers. Jay Laramore '10, an analytical training consultant at SAS, helped Roanoke economics professor, Dr. Allie Kassens, implement the certificate program. "I think Roanoke could be a model on how to do it," said Laramore, explaining that SAS instruction typically is offered in graduate-level programs.