Business Administration
Available as a major and graduate program
As the most popular degree program at the College, business administration offers you a solid background in the major functional areas of business — accounting, management, marketing, finance, business information systems and economics.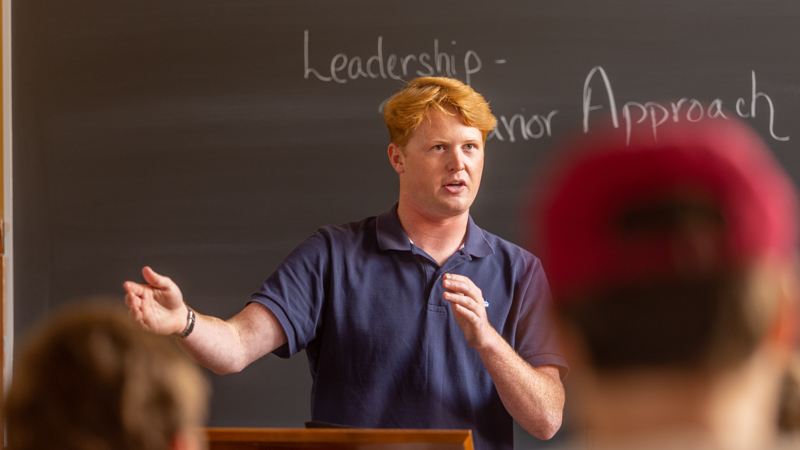 Curriculum & Courses
BUAD 248: Business Analytics
BUAD 322: Student-Managed Fund
BUAD 499: Business Policy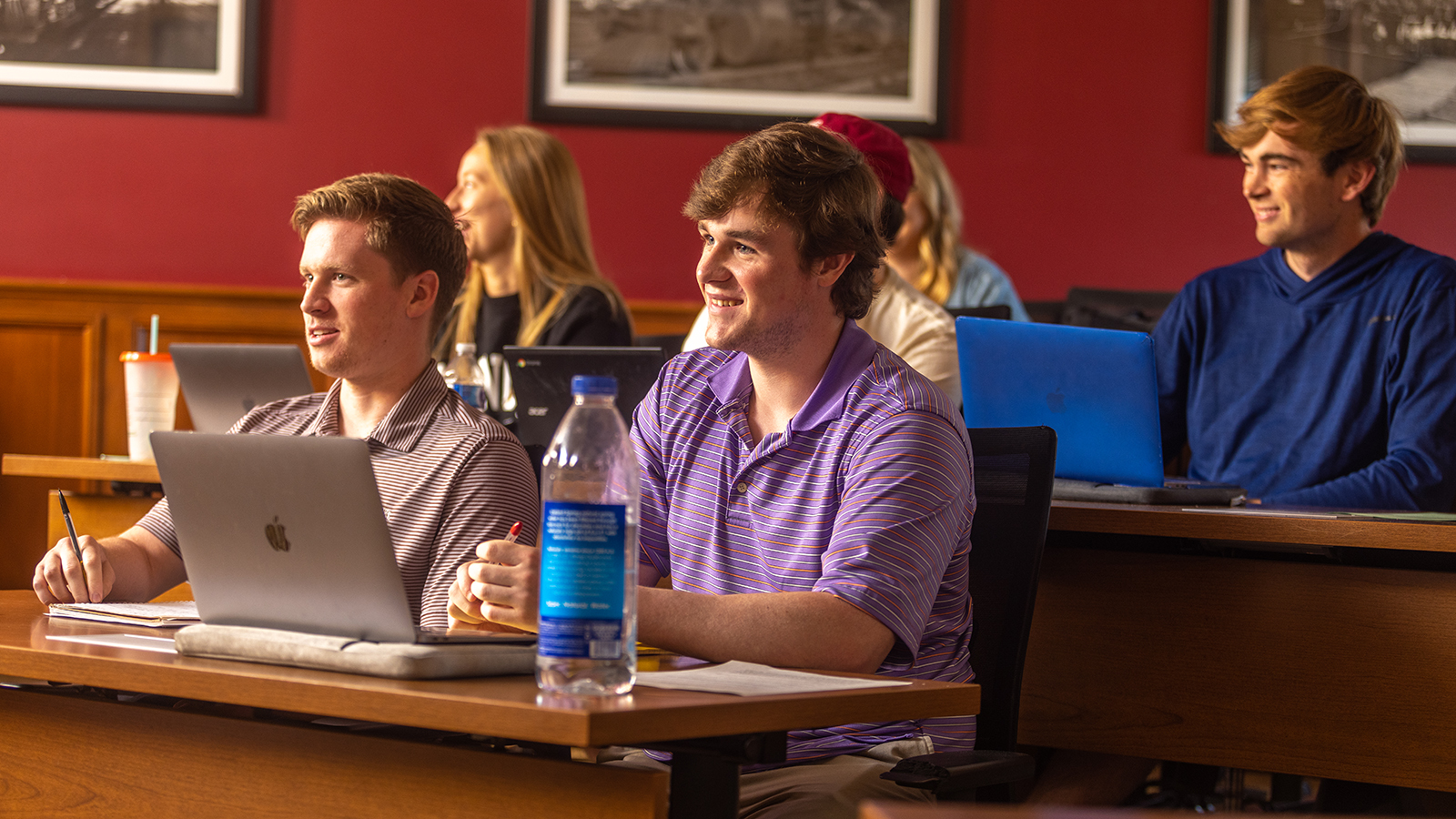 Student Experiences
Internships lead to full-time jobs at top-100 firm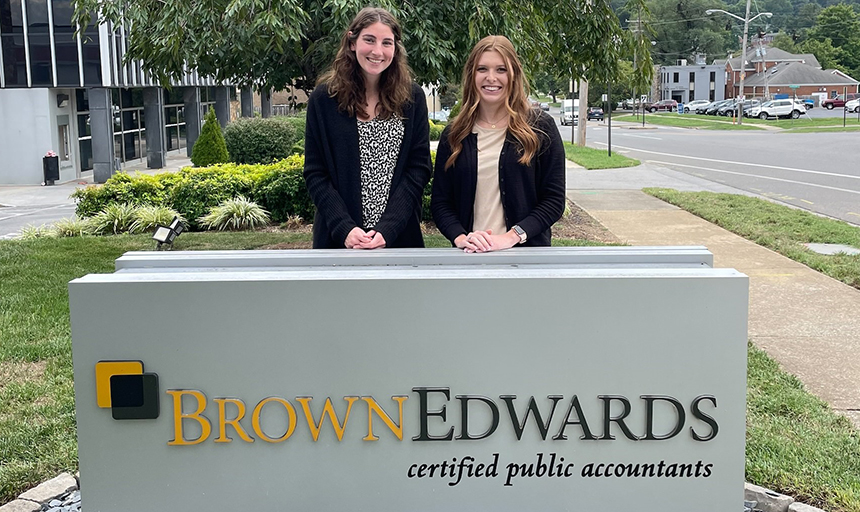 Connections and experience led Olivia MacCluen '21 and Olivia Simmons '21 to get jobs immediately post-graduation at Brown Edwards, a top-100 accounting firm located in Roanoke. "Nothing looks better on a resume than experience," Simmons said, and that's just what they got at Roanoke. Through various internships, on-campus jobs and connections through the business administration program, MacCluen (left in the photo above) and Simmons (right) were set up for success.
Both of them were business administration majors and both had internships at Brown Edwards, and agreed that the internships catapulted them into full-time positions.
"The internship at Brown Edwards definitely helped me land the full-time job," Simmons said. "I was able to make connections with supervisors and express my interest in working in public accounting."
MacCluen said the well-rounded education she got in the business administration program at Roanoke is helping her do the job well.
"I graduated feeling like I was proficient in all aspects of business, rather than just specializing in one sector," MacCluen said. "Additionally, I thought the Business Policy class was an amazing way to tie together everything I learned over my four years. It was so cool to be able to see that what I learned could really be applied to the real world."
Learn By Doing
A million ways to learn 💰
The Student-Managed Fund, which students have grown from $500,000 to more than $1 million, is another example of Roanoke's commitment to providing hands-on learning experiences that translate to essential professional skills for today's job market.
What Makes Roanoke Different?
Network like a professional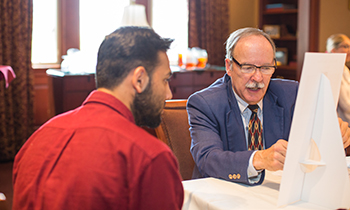 Roanoke offers networking opportunities that not many schools our size do. You'll work with professionals in the local business community. You'll have options for internships or other real-world learning experiences where you can make connections. Faculty will introduce you to people in their extensive networks.
Perhaps most importantly, our alumni are always looking out for other Maroons, as Gabe Umland '19, a business administration major, quickly found out.
"You'll find in your career search that if you type a message to a random Roanoke alum, 'Hey, can we connect for a minute? I'd love to chat for 10 minutes on the phone and see how you got where you are,' every single time they'll respond because that Roanoke connection's so strong, and I think that's really impactful in whatever your career search may be," Umland said.
With enthusiastic alumni, strong ties to local business leaders, connections to impressive internships and faculty who can point you in the right direction, networking is a huge part of the business administration experience at Roanoke College.
Entrepreneurial Innovation
The Center for Leadership and Entrepreneurial Innovation is committed to helping students discover their vocational passions and interests and providing them with the educational tools needed to turn their ideas into viable innovations and businesses.
The "Pitch" Business Contest

This provides aspiring entrepreneurs the chance to develop a business plan and present it to a team of outside reviewers from the business community. The business concept deemed the best wins "seed capital" to help with start-up costs for the business.

CLEI Monthly Speaker Series

Successful entrepreneurs are invited to campus to share their experiences with students, faculty, staff, alumni and the general public. This series focuses on current entrepreneurial topics, such as women and entrepreneurship, starting a business as a result of adversity, and social entrepreneurship.

Pi Lambda Phi Series

The Pi Lambda Phi Fraternity invites successful individuals to share their experiences on campus with students, faculty, staff, alumni and the general public.

Entrepreneur in Residence

Each year a successful entrepreneur is awarded the title of Entrepreneur in Residence. This individual engages with Roanoke College students in a variety of ways, from speaking to mentoring.

Collegiate Entrepreneurs Organization (CEO)

This student organization is focused on helping like-minded future entrepreneurs connect and share ideas.
Careers & Outcomes
Our grads work at great organizations, and some start their own