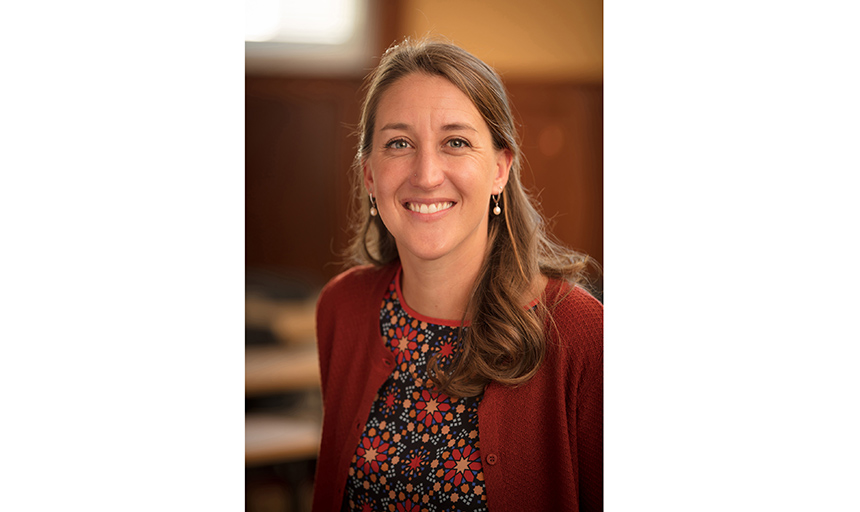 Shifting the paradigm of community health
While public health has been top of mind in our nation and the world in recent months, it is never far from the mind of Dr. Liz Ackley, Brian H. Thornhill Associate Professor in Health and Human Performance at Roanoke College.
For years, Ackley has put considerable energy into improving community health inequities in the Roanoke Valley. In 2018, she founded the Center for Community Health Innovation (CCHI) at Roanoke College. Thanks to its innovative nature and positive community impact, Ackley's work is gaining momentum and garnering national attention.
CCHI serves as a unique and neutral liaison between Roanoke Valley residents and partner organizations. Its efforts have resulted in informative datasets, valleywide collaborations, creative initiatives and notable grants. A core project is the collection of benchmark data using the Roanoke Valley Community Healthy Living Index (RV-CHLI), a health survey that monitors health outcomes, healthy behaviors, and barriers to healthy living among students enrolled in Roanoke City Public Schools. Each year, nearly a dozen Roanoke College students from diverse academic backgrounds are involved in the project.
With Ackley at the lead and Roanoke College as the anchor institution, a collaboration was formed across diverse sectors, including the CCHI, the Roanoke city manager's office, Freedom First Credit Union, and two local nonprofits, LEAP for Local Food and Healthy Roanoke Valley. Working jointly, they have sought to improve community health and promote equitable resource allocation. A top priority is bringing a grocery store to the "food desert" area of the city of Roanoke's Northwest quadrant.
Major funding partners began to take notice. The Reinvestment Fund, a national mission-driven financial institution, in partnership with the Robert Wood Johnson Foundation, twice funded projects of which Ackley is a driving force. The first was the Roanoke City Invest Health initiative, which provides intensive educational and collaboration training for community stakeholders.
But Ackley eventually realized that strong data and quality initiatives aren't always enough to effect needed change. "We didn't have the health policies in our community…to do more equitable community development infrastructure projects," she said. In Virginia, local jurisdiction is "sort of at the beck and call of state level jurisdiction. "Writing policy here is really hard to do."
"Over time this work is going to lead — it already has led — to a major paradigm shift in how our city does business. "
Dr. Liz Ackley, Brian H. Thornhill Associate Professor of Health and Human Performance
At stake was whether community recommendations could be incorporated into the "Roanoke City Plan 2040," a comprehensive plan document that the city is creating to guide policy decisions and long-term investments.
Fortunately, ChangeLab Solutions, a national nonprofit organization whose mission is to create "healthier communities for all through equitable laws and policies," stepped up and reached out to Ackley, the team leader for the Invest Health initiative.
"We were actually approached by ChangeLab Solutions to be in their cohort initiative," Ackley said. She advised ChangeLab Solutions of the need for more equitable local policies "to really give us the foundation for what we hope to do."
A grantee and partner of the Robert Wood Johnson Foundation, ChangeLab Solutions was impressed with the existing collaborative structure and the Roanoke Valley Community Healthy Living Index data already available, and offered their technical and funding assistance.
"With this technical assistance grant, we approached the city manager," Ackley said. "He charged us with five goals, set us up with a planning team, and then we met every other Friday for a year and a half. So, we got to help inform [the City of Roanoke's] 2040 comprehensive plan."
ChangeLab Solutions featured Roanoke's successful work on their national website.
The funding also aided a second high-impact community project. The CCHI brought in the New York Academy of Medicine to teach public deliberation. The planning team recruited a group of residents representing the demographics of the city of Roanoke.
"Over the course of a two-day period, we put them through a public deliberation session to decide where our next [U.S. Department of Housing and Urban Development] target area would be," Ackley said. "They were essentially making a $5 million decision: How should the city allocate HUD funding over the course of the next five-year period?" The outcome was a list of three neighborhoods that had both need and opportunity.
""Over time this work is going to lead — it already has led — to a major paradigm shift in how our city does business,," said Ackley, who was named this year to Roanoker magazine's "40 Under 40" list. "We listened to residents, and that allows us to try to make decisions that really speak to the social and culture desires of a community."
Read more about the Center for Community Health Innovation. Click here for more information about the Roanoke Invest Health Initiative and the Roanoke Valley Community Healthy Living Index. Information about ChangeLab Solutions can be found here.