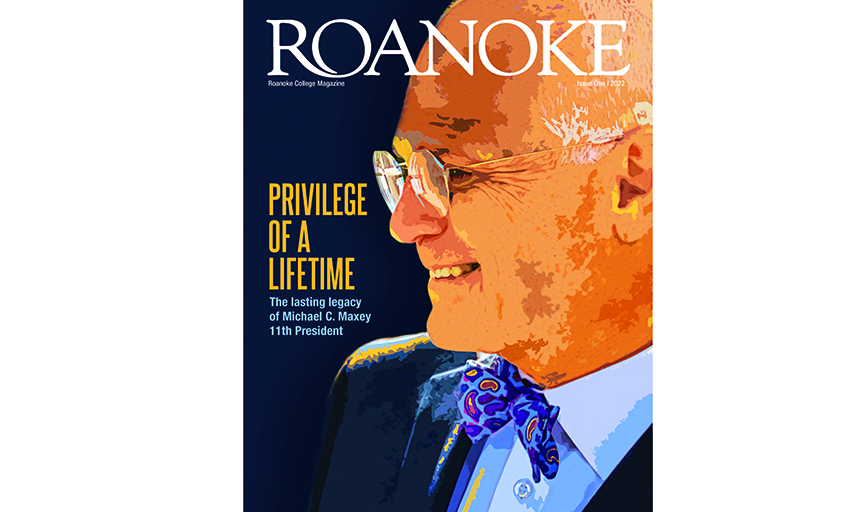 Preview: The new issue of Roanoke College magazine
The new issue of Roanoke College magazine is appropriately special, dedicated to an individual who is stepping down from his post as president of this institution — but certainly not stepping away.
Michael C. Maxey's legacy at Roanoke is indelible. The content of this magazine illustrates the depth and breadth of that legacy, one of a man whose wide-ranging influence has flowed through the College over 37 years — the past 15 as its president.
"Roanoke is a precious gem that serves students and society. I was entrusted with the keeping of the precious gem to develop new facets, making it more precious and beautiful," President Maxey shared in the final report he delivered to the Roanoke College Board of Trustees in April, an excerpt of which appears in this issue's President's Pen.
"Thanks to you and thousands, Roanoke is the most beautiful precious gem it has ever been. We can feel confident that President-elect Frank Shushok Jr. will make it more beautiful and precious than ever."
Click here to read more, including a profile of First Lady Terri Maxey, in a preview of the new issue of Roanoke College magazine. Other featured content includes:
A peek inside President Maxey's veritable office "museum."
A recap of wrestling's impressive inaugural season at Roanoke.
The establishment of the Roanoke College Women's Athletic Endowment and the Women's Basketball Endowment Fund, two initiatives created to enhance the student-athlete experience for women.
An abundance of Alumni News, including a collection of photos from 2022 Alumni Weekend.