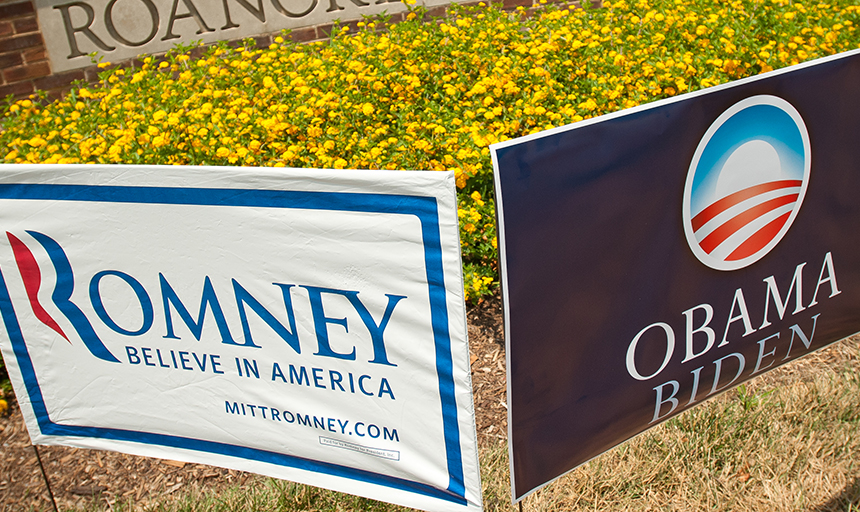 RC Poll: Obama opens significant lead over Romney; Kaine outpolls Allen in Senate race
President Barack Obama has opened an 8-point lead (47% - 39%) over Mitt Romney in Virginia, according to The Roanoke College Poll, as the two candidates head into the first presidential debate. Democrat Tim Kaine enjoys a 10-point margin (47% - 37%) over Republican George Allen in the race for the U.S. Senate seat in Virginia.The Roanoke College Poll interviewed 589 likely voters in Virginia between Sept. 19 and Sept. 28 and has a margin of error of +4 percent. Employing a more stringent screen for likely voters (N=427) reduces the number of undecided voters, but leaves the margins virtually unchanged (Obama 49%, Romney 41%; Kaine 48%, Allen 39%).[1]Ten percent of the electorate remains undecided in the presidential contest, while the other candidates on the ballot draw smaller numbers of voters (Gary Johnson, 2%; Jill Stein 2%; and Virgil Goode 1%). Adding in those undecided voters who are "leaning" toward a candidate, Obama leads Romney 48 percent to 40 percent with 7 percent undecided. Those who support third-party candidates would split their vote between Romney (29%) and Obama (24%), but most are uncertain of their vote choice if their candidate was not on the Virginia ballot.
Sources of support
Obama holds his base, leading among women (51% - 34%), Democrats (94% - 1%), Liberals (83% - 8%), and younger voters 18-34 years old (62% - 20%). Romney is statistically tied among men (leading 45% - 42%, within the margin of error), but holds comfortable margins among Republicans (88% - 2%), Conservatives (75% - 15%), and those 65 or older (47% - 40%). Romney leads among those who self-identify as Independents (45% - 32%), but Obama holds a commanding lead among self-described political moderates (56% - 26%), a group that now equals or exceeds conservatives in size in Virginia. More than half of Independents (52%) think of themselves as Moderate, while 34 percent are Conservative, and 9 percent are Liberal. A plurality of Moderates (38%) are Democrats, while slightly fewer (36%) are Independents, and only 17 percent are Conservatives. This helps to explain why Obama leads among Moderates but trails among Independents. Three-fourths (74%) of Obama supporters say their vote is a vote for him rather than a vote against Romney (15%). More than one-third of Romney supporters (34%) say their vote is a vote against Obama, and less than half (48%) say their vote is a vote for Romney. A voter's choice in 2008 is predictive of their 2012 choice. Fully 84 percent of those who voted for Obama in 2008 said they will vote for him in 2012 while 85 percent of John McCain supporters plan to vote for Romney. Only 4 percent in each group plan to switch their vote to the other party.

Virginia's Race for the U.S. Senate
In the matchup of former governors, Kaine leads among women (52% - 30%), and he is statistically tied among men, trailing Allen by only 4 percent (45% - 41%). The candidates are also statistically tied among White voters (Allen leads 43% - 40%), but Kaine has a very large lead among Black voters (77% - 7%). Kaine leads with Moderates (57% - 25%), but Allen leads among Independents (46% - 39%). Kaine holds leads in every region of the state except the Shenandoah Valley, which is statistically tied. There are still a relatively large number of undecided voters in this race (17%), particularly when compared to the presidential contest.
Favorable/unfavorable views; important issues
Election prognosticators often cite the favorable/unfavorable ratings of candidates as potential harbingers of the election. President Obama's favorable rating is 50 percent (41% unfavorable), significantly better than that of Mitt Romney (36% favorable; 45% unfavorable). Tim Kaine leads George Allen in this category (Kaine: 49% favorable/29% unfavorable; Allen: 38% favorable/34% unfavorable). Virginia Governor Bob McDonnell sits at a 41 percent favorable rating.
President Obama is perceived as being capable of doing a better job on several specific issues. He leads Romney on unemployment (46% - 43%), taxes (49% - 40%), foreign policy (52% - 38%), the War on Terror (50% - 38%), Social Security (49% - 38%), Medicare (51% - 38%), health care (50% - 39%), and immigration (47% - 39%). Governor Romney leads only on the issue of the budget deficit (49% - 39%).Poll results indicate that Virginia residents think that Barack Obama understands them better than Mitt Romney. More than half (56%) think Obama understands the needs of people like them very well or fairly well, while only 41 percent say the same about Mitt Romney. Obama is also thought to be a stronger leader (48% - 36%) than Romney.Not surprisingly, the issues noted as most important to the likely voters focused on the economy. Two out of five (41%) cited the economy in general, while 12 percent mentioned unemployment or jobs, and 5 percent said the budget deficit was most important. Eleven percent said health care was most important to them. Obama led among likely voters who named each of those issues except the deficit. No other single issue was named by more than 3 percent of voters.Virginia voters generally disapprove of the Affordable Health Care Act (49% - 42%). They are fairly evenly split on the issue of gay marriage (43% favor, 39% oppose), and with regard to abortion rights, 32 percent think it should be legal in all circumstances, 47 percent in some circumstances, and 15 percent think abortion should be illegal in all circumstances.The Roanoke College Poll asked a question tangentially related to the "47 percent" issue at least as it relates to government dependency. Nearly half of likely voters (49%) thought that Americans are becoming too dependent on the government and are losing their sense of self-reliance and responsibility. Somewhat fewer (40%) thought that the government should provide its citizens with assistance in paying for their needs that they cannot afford themselves and that we should act more as a community.

Views of Virginia and the U.S. / Important Issues / Elected officials' approval ratings
A majority of likely Virginia voters (56%) think the United States is on the wrong track while 35 percent think the country is headed in the right direction. Perceptions of the Commonwealth are more optimistic than the country (47% think Virginia is headed in the wrong direction; 35% think it is on the right track). President Obama's approval rating is 46 percent, and nearly as many (45%) disapprove of the job he is doing. Gov. Bob McDonnell's approval rating is 51 percent, while Congressional approval has dropped to 6 percent.
Analysis
"There is very little good news for the Romney campaign in these results," said Harry Wilson, director of the Institute for Policy and Opinion Research. "Entering the first of three presidential debates Governor Romney has his work cut out for him, but the election is far from over. He can hope that the undecided voters are looking for a reason not to vote for the President and that he can offer it to them in the debates.""With President Obama polling well in numerous demographic categories, his lead in Virginia is significant. That said, we have seen many leads this large or even bigger lost in the last weeks of a campaign when most voters really tune in to politics. The debates can be game-changers.""Virginia has close to a "must-win" state for Romney, and his scheduled joint appearance with Rep. Ryan in the state the day after the debate underscores its importance. He needs to start making up ground pretty quickly.""Republicans have recently been making the argument that some likely voter models overestimate the turnout of Democratic-leaning groups. That argument does not seem to hold in Virginia. Using a more restrictive voter model yields the same eight-point margin for Obama as a less restrictive model."
Methodology
Interviewing for The Roanoke College Poll was conducted by The Institute for Policy and Opinion Research at Roanoke College in Salem, Va. between Sept. 19 and Sept. 28, 2012. A total of 589 likely voters in Virginia were interviewed. The sample of land lines and cellphones was prepared by Survey Sampling Inc. of Fairfield, Conn. and was created so that all cellphone and residential telephone numbers, including unlisted numbers, had a known chance of inclusion. Cellphones constituted 20 percent of the completed interviews.Questions answered by the entire sample of 589 likely voters are subject to a sampling error of plus or minus approximately 4 percent at the 95 percent level of confidence. This means that in 95 out of 100 samples like the one used here, the results obtained should be no more than 4 percentage points above or below the figure that would be obtained by interviewing all Virginia likely voters who have a home telephone or a cellphone. Where the results of subgroups are reported, the sampling error is higher. Quotas were used to ensure that different regions of the Commonwealth were proportionately represented. The data were not statistically weighted.A copy of the questionnaire and frequencies and the crosstabs may be found on the Roanoke College Poll web site.For additional information, call the Roanoke College Public Relations Office at (540) 375-2282.
---
[1] Likely voters were defined as registered voters who said they were very likely or somewhat likely to vote in November. The more stringent screen included only those registered voters who said they were very likely to vote in November, had voted in 2008, and had thought a lot about the presidential campaign. For more about the Institute for Public Opinion Research, click here.
CONTACT: Dr. Harry L. Wilson, Director
(540) 375-2415 (Office)
wilson@roanoke.edu