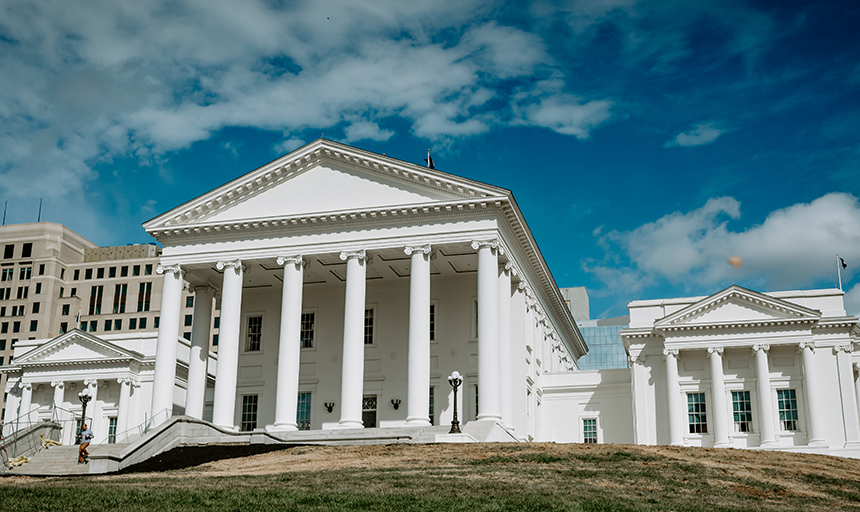 RC Poll: Virginians not enamored of President Trump, lean left on immigration; Democrats and Republicans divided
Virginians generally disapprove of Donald Trump's presidency thus far, think he is moving too quickly on policies, and are more likely to view him unfavorably, according to the latest Roanoke College Poll. The Institute for Policy and Opinion Research interviewed 616 residents in Virginia between February 12 and February 18 and has a margin of error of +4 percent.
Democrats and Republicans: Do they live in different countries or on different planets?
For questions related to President Trump, immigration, and the news media, please consult the topline to see differences between Democrats and Republicans. In most cases, those differences are stark. In the interest of space, they are not referenced in this release, but they are very worthy of attention. As an example, 67% of Democrats have a fair amount or a great deal of trust in the media, whereas 84% of Republicans have not very much trust in media or none at all.
President Trump and the country
Half of those polled (50%) disapprove of the way Trump is handling his job, while about one-third (32%) approve. At the same time, nearly half (49%) of respondents have an unfavorable view of him, while 29 percent have a favorable impression. A plurality (46%) think he is moving too fast in dealing with the nation's problems, while only 12 percent think he is moving too slowly.
A majority (57%) of Virginians think the country is on the wrong track, while 31 percent think it is headed in the right direction.
Congressional job approval sits at 20 percent, the highest it has been in several years.
Immigration
A majority of respondents (54%) oppose Trump's executive order which prohibited travel to the U.S. for three months by citizens of seven majority-Muslim countries, while 40 percent favor it. Virginians are generally opposed to building a wall along the border with Mexico (29% favor; 61% oppose), and they also oppose reducing the number of legal immigrants to the U.S. (30% favor; 59% oppose).
Regarding those immigrants currently in the country illegally, more than half of Virginians (57%) favor a path to citizenship, while one-fourth (23%) think they should be allowed to become permanent residents, but not citizens. Only 15 percent think they should be deported.
Most residents of the Commonwealth (58%) think that those people currently immigrating to the U.S. strengthen the country because of their hard work and talents, while 23 percent view them as a burden to the country by taking jobs, housing, and health care. Respondents were almost evenly split between thinking that current immigrants share the values of most Americans (44%) or have a different set of values (41%).
Overall, when asked to place themselves on a 1-5 scale (1=closed borders; 5=open borders), the plurality (48%) placed themselves in the middle. Just over one-fourth (27%) leaned more toward open borders, while just over one-fifth (21%) leaned more toward closed borders, though few placed themselves at the extremes.
Views of the media
More than half of Virginians (56%) do not have very much or any trust and confidence that the mass media report the news fully, accurately, and fairly. At the same time, 42 percent have a great deal or fair amount of confidence they are getting accurate information.
Respondents are more likely to think the media have been too tough on Trump (35%) than not tough enough (23%). Those figures were almost reversed for treatment of former President Barack Obama, with 15 percent saying the media were too tough on Obama and 37 percent saying there were not tough enough on him.
The Roanoke College Poll is funded and conducted by Roanoke College as a public service.
Political anxiety
For the past six months, IPOR has been asking several questions related to political anxiety. Drs. Harry Wilson and David Taylor continue to analyze data and are constructing a political anxiety index that could be compared over time, similar to a consumer sentiment index. They will present their findings at the American Association of Public Opinion Research conference in May. Results from specific questions on this poll are summarized below.
Eight in ten (80%) of Virginians trust the federal government to do what is right only some of the time or never. However, two-thirds (65%) think that ordinary citizens can do a lot to influence the federal government. Just over half (51%) think their side is losing more than winning in politics today.
Most respondents (54%) think life in the U.S. is better today than it was 50 years ago for people like them, but one-third (32%) think it is worse. Similarly, 56 percent think the country's best years are ahead of it, while 34 percent think its best years have passed. Virginians are divided between thinking that today's children will be better off (45%) or worse off (43%) than people are today.
With regard to race relations, more than one in three (38%) think relations between blacks and whites will always be a problem, but more than half (54%) think that a solution will eventually be worked out. A minority of respondents (41%) are very or somewhat worried that they or a family member will be the victim of a violent crime, while 34% are at least somewhat worried about a terrorist attack.
Overall, a large majority of Virginians (84%) see the nation divided regarding the important issues facing the U.S.

Methodology
Interviewing for The Roanoke College Poll was conducted by The Institute for Policy and Opinion Research at Roanoke College in Salem, Va. between February 12 and February 18, 2017. A total of 616 Virginia residents 18 or older were interviewed. Telephone interviews were conducted in English. The random digit dial sample was obtained from Marketing Systems Group and included both Virginia land line and cell phone exchanges so that all cell phone and residential land line telephone numbers, including unlisted numbers from Virginia exchanges, had a known chance of inclusion. Cell phones constituted 39 percent of the completed interviews.
Questions answered by the entire sample of 616 residents are subject to a sampling error of plus or minus approximately 4 percent at the 95 percent level of confidence. This means that in 95 out of 100 samples like the one used here, the results obtained should be no more than 4 percentage points above or below the figure that would be obtained by interviewing all Virginia residents who have a home telephone or a cell phone. Where the results of subgroups are reported, the sampling error is higher.
Quotas were used to ensure that different regions of the Commonwealth were proportionately represented. The data were statistically weighted for gender, race, and age. Weighting was done to match Virginia Census data. The margin of error was not adjusted for design effects due to weighting.
A copy of the questionnaire and all toplines may be found here.
More information about the Poll may be obtained by contacting Dr. Harry Wilson at wilson@roanoke.edu or (540) 375-2415 or the Roanoke College Public Relations Office at (540) 375-2282.
The Roanoke College Poll is funded by Roanoke College as a public service.
For more about the Institute for Public Opinion Research, click here.
CONTACT: Dr. Harry L. Wilson, Director, IPOR
(540) 375-2415 (Office)
wilson@roanoke.edu