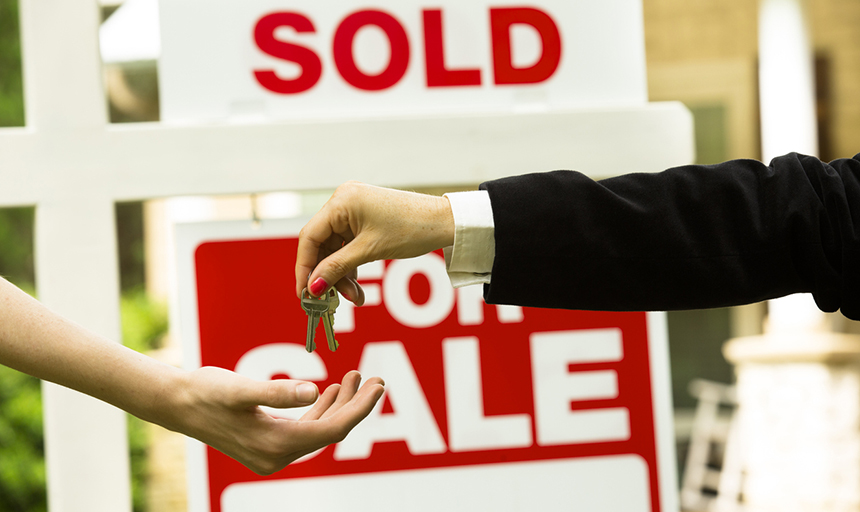 Virginia Real Estate Report: Consumer Sentiment and Economy Fuels Real Estate Markets
The Virginia Real Estate Indexes remain strong in the final quarter of 2019 buoyed by low mortgage rates and robust labor markets and consumer sentiment. The labor market in the Commonwealth continues to expand with employment, driving the unemployment rate to 2.6%. Rising income, wealth, and job security bolster consumer sentiment and encourage spending. Low mortgage rates encourage households to also participate in the housing market despite high prices.
Figure 1. Virginia Real Estate Index: Overall, past four years
Figure 1 shows the overall real estate indexes for today and the next few years. The indexes indicate the difference between the share of respondents who are positive and negative about the real estate markets. A value of greater than zero means more Virginians are positive about the market than negative. In the last quarter of 2019, almost forty percent more respondents are positive about markets today compared to a year ago, while just over twenty-five percent more are positive about markets over the next few years. Both measures are statistically unchanged from the third quarter.
Figure 2. Virginia Real Estate Index: Sellers, past four years
Figure 2 focuses specifically on seller sentiments. Sellers are more positive about real estate markets in the Commonwealth now than the coming years, but both measures are above twenty-five percent. While the current measure is in a modest six-month decline, the future measure increased for the first time in a year.
Figure 3. Virginia Real Estate Index: Buyers, past four years
Figure 3 shows the indexes from the perspective of buyers. Buyers are less optimistic than sellers, primarily due to rising housing prices. Inventories are low and prices are rising to ration homes across the Commonwealth. The current and future buyer measures fell from last quarter but remain above the breakeven value of zero. Zero indicates equality between positive and negative sentiments.
The Virginia Real Estate Report is sponsored by Atlantic Union Bank.
Analysis
"Despite the resoundingly negative news cycle which is focusing on impeachment and tariffs, consumer incomes and wealth are rising. People are extremely confident in the US economy," Dr. Alice Kassens, senior analyst for IPOR, said. "Unemployment is low, prices are low and stable, and incomes are rising. Complemented by low mortgage rates, these factors are fueling a robust real estate market in the nation and the Commonwealth. Consumers are not only buying goods and services as evidenced by strong consumer spending numbers, but they are also actively participating in the housing market. The only impediment in Virginia is the lack of inventory."
Methodology
Interviewing for The Virginia Real Estate Report was conducted by The Institute for Policy and Opinion Research at Roanoke College in Salem, Va. between November 10 and November 21, 2019. A total of 609 Virginians were interviewed. Telephone interviews were conducted in English.
The landline sample consisted of random-digit numbers generated in proportion to the Virginia population so that all residential telephone numbers, including unlisted numbers, had a known chance of inclusion. Cell phone samples were purchased from Marketing Systems Group and Call Delivery Systems. Cell phones comprised 55 percent of the completed interviews.
Questions answered by the entire sample of 609 respondents are subject to a sampling error of plus or minus approximately 4.2 percent at the 95 percent level of confidence. This means that in 95 out of 100 samples like the one used here, the results obtained should be no more than 4.2 percentage points above or below the figure that would be obtained by interviewing all Virginians who have a home telephone or a cell phone. Where the results of subgroups are reported, the sampling error is higher.
Quotas were used to ensure that different regions of the Commonwealth were proportionately represented. The data were statistically weighted for gender, race, and age. Weighting was done to match Virginia census data. The margin of error was not adjusted for design effects due to weighting.
A copy of the questions and all toplines may be found at Roanoke.edu/consumersentiment.
For more about the Institute for Public Opinion Research, click here.
Contact Name: Dr. Alice Louise Kassens, Senior Analyst, IPOR
Contact Phone: (540) 375-2428 Office
Contact Email: kassens@roanoke.edu
Sponsored by:
The Virginia Consumer Sentiment and Inflation Expectations Report and the Virginia Real Estate Report are sponsored by Atlantic Union Bank.