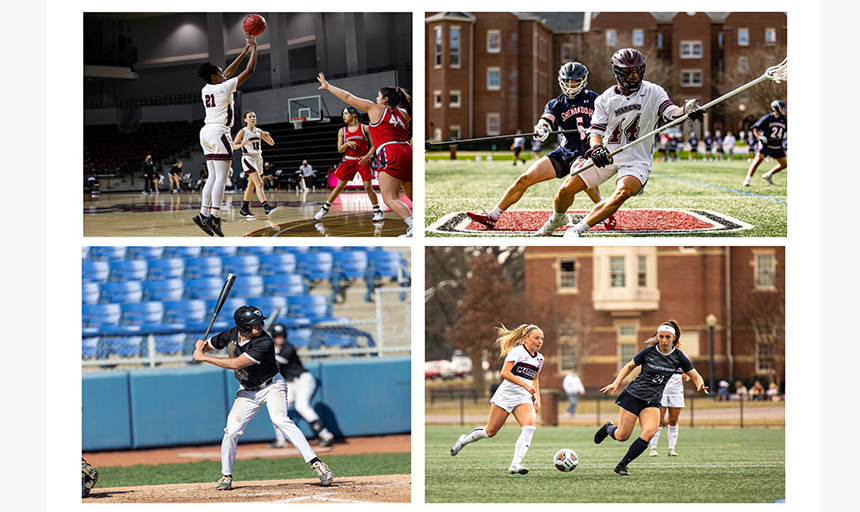 Roanoke College President Michael C. Maxey summed up the 2020-21 Athletics season with these words: "Our staff, coaches, players and trainers did an amazing job...It was an inspiration to watch."
The return to play
It was the least busy of years. It was the busiest of years.
It was the year of COVID.
After nine months without a single game, meet or match involving a Roanoke College student-athlete, sports returned with a flurry in 2021. During a span of two weeks, from March 6-20, every sports team at the College competed.
It all began a year prior, on March 11, 2020. On that day, Rudy Gobert, of the National Basketball Association Utah Jazz, tested positive for COVID-19 and all sports as we knew them shut down. In just days all professional and college sports, including NCAA tournaments, were put on hold.
That included nine spring sports that were already underway at Roanoke College. While the school waited to see if things would "get better," the fields, courts and tracks would remain empty through the end of the school year. Then, when things didn't get better, the fall season was impacted as well. It was the first time since Roanoke College Director of Athletics Scott Allison '79 was a child that he wasn't busy with sports.
"We had a long stretch with no games," said Allison. "It was strange for me having Saturday and Sunday off, but I'm paying for that now. It was feast or famine."
"Feast" began Jan.16, 2021, when the Maroons swim team had a meet, the first intercollegiate competition for a Roanoke College team in nine months. Men's and women's basketball, and indoor track teams started the following week, but with no fans in attendance and protocols that had coaches and game officials wearing masks, as well as the players when they weren't competing.
"We were COVID tested three times per week as required by the NCAA," said Men's Basketball Coach Clay Nunley. "We weren't able to use our locker room during the year and our benches were socially distanced, much like you saw if you watched any college basketball game on television."
This made for extra work for Jim Buriak, Roanoke College director of athletic training, and his staff.
"The athletic trainers had to develop COVID-19 protocols for testing our athletes according to NCAA guidelines," Buriak said. "We have five licensed athletic trainers at Roanoke College, and they have done a fantastic job of testing, following established protocols and providing exceptional health care to our athletes."
Once sports returned in January, it was a whole new ballgame. Roanoke College men's and women's basketball teams had excellent seasons, but no one was there to cheer them on. All games were streamed online, but inside the Cregger Center, bleachers were rolled back.
"Obviously we missed having people at the games, but I think we were so excited to be able to play that we eventually didn't even notice," said Women's Basketball Coach Carla Flaherty.
To read the full version of this story, click here.