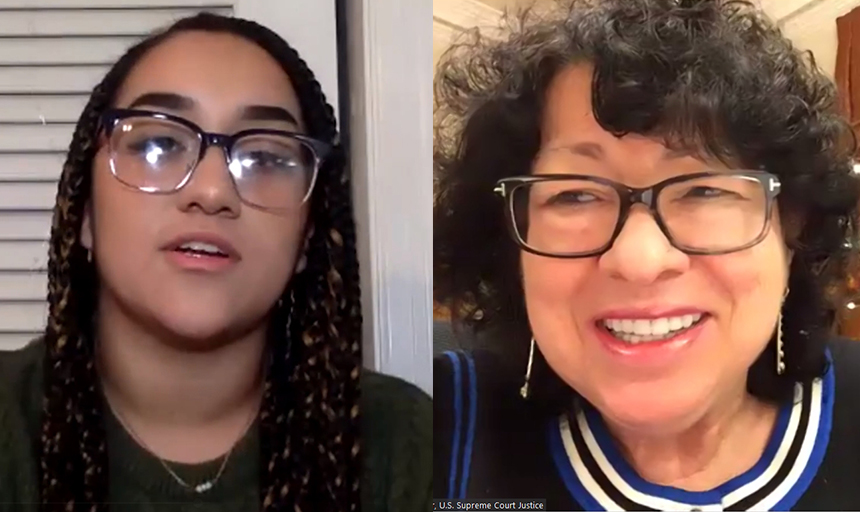 Erykah Guerra '24, left, was one of 10 students who asked U.S. Supreme Court Justice Sotomayor a question during the Nov. 10 virtual event.
Supreme Court Justice Sonia Sotomayor shares personal stories, wisdom with students
When U.S. Supreme Court Justice Sonia Sotomayor was first sworn into the court in 2009, she still wasn't sure she belonged.
Sotomayor, who is now in her 12th year on the court, spoke to more than 300 Roanoke College students, faculty and staff on Tuesday night about the experiences she had and the lessons she learned that made her feel like she belonged. She told a story about reading an opinion that Associate Justice John Paul Stevens wrote and being blown away at how well-written it was.
Justice Sotomayor called Stevens, unsure that she could write something of that caliber. Stevens' advice put her at ease. He told her that nobody's born a Supreme Court justice, and that you grow into your role.
Sotomayor has done just that. She said she feels her writing has gotten better with each year she's spent on the court. She said she frequently thinks about the words from Stevens, who died in 2019. She said his words were the kindest that anyone's ever spoken to her in a moment of insecurity.
That sentiment — that you grow into your role — was one of the main messages of Sotomayor's hour long discussion, particularly as it related to Roanoke students. Even though almost all of the current members of the U.S. Supreme Court went to Ivy League schools, Sotomayor said, there's no limit to what students from other colleges and universities, including Roanoke, can do.
Henry H. & Trudye H. Fowler Professor in Public Affairs Dr. Todd Peppers organized the event with assistance from the James C. & S. Maynard Turk Pre-Law Program. Peppers also moderated the discussion, introducing Sotomayor and introducing each of the students who asked a question.
Sotomayor spent the majority of the presentation answering questions from students, talking about her experience as the first Latina person on the Supreme Court, memories of working alongside the late Justice Ruth Bader Ginsburg, and her efforts to make sure non-English speakers can still read the books she has authored.
"It was almost surreal sitting down with Justice Sotomayor. It was important for me that she and I were alike and that I finally saw someone like me doing such important work."
Erykah Guerra '24
Sotomayor didn't sugarcoat her experiences or gloss over anything. When asked about an experience that shaped her, she focused on one of her biggest professional regrets. When she was a district court judge, she followed the letter of the law and gave a defendant a longer sentence than she would have otherwise given.
Later, she read that other judges had interpreted the sentencing guidelines differently than she had, and had handed down shorter sentences. Sotomayor said she was devastated. She told students on a Nov. 10 Zoom call that the decision has stayed with her and that she feels that the best way to respond is to learn from her mistake and ensure that she becomes a better judge as a result. Sometimes, that's all you can do, Sotomayor said, because nobody's perfect.
Ten students had the chance to ask Sotomayor questions on the Zoom call. One of them, Erykah Guerra '24, called it "the opportunity of a lifetime" to get to ask a U.S. Supreme Court justice a question as someone in their first semester of college.
Guerra, who is Hispanic, asked Sotomayor if people ever doubted her because of her heritage. Sotomayor gave a detailed answer about how some prominent lawyers and professors expressed a lack of faith in her abilities when she was nominated, only to apologize later when they saw her work on the court.
Guerra said she was surprised to get the opportunity to ask a question, and said it's not an experience she will ever forget.
"It was almost surreal sitting down with Justice Sotomayor," Guerra said. "It was important for me that she and I were alike and that I finally saw someone like me doing such important work."
Remembering Justice Ruth Bader Ginsburg
Sotomayor talked at length about the late Justice Ginsburg, sharing stories about how pleased Ginsburg was to see Sotomayor and Justice Elena Kagan join the court in recent years. Sotomayor told a story about when President Barack Obama (who nominated Sotomayor and Kagan) attended Kagan's swearing-in ceremony and greeted Ginsburg.
Obama asked Ginsburg if she was happy to have two other women on the court with the addition of Sotomayor and Kagan. Ginsburg responded that she was happy, but would be even happier when she had a court full of women alongside her.
That was a typical Ginsburg moment, Sotomayor said. Ginsburg, who died Sept. 18 at the age of 87, was a hugely important figure in the quest for equal rights for women in this country, Sotomayor noted. She spoke glowingly about Ginsburg's legacy on Nov. 10, saying Ginsburg revolutionized the treatment of women in law and that her actions changed the course of equality in the United States.
Access the recording here with a Roanoke College email address
NOTE: Those who pre-ordered a signed book from Justice Sotomayor can now pick up their books at the Campus Store. The store is open Monday-Friday from 9 a.m. to 4 p.m. and Saturday from 11 a.m. to 2 p.m. It's closed on Sundays.