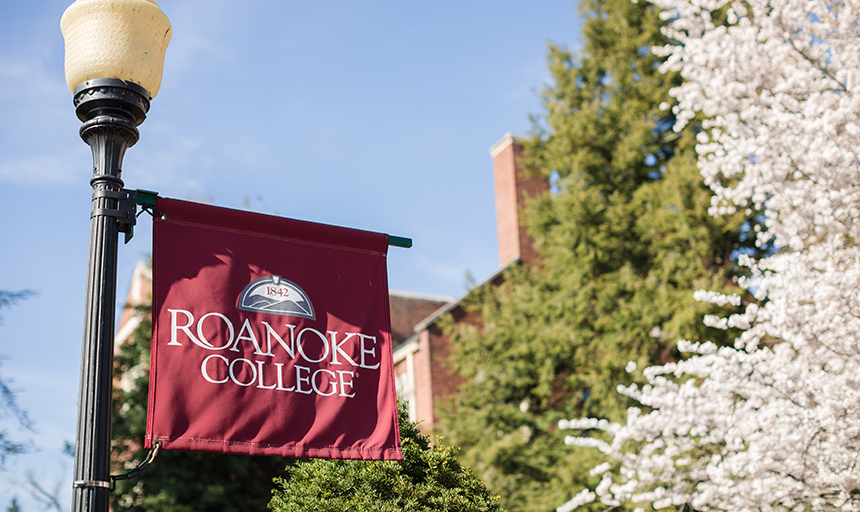 Updates to Spring 2022 Return to Roanoke Plan: Phased Return to Campus
Dear Maroons -
I hope you are enjoying a restful break. We have been thinking about the health and safety of each of you and our commitment to delivering an enriching Roanoke College educational experience during these still challenging times. I write to you today to let you know we are adjusting our plans for returning to campus for the spring semester.
Because COVID-19 cases in our area and the nation have reached record high levels, we will be implementing a phased return to campus for the upcoming spring semester.
We plan to start the semester on time with classes beginning Jan. 18. However, we will begin most classes online, allowing students to move to campus in controlled phases. Select studio and lab classes will be held in person, and students in those classes will be contacted directly. Our plan is to have all students back on campus by Jan. 30 and return to in-person classes on Jan. 31. The academic calendar is unchanged.
We are prioritizing community safety due to the nationwide spread of the Omicron and the Delta variant of COVID-19 which have caused increased hospitalizations in the area. I know this may be received as disappointing news and is undoubtedly inconvenient; I apologize for that. We are all tired of COVID-19 and the challenges the virus brings, but we must persevere and work through the challenges to keep one another safe. As educators and leaders, we know that remote learning and the isolation COVID-19 has brought over the last two-plus years has been devastating in many ways. Our goal is to preserve in-person instruction as much as possible, while minimizing risk this semester.
A phased return of students will enable us to bring students to campus in smaller groups and work to ensure we keep COVID and flu cases at a manageable level for our staffing resources.
These decisions are made by our leadership team on the recommendation of the Roanoke College Incident Command Team and in consultation with local, state and national health professionals. I am grateful to everyone on campus for helping us work through these scenarios and plans.
Overview of plans for the phased return.
Group 1 - Jan. 15-16: First group of students arrive for move-in. This group includes seniors, select academic groups, international students, student workers needed for the opening of the College, and those required to be here by NCAA-established timelines. Any additional spots will be filled by lottery.
Students in this group will be contacted directly to set up a move-in appointment.

Housing check-in will be a drive-through process in the lower Olin parking lot.

Students may bring up to two vaccinated adults to assist w

ith move-in.
Group 2 – Jan. 22-23: All remaining students arrive.
Students in this group will be contacted directly to set up a move-in appointment.

Check-in will be a drive-through process in the lower Olin parking lot.

Students may bring up to two vaccinated adults to assist with move-in.
Commuter Students and Off Campus Students:
Students who live off campus need to provide a negative COVID-19 test within 48 hours of their first on campus class or work shift.
Please keep an eye out for the following communications in your Roanoke College email as we work to provide the additional details and specific instructions you need for the phased move-in:
The Residence Life office and Student Health Services will contact you with specifics on selecting your move-in appointment, pre-arrival testing information and arrival instructions.

Students who test positive in pre-arrival testing may be asked to isolate at home. Student Health Services has a robust student testing and quarantine plan in place.

The Business Office will update student accounts with pro-rated credits for Group 2 (Jan. 22-23 arrivals) by early February. Additional information is available at

roanoke.edu/healthy campus.

Welcome back orientation will be moved to a virtual format. Students involved will be contacted directly with the details and a schedule.
This announcement of our new, phased reopening plan provides a good opportunity to reinforce the additional health and safety measures we have been implementing throughout the pandemic. The College has extensive measures in place to clean and sanitize the campus, including regular disinfecting by cleaning crews, improved air filtration, and reconfigured common spaces and dining service options. We continue to add outdoor gathering areas to the campus to provide designated space for students to congregate safely outdoors.
The College's face-covering policy remains in effect. Masks are to be worn in public indoor spaces and outdoors when physical distancing is not possible. We are recommending the use of snug-fitting surgical or KN95 masks that provide a close fit. Masks are one of our best tools to prevent spread of the virus, and we will be reminding you about proper mask protocol.
You will need to submit a Health Assessment every day once you arrive on campus.
I know you will have more questions. Please visit roanoke.edu/healthy campus for updated information and answers to questions you may have. Additional questions may also be sent to questions@roanoke.edu.
Although we are not yet back to what we might consider a normal environment, we are committed to providing as many of our traditional student activities as possible. We are working to provide a productive, safe and enriching semester for all at Roanoke College; and we are grateful for your patience and flexibility as we navigate the ongoing COVID-19 pandemic.
Be well Maroons! I look forward to seeing you soon,
President Michael C. Maxey