International Education
Today, everything is global. A disease in West Africa threatens lives in Texas. A song posted in Rio goes viral and becomes a world hit. A product invented in Virginia is manufactured in Vietnam, then sold in stores from Portland to Pakistan to Paraguay.
Whatever you wear, drive or listen to is linked to the global economy. If you've never left home, you're still connected in a thousand ways to the larger world. At Roanoke, we want you to see and be part of that world. It will open your mind, broaden your perspectives, and get you ready for a future full of amazing global opportunities.
On campus you'll meet students and professors from over 40 countries, be able to choose from more than 100 internationally themed classes, and attend a variety of global events.
If you want to travel and study abroad, you'll have opportunities through a number of college-led Intensive Learning Term (May Term) programs, as well as semester and year-long international exchanges with more than 50 schools around the world.
So many ways to study away
Study Abroad
We can arrange semester and year-long study abroad in over 50 countries through Roanoke-led, affiliate or exchange programs.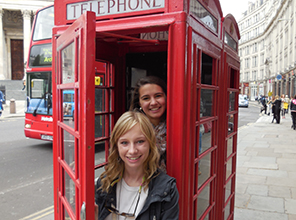 May Term
Every year, Roanoke professors host month-long experiential courses around the world. In May 2023, you can choose from Ireland and Britain, Austria and Hungary, Israel and the West Bank, Italy, Japan, Greece, and Spain.
Learn more.
Travel breaks
If you'd like to do something good while experiencing other people and places, we often host service trips during semester breaks in the United States and Latin America, where you can help with building and educational projects. Recent brief service trips have included Guatemala, New Orleans, Nicaragua and Washington D.C. Learn more.
The world is calling you
Every year, Roanoke students take advantage of month- and semester-long study abroad programs to experience life in more than 50 countries.
Wish you were here?
Every year, more than 200 Roanoke students take advantage of month- and semester-long study abroad programs to experience life in countries like Belize, India, Korea, Spain and South Africa.
This is how we do classes in May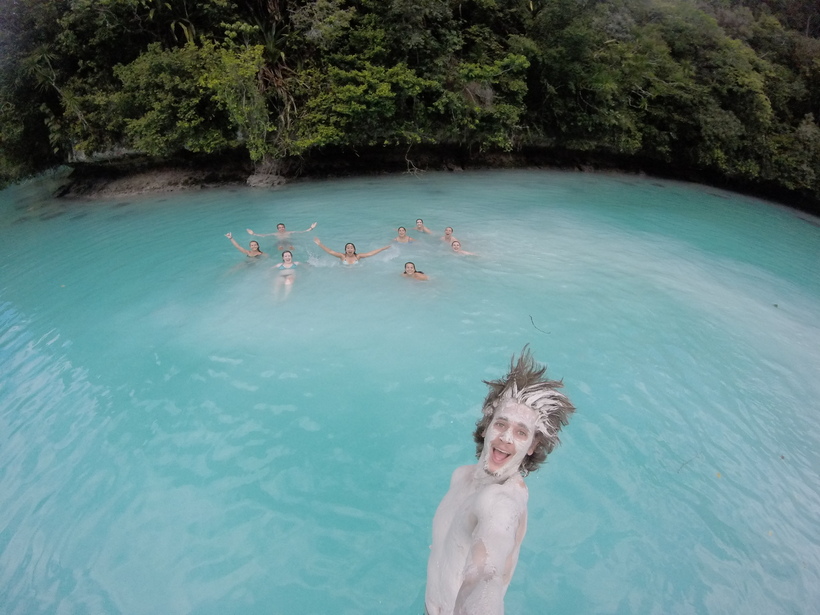 Blake Allen, covered in mineral rich mud, jumps into the Milky Way Lagoon in Palau.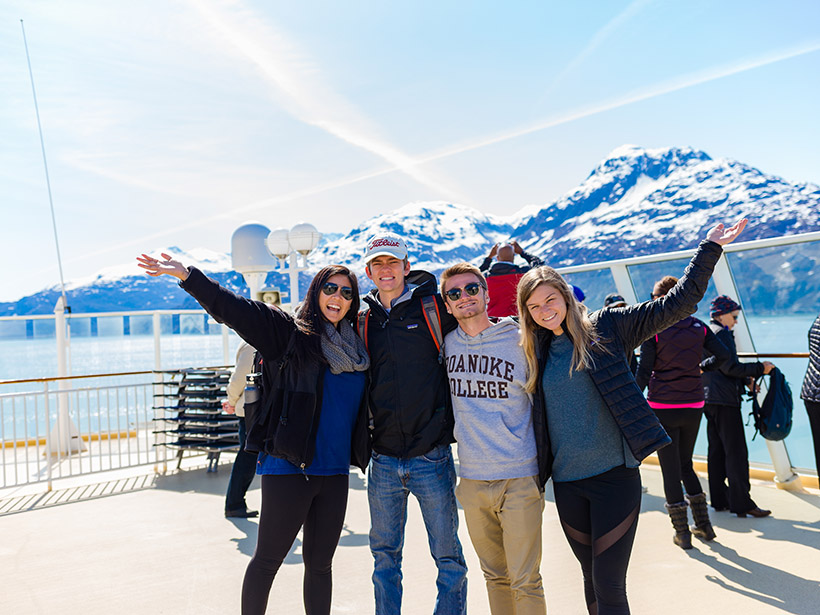 Students took a cruise from Seattle to Alaska to study economics. Here they are arriving at Glacier Bay in Alaska.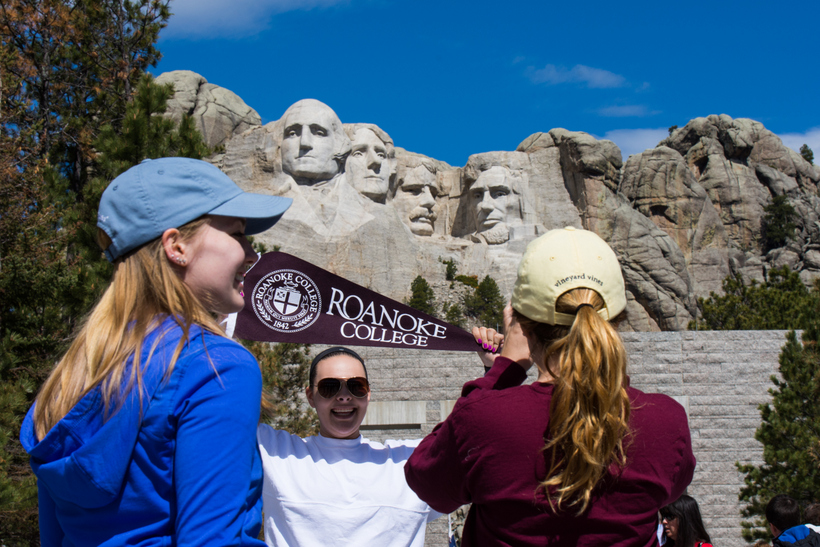 Students visit Mount Rushmore on the way to a Sioux reservation in South Dakota, where they volunteered and learned about what a life of poverty is like in the United States.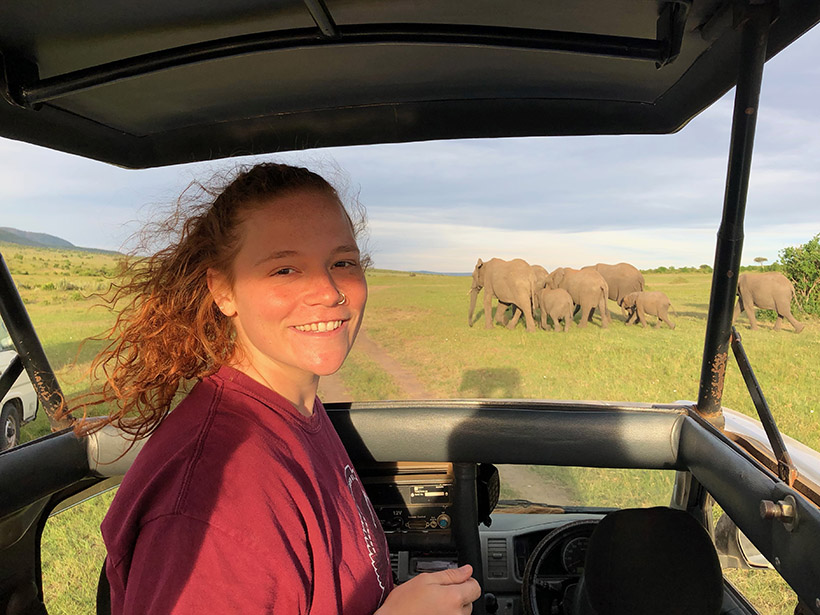 Emma Braun posing with elephants in Masaai Mara National Reserve in Kenya.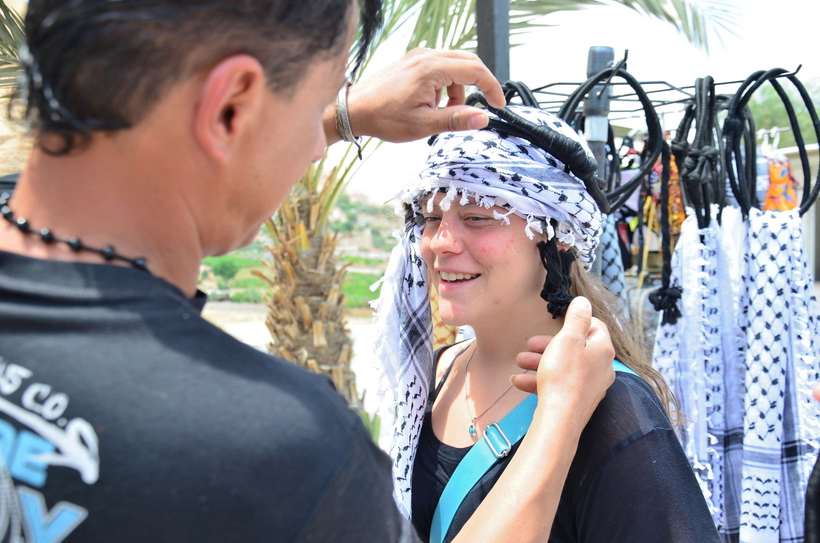 A local Arab helps Linnea Kremer with an Arab scarf in Jericho, Israel.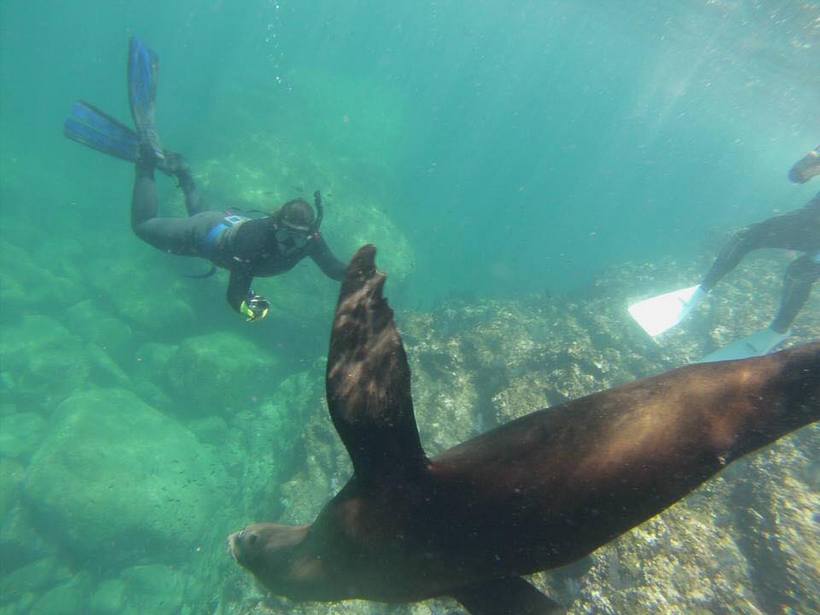 Olivia Karkenny captures a shot of a sea lion in the Gulf of California while in Mexico studying marine biology.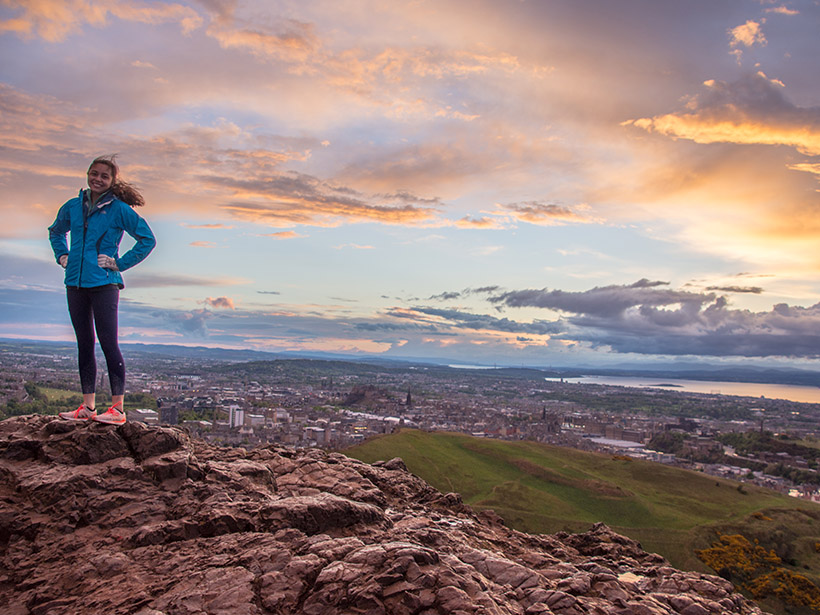 Holly Morrison at the top of King Arthur's Seat in Edinburgh, Scotland.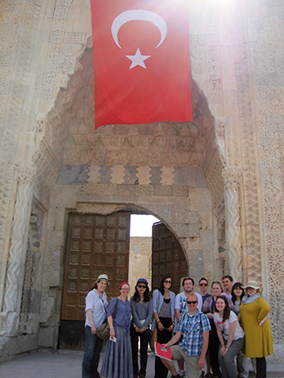 Dr. Leslie Warden and her class in Turkey. The students studied Anatolian culture and identity throughout time, exploring Istanbul, Hattusas and Cappadocia to question how shared space can influence the cultures of different ethnic and religious groups over millennia.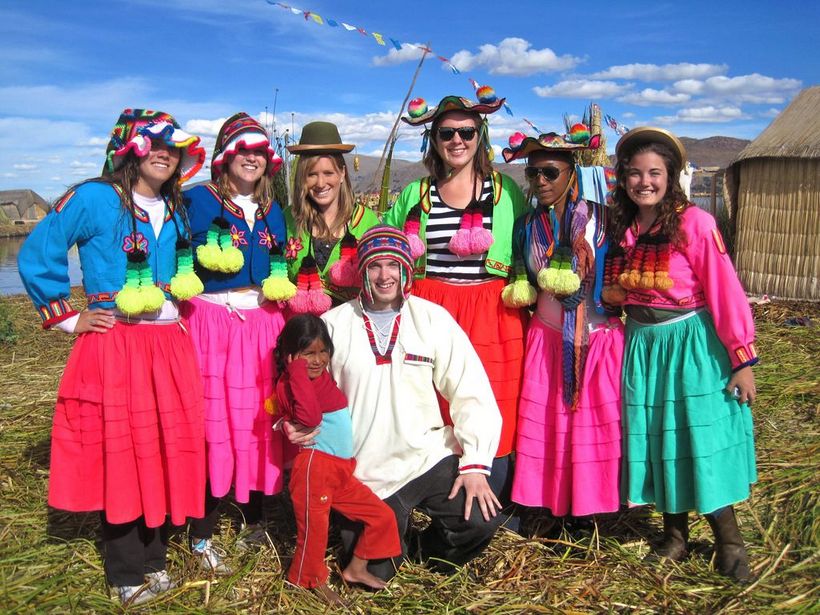 Students get dressed up and learn about the local culture in Peru.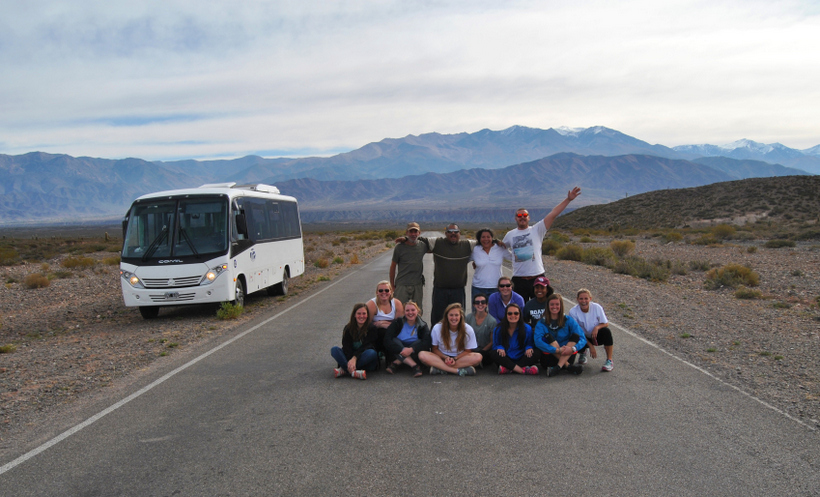 Dr. Ivonne Wallace-Fuentes and her class get a group shot in front of the Andes Mountains in Salta, Argentina.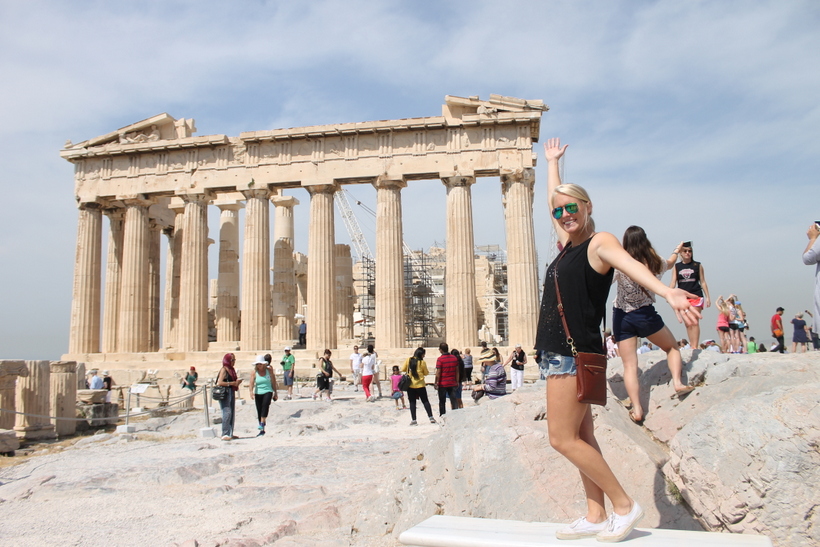 Kaity Diskerud is excited to see the Parthe non in Athens, Greece. The students were in Greece exploring the leisure and sport of ancient Greece.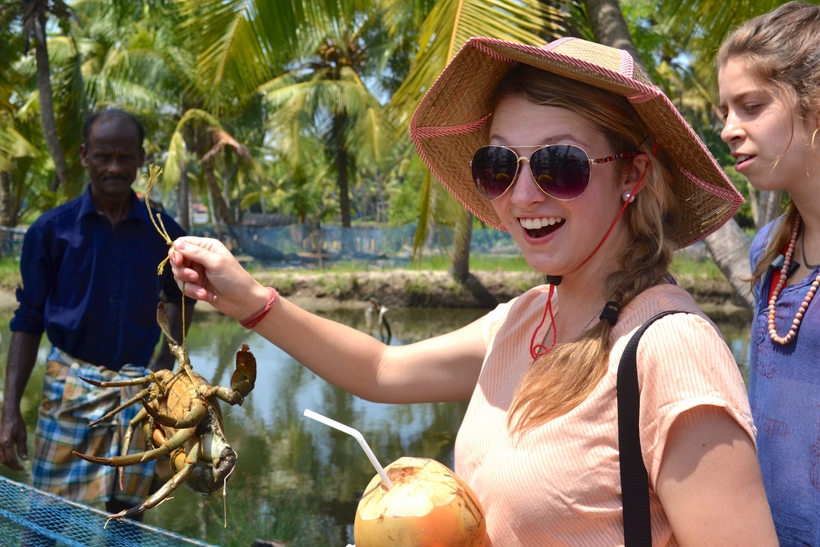 Alex Grant holds a crab at a farm in Cochin, India.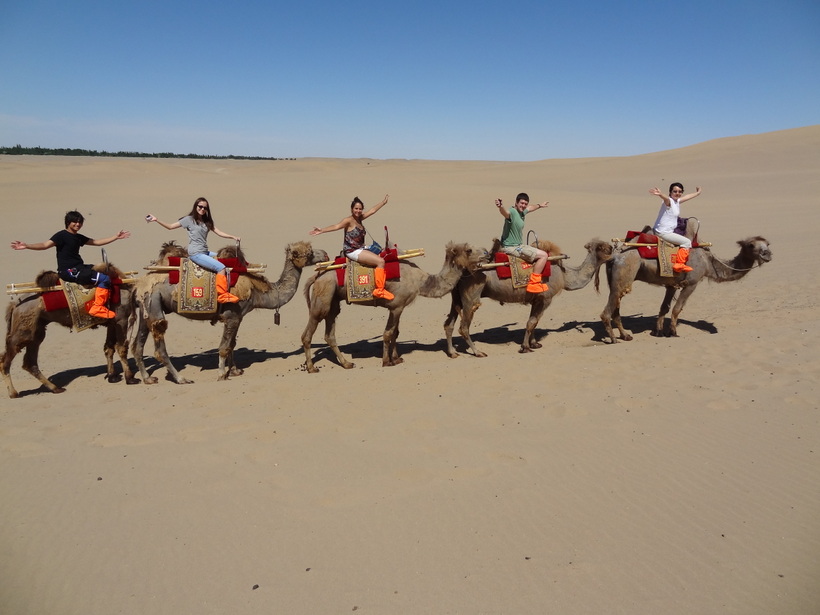 A local camel keeper took this photo for Dr. Stella Xu and her students in the desert near Dunhuang, China, an ancient oasis town and headquarters of the Silk Road trade for thousands of years.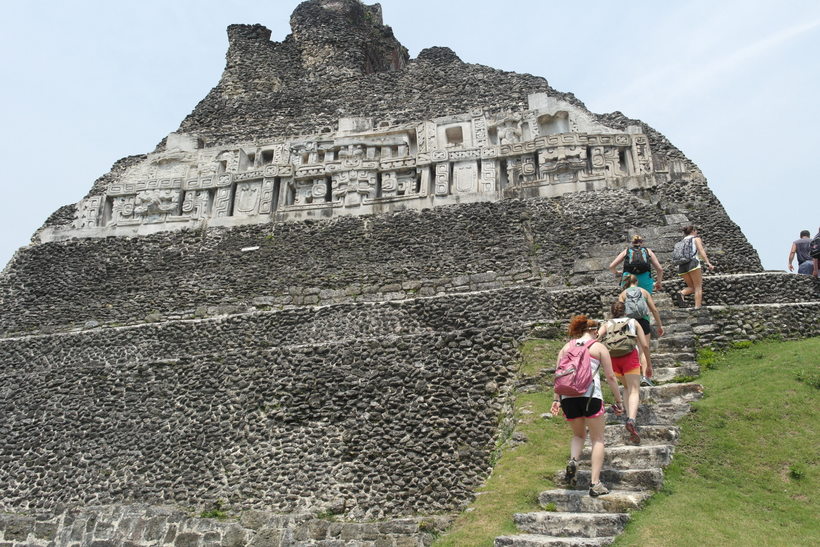 Students visit Xunantunich, a Mayan ruin site, in Belize.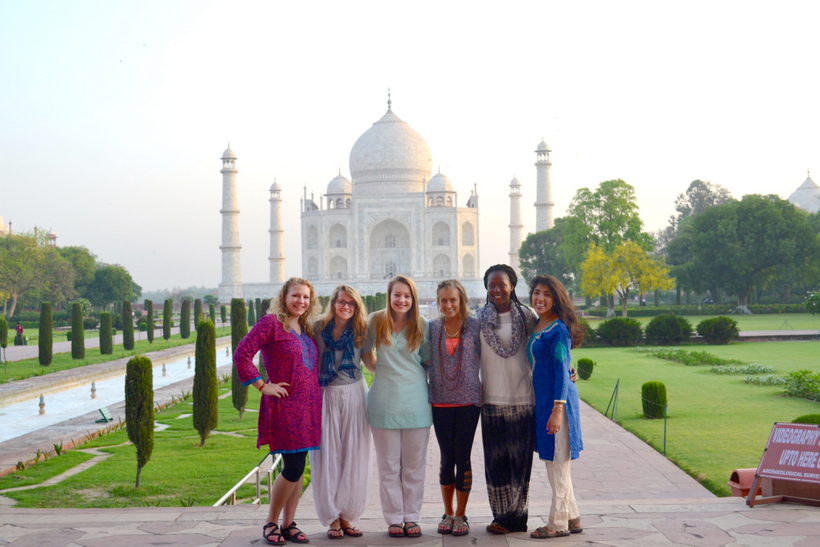 Students take a picture in front of one the world's most recognizable buildings, the Taj Majal, in India.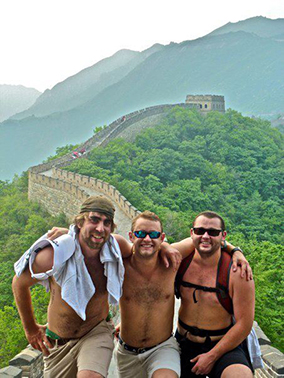 Students visit The Great Wall in China while abroad with Dr. Stella Xu.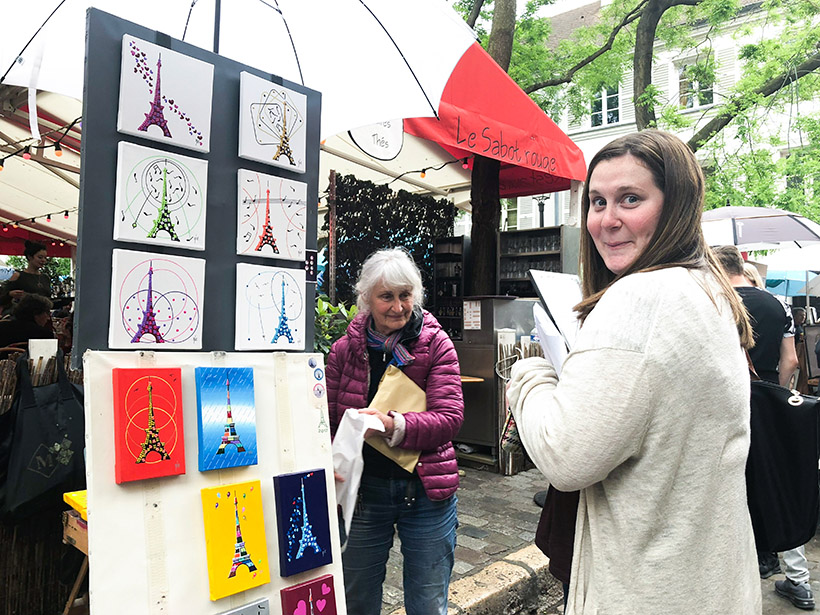 Katie Rhattigan after successfully negotiating a price on a piece of artwork in Paris, France. Students on this trip studied the French approach to sales and marketing by studying magazine, billboard and Metro advertising in Paris.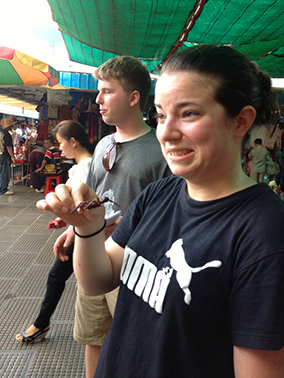 Ariel Bettis is a bit skeptical about trying a local delicacy, a tarantula, in Cambodia.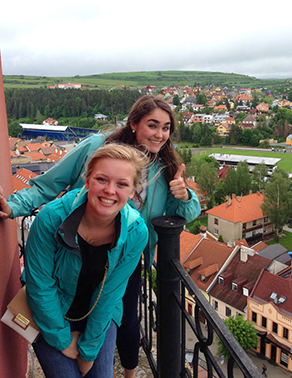 Students visit a Lutheran church in Slovakia. They visited several countries in Europe to study the political religions of Fascism, Marxism, and Nazism.
Roanoke in the Yucatan
Roanoke is offering a faculty-led semester in the Yucatan—a unique opportunity for study abroad, service learning, internships, research and cultural immersion in Mexico. To learn more, click here.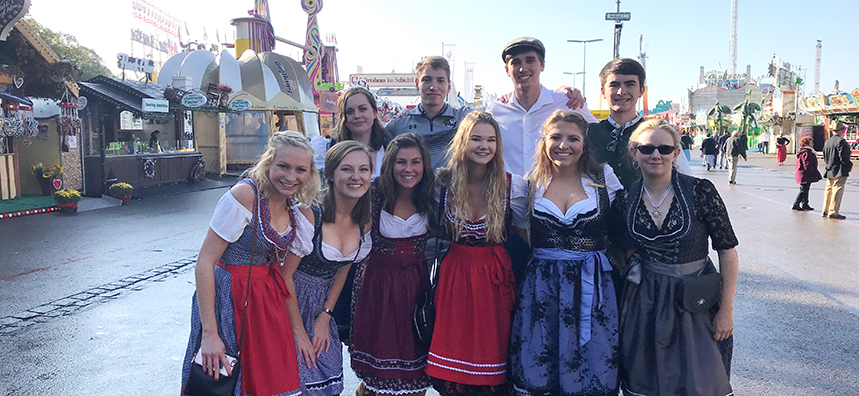 Roanoke in Leipzig
Roanoke is offering a faculty-led semester in Leipzig Germany - an exciting opportunity to spend a semester learning German politics, history, culture, and language. To learn more, click here.
Roanoke goes to the world
Nikki Benedetto '13/France
"While in Paris, we learned the basics of promotions, but we also got to relate and compare to promotions in another culture and country. Seeing this difference in advertising between cultures really helped me think about advertising in a more broad perspective."
Jessica Compton '15/Italy
"At Roanoke, I studied Italian simply because I thought it was a beautiful language, and it altered the course of my life. When I went to Perugia, Italy, I learned to be independent. Not only did I make lifelong friends and improve my language skills, but it changed my perspective and reinforced my sense of adventure."
Griffin Pivarunas '16/Argentina
"Of course, my Spanish improved tremendously. What surprised me the most was how much I learned about myself. I realized taking risks should not be scary. Going, learning, experiencing, appreciating, analyzing, and embarrassing myself in a completely different culture has made me into a happier and fuller person."



The world comes to Roanoke
International Festival
Each spring, Roanoke College presents International Festival, featuring the sights, sounds, and tastes of countries around the world. Hundreds attend to see the display tables hosted by students, faculty, and staff representing our many countries and to enjoy international music, dance, and refreshments.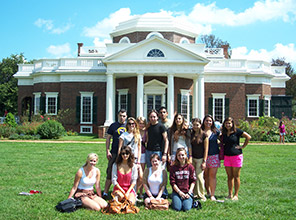 International Club
The Roanoke College International Club emphasizes awareness of cultures throughout the world, providing a forum for international students, American students and faculty to come together. The international club sponsors the annual International Festival, as well as weekend field trips to Washington, D.C., and Charleston, S.C. The International Club also organizes day trips to local destinations, such as Monticello (home of Thomas Jefferson) and the University of Virginia.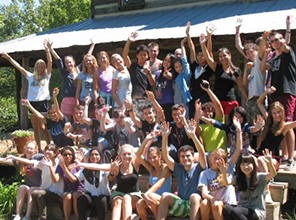 Friendship Family Program

Through the Friendship Family Program, new international students have an opportunity to get to know a local American family who helps students when they first arrive, invites them to community events, and shares holiday meals with them. These local families become an important "home away from home" for our international students.
Global Ambassador
International students who would like to engage more in the local community and enjoy sharing their culture are encouraged to become a global ambassador. Through this program, students are offered the opportunity to give cultural presentations beyond the college campus.