Summer Orientation
Overview
In this new environment, we are working to determine how to proceed with our summer 2020 plans. We will make final decisions about 2020 Summer Orientation by April 17.
In Summer Orientation you begin your journey through a series of presentations & activities, an immersive (overnight) Residential experience, and other opportunities to exam who you are, what interests you, and learn how you'll tackle the challenges you'll face – in college and in life. You will leave here with:
A better sense of what makes you, you!
An understanding of how you fit in and belong to our community of Maroons!
Tools to tackle academic and life challenges and an ability to learn from and push past them!
A course schedule you've helped create and are excited about!
This event is designed for fall start, incoming freshmen. Families, there is a programming for you as well!
Planning
Once you have registered for a session, it is difficult to make scheduling changes. Please review the information below and be as certain as possible that the session you register for is the one you want to attend.
Dates for 2020 Sessions:
Session #1 - June 22 & 23
Session #2 - June 25 & 26
Session #3 - June 29 & 30
Session #4 - July 1 & 2
Times: New Maroons should plan to arrive on campus to check-in and drop off belongings between 8:30am - 9:45am. The opening ceremony will begin promptly by 10am on Day One. Please plan to depart campus no earlier than 5pm on Day Two.
Reservation: Click the online form to choose a session. Session space is limited. If a session is listed as "0 remaining," please register for another session AND email orientation@roanoke.edu to request a spot on a waitlist if one of these sessions is your only option. Session spots will fill on a first come-first-served basis. If spots become available students on the waitlist will be contacted through their RC email.
Registration: We know not everyone is ready to tell us who is coming, where folks are staying, etc. when they reserve their spot. Once these details are decided, please complete the registration. (due June 1)
Fees: All lodging and meals are covered for New Maroons as they will be together as a class for their entire stay at orientation. Lunch on both Day 1 and Day 2 are covered for registered family & guests. Dining services is available for family & guests for additional meals, such as dinner on Day 1 or breakfast on Day 2 at an additional cost. Payment for these meals may be paid on-site by cash or credit/debit. Visit Virginia's Blue Ridge when planning your visit to the local area.
Parents, Guardians, Family & Guests: We encourage you to attend as there is programming especially for parents, guardians, family and adult guests. In addition, if guests would like the college experience by staying on campus, at no additional cost, have your New Maroon indicate this on their registration. Lodging is limited to two guests per new student. Accommodations for additional guests will be considered upon request. Guests must be over the age of 16, unless accompanied by an adult. Bring a sleeping bag, pillow and towel, as they will not be provided. Guests will be housed in an on-campus residence hall separate from students. Depending on the number of lodging requests, rooms may have a shared bathroom with another new student's family. Many questions regarding overnight accommodations can be answered by visiting Residence Life and Housing. If you have a specific question, please call (540)375-2308.
If a parent/guardian prefers to lodge off campus, please visit Virginia's Blue Ridge page for information about local lodging & restaurants.
We also understand that some cannot be away from other obligations at that time of year.
Frequently Asked Questions
Other than reserving & registering for Summer Orientation, what else do I need to do before I come to Summer Orientation?
For a complete list of recommended and required items, refer to the Fall Term Freshmen To Do List under Forms, Links & Lists. Items with a June 1 deadline are:
What should I bring to Orientation?

Photo identification (driver's license, passport, etc.)
Change of clothes (sneakers, light rain jacket, athletic apparel for some activities)
One pair of closed toed shoes
Sleeping bag & pillow
Towel & toiletries
Book bag, water bottle, something to write on and write with
If you bring a cell phone, we ask that you keep it turned off during all Orientation presentations
Do New Maroons have to stay on campus?
Yes! All students will sleep and have meals on campus. Students occupy one residence hall, sharing rooms with classmates. Many questions regarding overnight accommodations can be answered by visiting Residence Life and Housing. If you have a specific question, please call (540)375-2308.
Where will my parent(s) or family stay during Orientation?
Parents have two options. 1. Choose to have the campus experience can stay on campus, at no additional cost, in a separate residence hall 2. Choose to lodge off campus at their own expense.
Can I bring my siblings to Orientation?
Accompanied minor siblings are allowed, however there is no formal program for younger siblings. The game room is available after lunch for older children to visit based on parent/guardian's discretion.
How does course registration process work at Orientation?
Don't stress about choosing classes before Orientation. We are here to help. You don't need to figure this out before coming. During Orientation you'll have a group meeting with a faculty member who will walk you through the course options and help you think about what classes you need and want. After the group session, you'll have a one-on-one meeting with a faculty member who will help you choose specific courses based upon your interests and needs. Reviewing this handout before you come might help.
Am I at a disadvantage if I can't come to the first session?
For many courses open to first-year students, available seats are divided evenly across the different orientation sessions.
Will I be able to see my parent(s)/family during Orientation?
Even though programming for students and parents is separate, you may see each other about campus. Transitioning to college comes with a lot to see, hear, and think about. We encourage student and parents to take notes on all the things you learn so when you do get back together many conversations continue after summer orientation.
Is there transportation to and from the airport or train station?
Transportation can be provided to and from the Roanoke Regional Airport or the Roanoke Amtrak Station. Students and families can be picked up as early as 8am on the morning of Day One and can be dropped off after 5pm on Day Two. Please book travel accordingly; it may be difficult to accommodate outside of this time frame. If transportation is something you may need, please send your travel details to orientation@roanoke.edu as soon as possible.
What happens after June Orientation?
Keep checking your Roanoke College email! You will be notified of additional information and opportunities, regarding the housing portal, business office, and details regarding August orientation.
What happens in August?
Opening Day is Sunday, August 30. Details regarding move-in process and activities will be available soon.
R House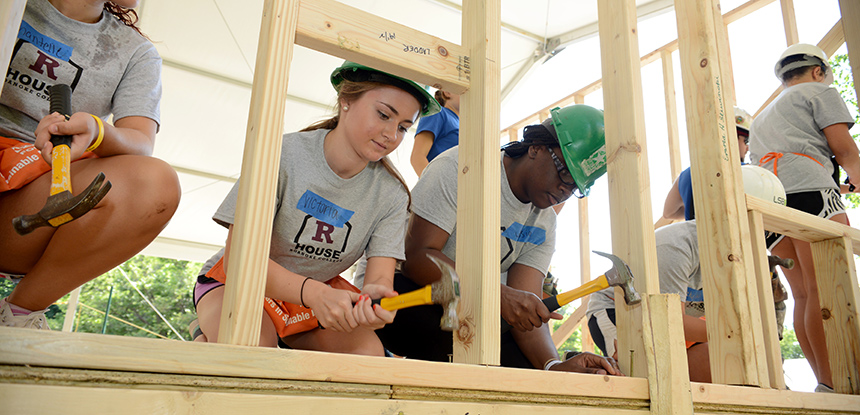 Each year Roanoke College builds a house with Habitat for Humanity for a family in need in the Roanoke Valley. During orientation, the incoming students get to participate in building the "R-House." Students receive hands on experience, anything from raising the walls to hammering down the roof sheathing.