Get Involved
Every year, hundreds of alumni help Roanoke through recruitment, mentoring, fundraising and networking.
Recruit Students
Attracting the kind of students who will thrive at Roanoke is one of our biggest challenges. As part of Roanoke Recruits, your personal story can make a real difference. Share how Roanoke helped you find and live your passion. Attend recruitment events Recommend high school students you think will make good Maroons. Just a few hours of your time can have real impact-and hearing that someone you recruited got in, feels great, too!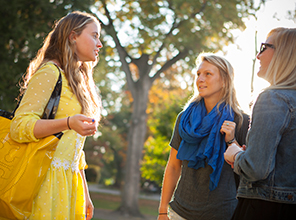 Be a career coach
Your knowledge and experiences are priceless for Roanoke students who are looking at a career in your field. Imagine if you could go back in time and talk to your 21-year-old self, how much it would help! Join Maroon Mentors and you can help students find career direction and prepare for their first job. Mentors provide career advice, help students get internships and coach them on networking, resumes and job interviews. Did someone help you find your career path? Maroon Mentors is a great way to pass on the favor.
Come back to campus and tell your story
At Roanoke we pride ourselves on helping our students find and live their passion. If you're in a career you love, why not share your experience with students who are interested in your field? Through Coming Home, you can join fellow Maroons who return to campus each year to speak to clubs & organizations, teach classes and join in academic and athletic events. Your advice will be much appreciated by students, who are eager to get practical, first-hand knowledge from successful people like you. You'll find their energy and enthusiasm inspiring, too!
Not a gift, more like returning a favor
Were you transformed by your Roanoke experience-did it help get into a career you love? If remembering what Roanoke did for you makes you want to give back, you're in good company-most us just need a close friend or classmate to remind us. Helping to raise funds for Roanoke Rising is good for the future of the College, and keeps you stay connected to people and experiences you cherish.
Get social on LinkedIn
Social media is indispensable to work today-would you make a hire without going to LinkedIn to find and screen candidates? With over 10,000 working professionals, Maroons are an invaluable asset to each other. By joining our Roanoke LinkedIn network, you can help students find a job in their chosen career, and help yourself as well. Looking for a new position? Want to expand your business? Need to bring in new talent? The Maroon network is a place you can turn to with confidence.
"Speaking to students is really a two way street—they get practical career advice, and we get to learn about the mindset of Millennials and absorb their energy and enthusiasm."
Chris Turnbull '00