Senior Class Activities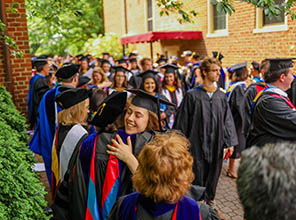 Take a moment to celebrate
Dear Class of 2021,
Congratulations! We hope you'll take a moment to reflect on your achievements and time at Roanoke College. We have officially started the countdown to commencement and it will be here before you know it!
While we remain cautious as a campus we are so incredibly optimistic about what your class is going to accomplish as you prepare for that next chapter. With one semester to go, we hope you'll safely find a way to do all your favorite Roanoke College related activities.
🎓

Countdown to Commencement

🎓
While we are unable to host the traditional 100 Days Celebration we are continuing to look for additional opportunities to plan a celebration soon and we are looking closer to the 75, 50, and even 25-day countdowns. We hope during those times that we are able to host larger gatherings, so you have the opportunity to be together and celebrate as a class.
Stay tuned for more information soon.
Plus, don't forget to set aside an item or two for your senior class time capsule! You are welcome to drop off your items in the Alumni Office inside Ayres Hall, Monday-Friday 8 a.m. to 4:30 p.m. Items will also be collected at all future events for your class.