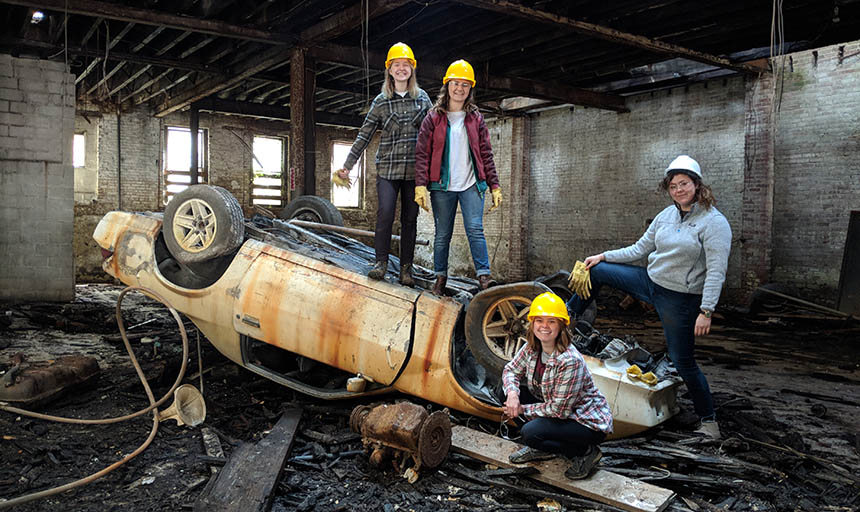 Alternative Fall Break Trip: McDowell, West Virginia
Contact: Toni Fazler, fazler@roanoke.edu
This year's fall alternative break trip is going to McDowell County, WV. McDowell is one of the poorest counties in the country- it's safe to consider it ground zero for the decline of the coal industry and the plight of 21st century Appalachia. We'll be staying in Welch, the county seat, at a non-profit called the Community Crossing (https://www.ccxwv.org/). We leave campus and arrive in Welch on Sunday, Oct. 13. On Monday and Tuesday, we'll be traveling up to Raleigh County to work with an environmental justice group called Coal River Mountain Watch (https://www.crmw.net/). Monday will be spent becoming familiar with CRMW and going on a mountaintop removal tour, on which we should get to see some active strip mines, and Tuesday will be spent doing service with CRMW. For the rest of the week, we'll be back in Welch doing service facilitated through the Crossing. Although the service schedule with the Crossing is yet to be carved into stone, it'll likely include home repairs, pantry organization, childcare, etc.
Finally, we leave West Virginia and return to campus on Saturday, Oct 19. However, before we return, we'll be traveling up to Fayetteville for Bridge Day! The New River Gorge Bridge, located on US Route 19 just north of Fayetteville, is the fourth-longest single-arch bridge in the world. Every year, they close it off to traffic for a day and hold a festival- Bridge Day! People base jump and bungee jump off the bridge, a ton of vendors come out, etc. Callie and I are stoked that Bridge Day falls during our AB and it should be a fun end to the week!
The cost for the entire trip is $200 with scholarships available that cover half the cost. That covers everything (lodging, meals, etc.) except for any money you'd like to spend at Bridge Day. Please contact cjhammer@mail.roanoke.edu or bavester@mail.roanoke.edu if interested.
Share
10/13/2019 12:00 AM
10/13/2019 11:59 PM
America/New_York
Alternative Fall Break Trip: McDowell, West Virginia
Choose service this fall break by joining Roanoke College an a educational and enriching experience!
Roanoke College
Toni Fazler, fazler@roanoke.edu
true
MM/DD/YYYY
Add to Calendar