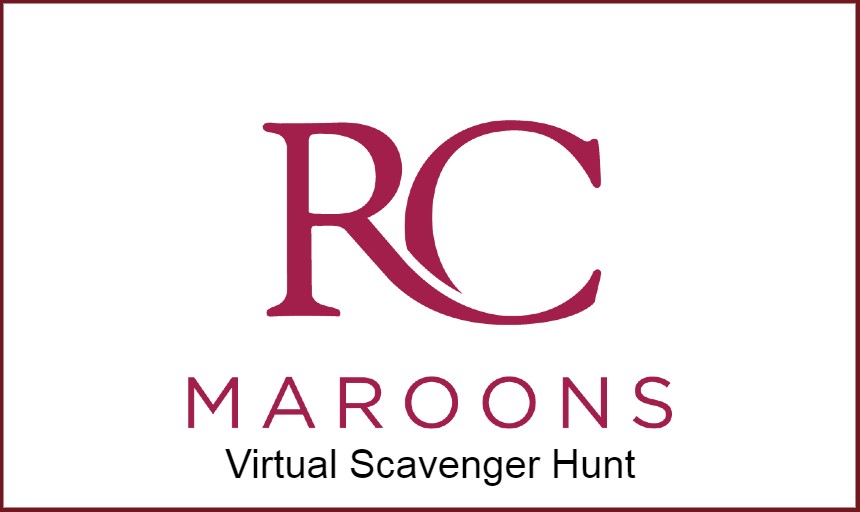 Alumni Weekend Virtual Scavenger Hunt
Contact: Roanoke College Office of Alumni & Family Relations, rcalumnievents@roanoke.edu
Thank you for joining us for a little fun before Alumni Weekend,
we hope you enjoy our virtual scavenger hunt!

This event is open to 200 people, and the top five participants
will win a free Ultimate RC Swag Box!
To see what's included in the box:
Winners will be announced during the Maroons Together Happy Hour on Saturday, April 17 starting at 5:30 p.m. EDT. A real-time leaderboard is included within the Goose Chase App, so you can always check on your progress there. Once you register, we will send you information on how to download and use the Goose Chase App.
Everything you will need to do for this adventure can be done wherever you are located, so you do not need to be in Salem to participate! There are a total of 42 events to complete for a total of 21,000 points, however, there will also be chances for bonus points!
The tasks are listed in order of point value (lowest to highest) – but that does not mean you need to complete the tasks in the order they are listed. Scan the clues and create your own point strategy. You can choose to knock out a bunch of 100-point clues or go for the biggies, whichever you prefer.
If you have other questions, please contact us at (540) 375-2238 or email us at rcalumnievents@roanoke.edu.
Go Maroons!
Roanoke College Office of Alumni & Family Relations
Share
04/01/2021 3:00 PM
04/17/2021 5:00 PM
America/New_York
Alumni Weekend Virtual Scavenger Hunt
You're invited to join the inaugural Roanoke College Alumni Weekend Virtual Scavenger Hunt!
We have 42 tasks for you to complete for a chance to win a FREE Ultimate RC Swag Box!
Online
Roanoke College Office of Alumni & Family Relations, rcalumnievents@roanoke.edu
true
MM/DD/YYYY
Add to Calendar