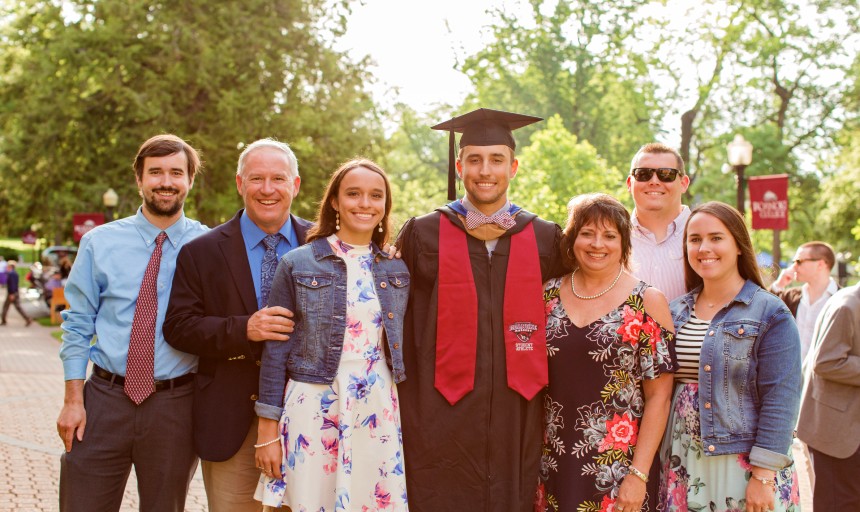 Class of 2021 Legacy Photos
Contact: Roanoke College Office of Alumni & Family Relations, rcalumnievents@roanoke.edu
Class of 2021 Legacy Students and Families:
It is our tradition to take photographs of our graduating seniors with Roanoke College legacy families on the morning of Commencement. Legacy families are those that have generations of family members who are Roanoke College alumni. We like to highlight families such as yours in our publications whenever possible.
If you are interested in participating, please sign up for a timeslot below. Our photographer will be there for a group shot and then take individual family shots. Please wear your cap and gown to the photoshoot and meet out front of the Roanoke College Administration building where staff will assist you.
This is at no cost to you and we'll be happy to send you copies of the photos.
In the event of inclement weather, the photos will be taken on the porch of the Administration Building.
Questions?
Please contact the Office of Alumni & Family Relations
at (540) 375-2238 or rcalumnievents@roanoke.edu.
Share
05/29/2021 8:00 AM
05/21/2021 9:00 AM
America/New_York
Class of 2021 Legacy Photos
Class of 2021: You're invited to join us for Legacy Photos
Cregger Center Arena
Roanoke College Office of Alumni & Family Relations, rcalumnievents@roanoke.edu
false
MM/DD/YYYY
Add to Calendar