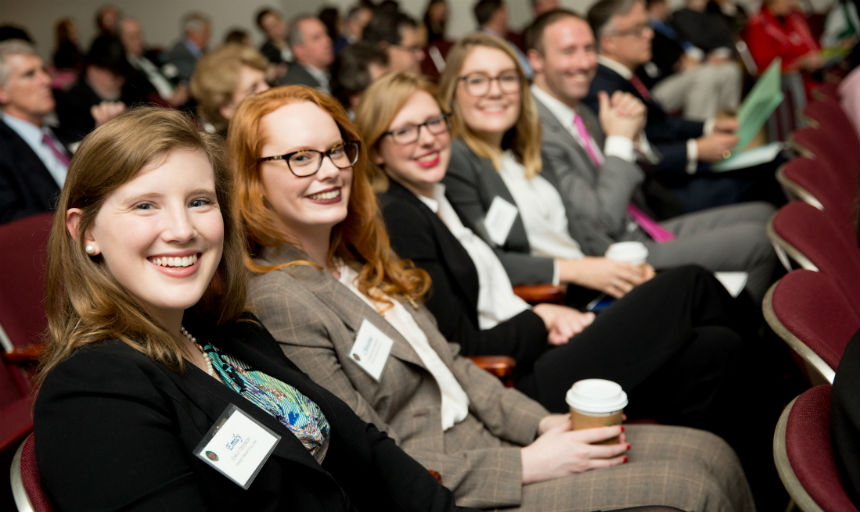 Twentieth Annual Wells Fargo Ethics Bowl
Contact: Community Programs - programs@roanoke.edu
Virginia Foundation for Independent Colleges
SUNDAY, FEBRUARY 10
12:00 – 2:00 pm Registration for Judges, Moderators & Teams - Hampton Inn Lobby
12:00 – 2:00 pm Registration for Local Area Judges, Moderators & Teams - Colket Center Lobby
12:00 – 2:45 pm Shuttle Service to Campus: Judges/Moderators/Teams & Guests - Hampton Inn Lobby
1:30 – 2:30 pm Orientation for Judges and Moderators - Colket Center Ballroom
2:45 – 3:15 pm Opening Session and Convocation - Colket Center Ballroom
3:30 – 4:30 pm Round One of Team Presentations - 8 concurrent sessions, varying locations
4:45 – 5:45 pm Round Two of Team Presentations - 8 concurrent sessions, varying locations
5:55 pm Group Photo - All Attendees & Competitors - Arena Bleachers, Cregger Center
6:00 – 6:30 pm Reception - Arena, Cregger Center
6:30 – 8:15 pm Dinner - Arena, Cregger Center
8:15 pm Shuttle Service to Hampton Inn - Front Entrance, Cregger Center
MONDAY, FEBRUARY 11
6:15 – 8:00 am Breakfast for Participants Staying at the Hotel - Breakfast Area, Hampton Inn
8:45 – 9:45 am Round Three of Team Presentations - 8 concurrent sessions, varying locations
10:00 – 11:00 am Round Four of Team Presentations - 8 concurrent sessions, varying locations
11:20 am – 12:30 pm Final Round and Trophy Presentation - Colket Center Ballroom
Two shuttle buses will be running on Sunday, February 10 from 12:00-2:45 pm to shuttle attendees from the hotel to the campus. A shuttle schedule is included in your information packet. No shuttles will be provided on Monday, February 11.
Parking on campus for Sunday and Monday's competition can be found in the Upper and Lower Olin parking lots.
Boxed lunches will be available outside of the Colket Center Ballroom starting at 11:00 am on Monday, February 11.
Share
02/10/2019 7:30 PM
02/11/2019 9:00 PM
America/New_York
Twentieth Annual Wells Fargo Ethics Bowl
Roanoke College will host the annual VFIC Ethics Bowl. The 15-member Colleges and Universities of the Virginia Foundation for Independent Colleges convene annually for a day-and-a-half in order to provide an outlet for student groups to present their views on important ethical issues.
Colket Student Center, 305 Campus Lane, Salem, VA 24153
Community Programs - programs@roanoke.edu
true
MM/DD/YYYY
Add to Calendar