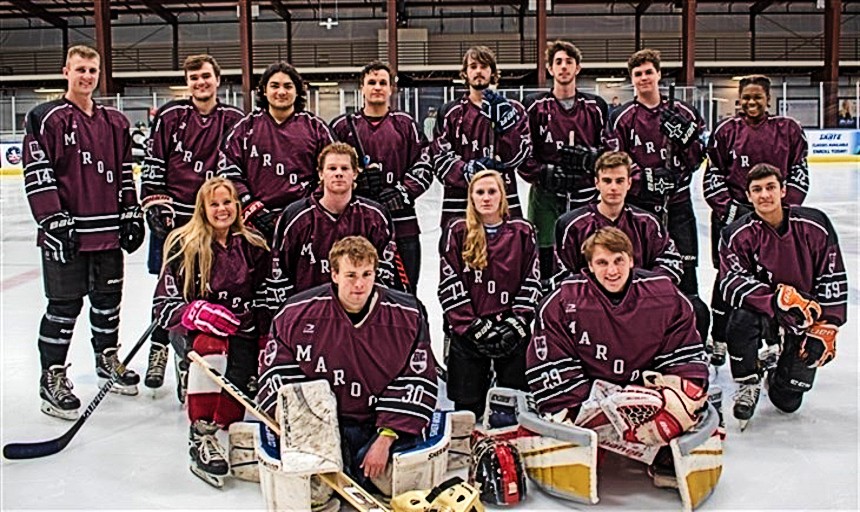 NOKELive: Ice Hockey Night with discussion of the movie Miracle & Roanoke's hockey program
Contact: Office of Alumni & Family Relations
The Roanoke College Alumni Association invites you to our next NOKELive event
NOKELive: Ice Hockey Night with discussion of the movie Miracle & Roanoke's hockey program
Featuring Booker Corrigan '89, Robbie Karim '10, Warren Payne '23, & Steve Esworthy '91.
Monday, June 29th, 2020
7 P.M. EDT
This event will be held on Zoom
Call information will be sent to
those who register for this event
You can also watch this event LIVE on our YouTube channel by clicking here.
The movie Miracle is available to watch on Netflix as well as Disney Plus.
2020 marks the 40th Anniversary of the U.S. men's Olympic hockey team winning the gold medal at the 1980 Olympics. Please join us as we discuss the 2004 movie Miracle that is based on the events of the historic win as well as the College's hockey program - past, current and future.
Scott "Booker" Corrigan '89 played ice hockey and lacrosse at Roanoke College. Booker coached men's lacrosse at Denison and Villanova before beginning a nineteen-year teaching and coaching career at McDonogh School and the Collegiate School in Richmond. He won championships at each school before starting his current job, Vice President of Media at Corrigan Sports. Booker has also been a play-by-play broadcaster for ESPN, CBS and Fox, primarily in lacrosse and basketball. He is the proud father of son Cole (20) and daughter Mary (17) and significant partner of the lovely Tanya McGrath. He presently lives in Baltimore, MD.
Robert "Robbie" Karim '10 started his movie review career as a student during the 2007-2008 year at the encouragement of faculty member, Dr. Gary Hollis, and friend Joe Richmond. His first review was Battle L.A., and from there he would review between 2-3 movies a week. Then during the summer of 2008, he moved up to 5 movies a week due to the summer rush and midnight release premieres. He currently writes reviews for the website IMDB.com and has his own blog. When not reviewing movies, Robbie is a pharmacist at the Salem Veterans Administration Medical Center. He attended Shenandoah University: Bernard J. Dunn School of Pharmacy.
Warren Payne '23 is a rising sophomore at Roanoke College from Alexandria, Virginia. He is an honors student majoring in Health and Exercise Science and plans to add program in Psychology, Neuroscience, and Statistics. He serves on student government and is a member of Alpha Phi Omega service fraternity. Building off time playing youth hockey, he currently play goalie and serves as the Vice President for Program Development for the Roanoke College club ice hockey team and volunteers as a coach for youth hockey back home.
Steve Esworthy '91 has served as an informal advisor to the Club leadership. He has been involved with conversations related to the local and regional hockey landscape and team finances. He is a lifelong hockey player, has coached high-level youth hockey for the past twelve years and is a minority owner of the Roanoke Rail Yard Dawgs of the Southern Professional Hockey League. Steve currently serves in the position of Director of Development for the College.
Share
06/29/2020 7:00 PM
06/29/2020 8:00 PM
America/New_York
NOKELive: Ice Hockey Night with discussion of the movie Miracle & Roanoke's hockey program
The Roanoke College Alumni Association invites you to our next NOKELive event featuring Booker Corrigan '89, Robbie Karim '10, Warren Payne '23, & Steve Esworthy '91.
Online
Office of Alumni & Family Relations
false
MM/DD/YYYY
Add to Calendar