Environmental Studies



The Environmental Studies Program at Roanoke College engages you in:
investigating pressing local, regional, national and global environmental problems
gaining insight into your relationship with nature
shaping your role in creating an equitably sustainable world
The Major [B.S. degree]:
MAJOR CHECKSHEET: Environmental Studies

CORE:
Intro to Environmental Science (with lab)
Intro to Environment and Culture
Intro to Environment and Society
Geographic Information Systems
Environmental Practicum
TRACKS:
Environment, Society and Science: Environmental Social Sciences grounded with scientific literacy
Conservation and the Earth's Critical Zone: Scientific exploration of environment, emphasizing Ecology and Earth Science
The Minor:
MINOR CHECKSHEET: Environmental Studies Minor
Three Introductory Environmental courses and three Environmental Studies upper-level courses
RESEARCH AND INTERNSHIP OPPORTUNITIES
Urban agriculture
Appalachian Trail Conservancy internships
Environmental justice
Food systems and farming: scientific, sociological and political science research
Critical Zone Science; land use impacts at the Calhoun Critical Zone Observatory, Sumter National Forest, South Carolina
GIS-applications to environmental problems
Community ecology and invasive species in Roanoke Valley
Societal impacts of mountaintop removal
Native Americans, indigenous cultures, Asian religions and environmental thought
NEW COURSES
Environmental Justice
Conservation Science (with lab)
Sustainable Agriculture and Food Systems
Critical Zone Science (with lab)
Sustainable Cities
Sustainability and spirituality in the Pacific Northwest
The Environment Center
Learn more about the Environment Center here.
Like us on Facebook:
www.facebook.com/environmentalstudiesRC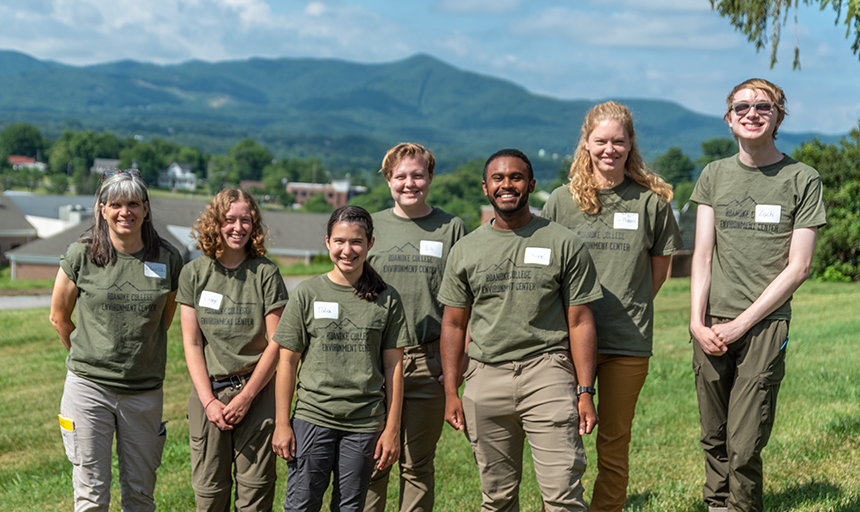 We invite the college community of students, staff, and faculty to visit and learn about The Environment Center (EC) at this open house event.
Date | Time: Friday, March 31, 2023 | 2:30 PM
Location: The Environment Center on Kime Lane on Elizabeth Campus