Access Your Maroon Card Account
The Maroon Card is your:
College ID
Facility Access Card
Library Card
Meal Plan Card
Print Card
Access to your Financial Aid Bookstore Voucher
Maroon Money (Debit account accepted on campus and on certain off-campus locations - see Off-Campus Use)
Maroon Card Mobile Credentials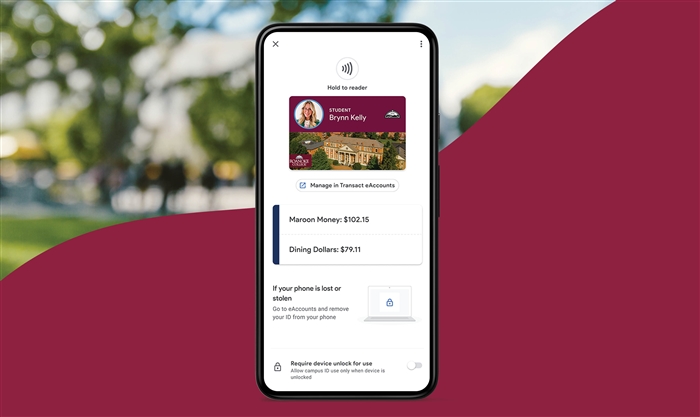 How does the Maroon Card Work?
Everyone with a Maroon Card has a Maroon Money account (it is up to you if you load money to it).
There are no fees or interest charges while active.
Amounts can be added for $5.00 and up.
Funds can be loaded online at anytime and are accessible immediately.
The account stays active as long as the cardholder has an active status with the college. The balance will roll over from semester to semester (with the exception of Financial Aid) and year to year.
The Maroon Card is NOT an ATM card – you cannot use it to get cash withdrawals.
The cardholder's balance will be refunded after graduation, withdrawal from school, or termination for employees. All balances over $20 will be returned to the cardholder minus a processing fee of $20. Cardholders are encouraged to spend the remaining account balance to avoid the closing fee.
Cardholders may check their balances and transactions online.
Cardholders are responsible for disabling their cards if they are lost or stolen.
There is a cost of $25 for a replacement ID card at Campus Safety.
The Maroon Card is not to be used as a method of payment for full semester tuition or room and board. Roanoke College reserves the right to limit or disallow acceptance for this purpose.
Once a student's $50 print allotment has been used, print funds will deduct from Maroon Money.
Depositing Money to Your Maroon Card Account
Maroon Card Account Info & Deposit
Deposit in person (by cash, credit card or check) at:
The Business Office on the first floor of College Hall during office hours 8:00 a.m. to 4:00 p.m. Monday thru Friday
Colket Center Information Desk, 8:30 - 4:00 Monday thru Friday
For Parents, Grandparents, Friends and Family:
Click "Make a guest deposit" at bottom of window.
(need student ID# to log in)