Roanoke College has a variety of departmental facilities that many students interested in the health professions would not have access to at other similar undergraduate institutions. Some of the technology and facilities students at the College have access to include:
Scanning electron microscope
Anatomy cadaver lab
Modern labs and an athletic training room
400 MHz nuclear magnetic resonance
Fourier transform infrared spectroscopy
UV-Visible spectroscopy
High performance liquid chromatography
Gas chromatography/mass spectrometry
And much more!
Each department has its own facilities available for student use. Despite its current variety of facilities, the College is committed to expanding the resources available for student use. Below is information on the facilities available by department.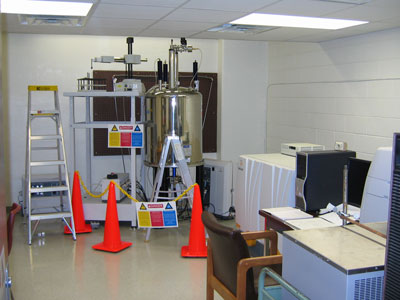 400 MHz Nuclear Magnetic Resonance
The biology department occupies most of the second, third and fourth floors of the Life Sciences building. The department has six teaching laboratories, three lecture rooms, faculty offices and numerous auxiliary areas. Within the last two years, the department has extensively renovated some of its teaching laboratories. The lab spaces on the second floor are devoted to faculty and student research. Each faculty member has a separate research laboratory to pursue his/her area of expertise. The department has a fully equipped darkroom, a large walk-in temperature-controlled chamber, a small shop, an aquarium room, a roof-top greenhouse, autoclave and tissue culture rooms, a microscope suite including a scanning electron microscope and several environmental chambers. The department also houses a fish collection containing some 200,000 specimens.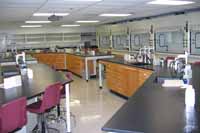 The chemistry department is located in the Trexler building. The department has many instructional and research laboratories for student use. We offer students the chance to use modern instruments as early as their semester. The department is nationally known for innovative uses of advanced instrumentation in its laboratory courses and in student/faculty collaborative research projects. Current instrumentation available for student use includes laser based fluorescence, 400 MHz nuclear magnetic resonance, Fourier transform infrared spectroscopy, UV-Visible spectroscopy, high performance liquid chromatography, gas chromatography/mass spectrometry and more. Once trained, students operate these instruments independently, enhancing their ability to do research. At other institutions students might "see" an instrument operated by professors, but at Roanoke the students operate the instruments themselves.
The C. Homer Bast Physical Education and Recreation Center is the home of the Belk Fitness Center and the Roanoke College Athletic Training Program. It has two traditional classrooms, an instructional technology classroom, the Roanoke College Hall of Fame Room, the Belk Fitness Center and the Athletic Training Room. The Belk Fitness Center is open to the entire college community and is also used by student athletic trainers for the rehabilitation of the College's athletes. Students interested in becoming an athletic trainer gain clinical experience in the athletic training room and through directed observation of faculty members.