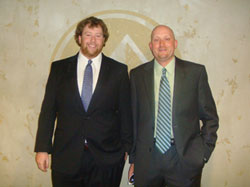 Patrick Dolan with Alan Rowsome at the
Conservation Advocacy Associate, The
Wilderness Society.
Why you should consider an internship:
In a time of increasingly competitive job markets, a successful internship may provide the distinguishing edge for a student. An internship has helped many students decide what career to pursue. Interns learn about the host organization, get a taste of working in the real world, and are provided with opportunities to establish important networking relationships that often lead to employment after graduation. An internship also offers an opportunity to test textbook theories against the active world of government, politics, and public affairs. Many students have indicated that their internship was a highlight of their college experience.

Internships may be completed locally, elsewhere in the U.S., or even abroad. Internships may be completed during a regular term, May Term, or over the summer. No more than two units of internship may count toward graduation. The Career Center also has exploratory non-credit and credit internships available. Please contact that center if you are interested. It also is a good source of materials that may inspire ideas for internships that may be taken for credit. In addition, some internships that don't qualify for departmental credit (CJUS/IR/POLI 416) may qualify for 0.5 unit credit as ROA 216. Contact Dr. Rich Grant to learn more.
How to arrange an internship:
Contact Dr. Andreea Mihalache-O'Keef, the internship coordinator for Public Affairs. She can provide leads, review requirements, and assist with the details of the internship. Students interested in the Washington Semester program should contact Dr. Todd Peppers for more information.


What are the requirements?
Student Qualifications:
A minimum 2.5 GPA overall or a 2.5 GPA or higher in your major for the past two semesters
Sophomore or more advanced standing
Successful completion of at least 3 courses each in Criminal Justice or International Relations or Political Science
Requirements of the Internships:
Completion of a minimum of 120 hours
Submission of a learning agreement completed by the student and learning agreement completed by the site supervisor
Submission of a journal that reflects on the daily experiences of the internship
Submission of a completed evaluation form by the site supervisor and evaluation of the internship experience submitted by the intern
Communicating with Dr. Mihalache-O'Keef periodically during the internship
Completion and submission of a 7-10 page paper
Interns must also develop a poster and participate in an on-campus internship showcasing event
Internship paper should discuss:
The mission of the organization
An analysis of how the organization fulfills that mission
An assessment of the practical and experiential benefits of the internship
Analysis of how the internship experiences relate to, enhance or differ from theories and concepts learned in the classroom
Paid internships are permissible
Forms:
Public Affairs Internship Learning Agreement (Student)
Public Affairs Internship Learning Agreement (Site Supervisor)
Public Affairs Internship Evaluation (Student)
Public Affairs Internship Evaluation (Site Supervisor)

For additional information see the Office of Career Services Internship page.