Monterey House
Located at the corner of High and Clay streets, the recently renovated Monterey House is used as the Faculty House meeting space and serves as the college's guest house. The overnight guest rooms are located on the second floor of Monterey. These rooms provide overnight accommodations for designated visitors who are here on college business (e.g., alumni and guest speakers.)
The property has federal, state and local historic landmark status. The large, Greek Revival-style house was built in 1853 for Powell Huff, a Salem businessman. In its long history, Monterey has served as a hotel, a rooming house, a fraternity house and was a private residence from the 1920s until the college purchased it in 2002. According to tradition, the buildings on the Monterey property were built by the Dyerle brothers. The Dyerles also built the College's Administration Building.
Monterey Rooms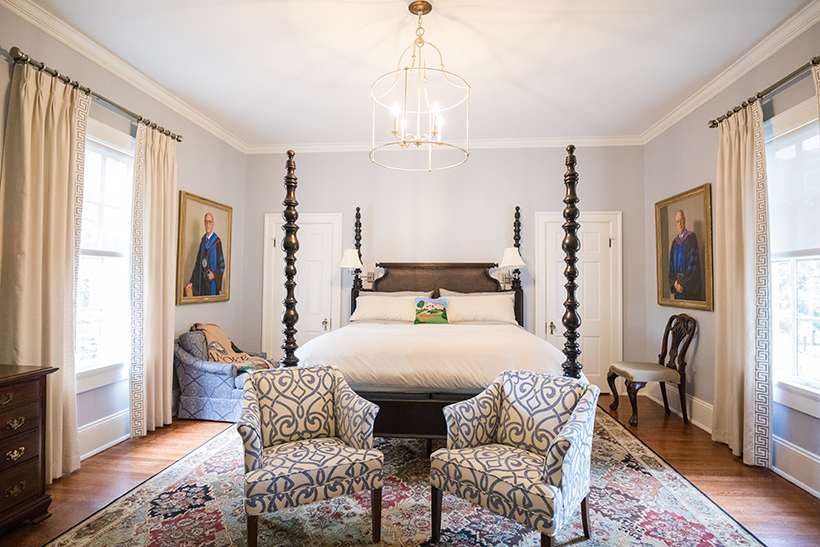 Room 1
A large room with ample seating, Room 1 has a king-size bed, en-suite bathroom, shared sitting room, two closets, ironing board, television and desk.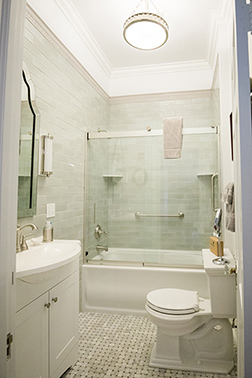 Room 1 Bathroom
The private, en-suite bathroom in Room 1.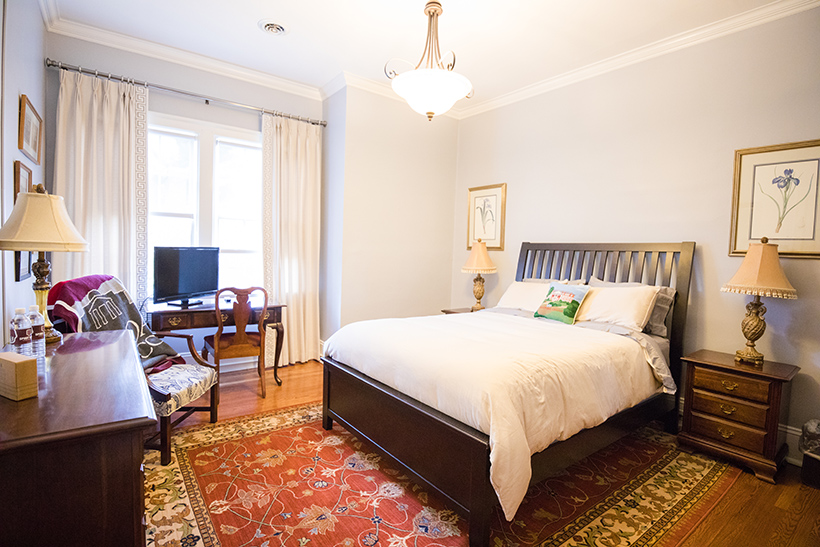 Room 2
Room 2 has a queen-size bed and one closet. Guests in Room 2 will use the shared bathroom down the hall.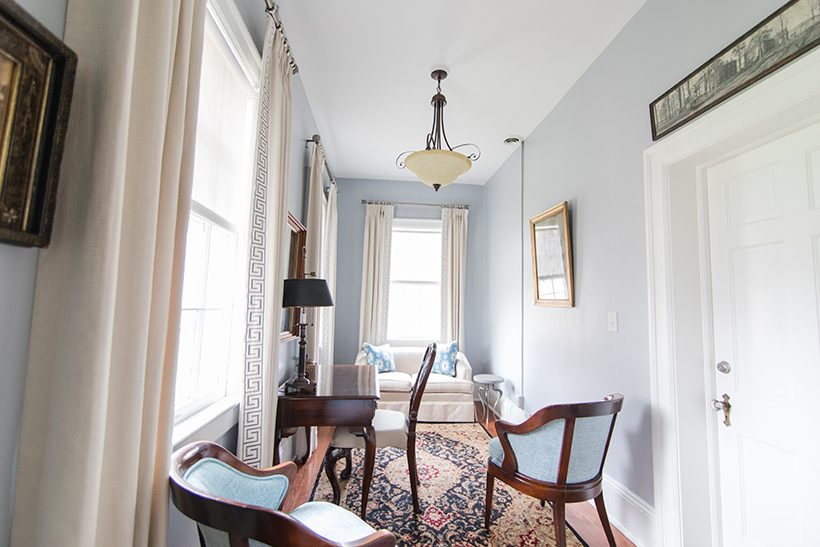 Sitting Room
Sitting room accessible for guest room 1 and 2.
Room 3
Room 3 is spacious with a queen-size bed, television, ample drawer space and one closet. Guests in Room 3 will use the shared bathroom down the hall.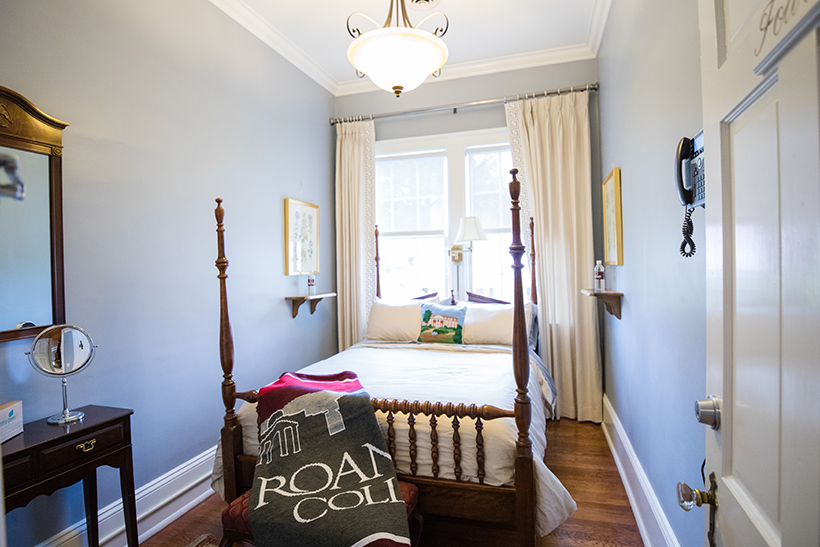 Room 4
Room 4 is a smaller room with a full-size bed and lots of natural light. There is no television in this room and one closet. Guests will use the shared bathroom down the hall.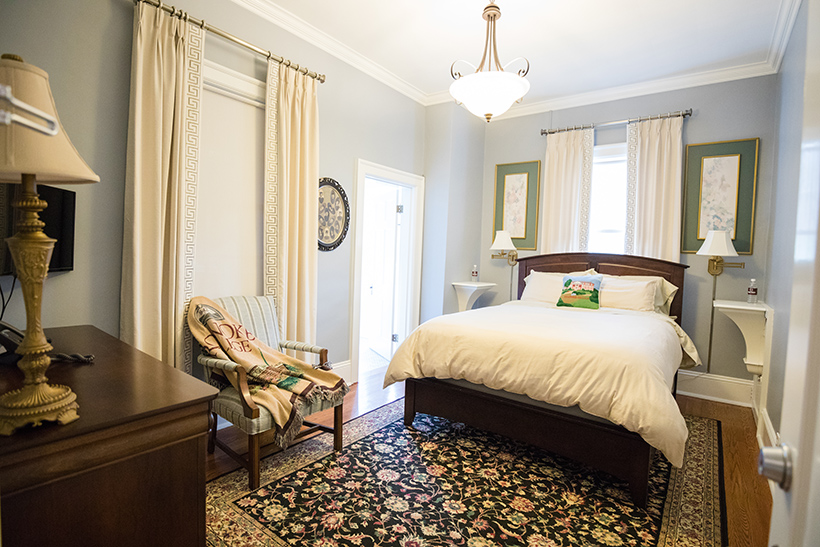 Room 5
Room 5 has a queen-size bed, television, one closet and a private, en-suite bathroom.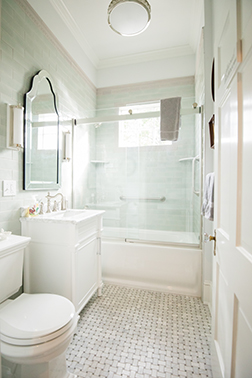 Room 5 Bathroom
The private, en-suite bathroom in Room 5.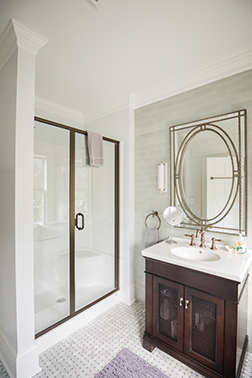 Upstairs Bathroom
The shared bathroom for rooms 2, 3 and 4.

Pricing
| Room | Department Price | Private Cost |
| --- | --- | --- |
| Guest Room 1 (King with Private Bath) | $90 | $120 |
| Guest Room 2 (Queen) | $80 | $100 |
| Guest Room 3 (Queen) | $80 | $100 |
| Guest Room 4 (Double) | $50 | $75 |
| Guest Room 5 (Queen with Private Bath) | $80 | $110 |
Guest House Information
All arrangements for use of the guest rooms and meeting rooms are to be made through the Colket Center Information Desk (extension 5125).
To request a guest room, you must complete a request form available from our office or you can access it on the Roanoke College web page at: https://forms.roanoke.edu/montereyhouse. To request a meeting room, use the Room and Facilities Request Form located on Inside Roanoke.
All rooms have internet access and televisions. Complimentary toiletries and hair dryers are provided. The Roanoke College needlepoint pillows and throws in the rooms are for your use during your stay. However, if you would like to bring home a souvenir of the College, you can purchase these items from the Campus Store. Roanoke College robes are provided as a courtesy for your comfort during your stay, however, they are not available for purchase.
Guests will find a lovely outdoor sitting porch off the upstairs hallway, comfortably furnished, complete with a ceiling fan to enhance the breeze. The downstairs front and side porches have rocking chairs and porch swings with views of the surrounding area. Guests have full access and use of the living room, sun room, and kitchen, including the refrigerator for personal items. Complimentary coffee and tea is provided.
No furniture should be moved in the meeting rooms. All meetings need to be finished and cleared by 9:00 pm for the comfort of the guests staying upstairs.
The on-campus sponsoring individual is responsible for picking up and returning the guest room key/front door key to the Colket Center. A key drop-off box is located in front of Room 1 in Monterey.

Check-out time is 10:00 a.m. and check-in time is 2:00 p.m., in order to allow time for cleaning of the rooms for the next guest. The housekeeper or sponsoring department can help guests store their luggage in a designated area should there be a need. A telephone extension (#5562) is located in the kitchen.
Policies
1. The guest and sponsoring department shall be held fully responsible for any damage either to the room, furniture or facility.

2. Roanoke College facilities are smoke-free environments. Guests are asked to assist Roanoke College in this attempt to maintain a healthier environment.

3. Unauthorized use of guest rooms is not permitted. Requestors need to reserve a room in advance through the Information Desk of the Colket Center.

4. Use of the Monterey Guest Rooms are open to all Roanoke College faculty, staff and alumni, depending upon availability and reason. Guest rooms are not normally used for non-college use.

5. Guest house keys should be returned to the Colket Center before 4:30 p.m. on the day of departure or left in the key drop-off box located outside Room #1 upstairs. Lost keys will result in the sponsor being billed $25.00 for each key (a total of $50.00).

6. Parties and unacceptable behavior in the guest rooms is not permitted. Only registered guests are permitted to stay in the rooms. All Roanoke College policies apply to guests.

7. Roanoke College is not responsible for any loss, injury, theft or damage that might occur.

8. Pets are not allowed to accompany guests during their stay in Monterey, except licensed Service Animals.