Alumni News – July 2022
July 13, 2022
Bettie Sue Siler Masters, Ph.D. received an honorary Doctor of Science degree at the 2022 commencement ceremonies at the Medical College of Wisconsin. Masters '59, of Durham, N.C., was additionally honored with the dedication of a conference room in her name.
Masters, the Medical College of Wisconsin's (MCW) first female department chair, led the department of biochemistry as professor and chair from 1982 to 1990. Dr. Masters is credited for establishing MCW's joint MD/PhD program (the Medical Scientist Training Program).
Before joining MCW in 1982, Dr. Masters was a professor of biochemistry at the University of Texas Southwestern Medical School. Dr. Masters left MCW in 1990 to become the first Robert A. Welch Distinguished Professor in Chemistry at the University of Texas Health Center in San Antonio. She is now an Adjunct Professor of Biochemistry at Duke University Medical Center.
Over the course of a 45-year career in academic medicine, Masters was awarded research grants by the National Institutes of Health totaling $17 million. Masters' scientific honors include the Federation of American Societies for Experimental Biology Excellence in Science Award and the American Society for Pharmacology and Experimental Therapeutics Bernard B. Brodie Award. She was named a fellow of the American Association for the Advancement of Science and also served as president of the American Society for Biochemistry and Molecular Biology.
In 1996, Dr. Masters was elected to the National Academy of Medicine (formerly the Institute of Medicine of the National Academies) – one of the highest honors for an American scientist or physician. Masters is one of the science alumni who serve on the Roanoke College Science Center Campaign Committee. She received her first honorary degree from Roanoke College in 1983.
The Masters family has many Roanoke College connections. Her late husband was Robert Sherman Masters '54 and her daughter is Deborah Masters Camitta '87.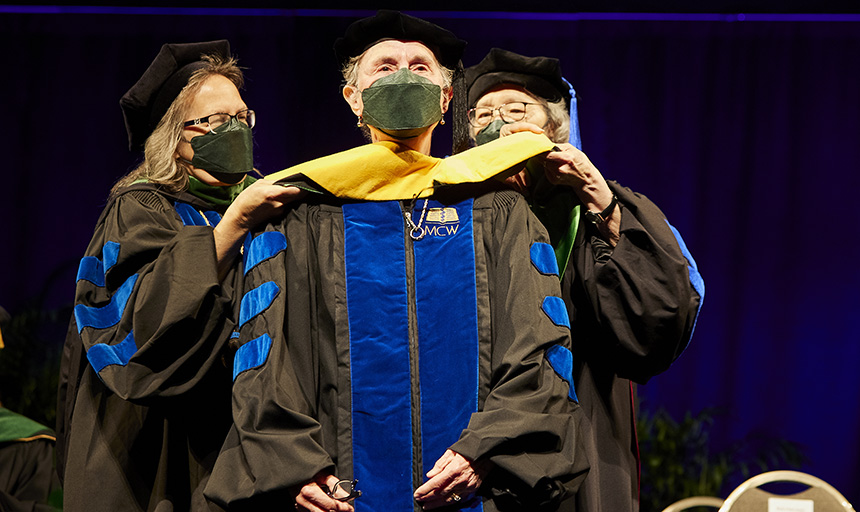 Bettie Sue Siler Masters receives an honorary Doctor of Science degree at the Medical College of Wisconsin.
More alumni news:
James Turk '79 was appointed to the Radford University Board of Visitors by Virginia Governor Glenn Youngkin. Turk is a partner at Harrison and Turk, P.C.
Barry Hubbard '99, Ph.D., has been named the new Dean of the School of Trades, Advanced Technologies and Sustainability and the School of Business, Professional Studies and Education at Santa Fe Community College in New Mexico. Hubbard '99 was a music major at Roanoke College.
Previously, Hubbard served as the Dean of Associate in Science Degree Programs at Hillsborough Community College, Dale Mabry Campus, in Tampa, Florida, where he was responsible for the academic operations and administration of more than 60 associate degrees and college credit certificates in accounting, architecture/building construction, business administration, computer information technology, dietetics, electrical engineering, entrepreneurship, and hospitality/culinary management. He served as a dean for four years and worked at the college for 15 years, serving as a faculty member and department chair for computer science.
Hubbard also has worked in student affairs and administrative roles at Saint Leo University and in the College of Education at the University of South Florida. In addition to his degree from Roanoke, Hubbard also holds an M.Ed. in Curriculum and Instruction, and Ph.D. in Instructional Technology both from the University of South Florida.
Nicholas Wright '16 has completed his Ph.D. in biochemistry at Duke University. He defended his dissertation "Structure, function, and pharmacology of human nucleoside transporters" in June. Wright's research focus is on structural and functional studies of human drug transport proteins. He will be staying on at Duke to complete his ongoing research.
"My ultimate goal is to lead a research team in an academic setting as a university professor," Wright said, "focused on structural, biophysical, and functional studies of human proteins of high pharmacological relevance."
Wright and his wife, Isabel, have a one-year-old daughter.
Wright said he believes he and Dr. Masters "are the only two Roanoke graduates to complete a Ph.D. in biochemistry at Duke."
"I am honored to follow in her footsteps," Wright said. "Dr. Masters is a leader in her field, making seminal discoveries in enzymology over many decades. She is also a leader and role model for many researchers in the field of biochemistry in general, having served in leadership roles for large professional societies and training programs."