Alumni News – June 2021
June 24, 2021
LCDR Matthew Hall '09, a U.S. Navy physician and an adjunct assistant professor in the Department of Family Medicine at University of North Carolina Chapel Hill, has been named the 2021 Henry M. Jackson Foundation Hero of Medicine.
Dr. Hall serves as the preventive medicine and public health policy advisor for the U.S. Navy's Bureau of Medicine and Surgery, according to a news release earlier this month announcing his award. In the COVID-19 pandemic response, Hall's "initial work in coordinating logistic and medical policy efforts in the Department of the Navy and across the joint force was instrumental in the successful implementation of the COVID-19 vaccination program." In addition, as a public health emergency officer, Hall "has conducted numerous COVID contact investigations, overseen outbreak responses, and advised on the safe operations of Navy installations worldwide under pandemic precautions."
Hall holds a B.S. in biochemistry from Roanoke, an M.P.H. from the University of Florida, an M.S. in clinical research from UNC Chapel Hill, and an M.D. from Uniformed Services University of the Health Sciences.
The Henry M. Jackson Foundation for the Advancement of Military Medicine is a nonprofit organization serving military, medical, academic and government clients by administering, managing and supporting preeminent scientific programs that benefit members of the armed forces and civilians. HJF's support and administrative capabilities allow military medical researchers and clinicians to maintain their scientific focus and accomplish their research goals.
The foundation is named for Henry M. "Scoop" Jackson, a U.S. congressman and senior from the state of Washington from 1941 until his death in 1983. Jackson sponsored the legislation that established the Foundation for the Advancement of Military Medicine, which was named in his honor after his death.
Jennifer Blaney '14 has received the Most Promising New Research Scholar Award from Northern Arizona University, where she is an assistant professor of higher education in the university's Department of Educational Leadership.
The award is given to one faculty member each year in recognition of outstanding research accomplishments and potential. Blaney was recognized for her research on gender equity in computer science degree pathways.
"I was initially surprised to learn that I received the award, being so early in my career as a first-year faculty member in the College of Education," Blaney said. "It was certainly a welcome surprise and such a huge honor to receive this recognition for my research agenda, which I've worked so hard to establish over the last several years."
Blaney joined the faculty at Northern Arizona University last fall, after earning her Ph.D. in higher education and organizational change from UCLA in 2018, and working as an assistant professor at Idaho State University. She has authored more than 20 peer-reviewed publications in leading STEM and higher education journals, including the Review of Higher Education, Research in Higher Education, and Computer Science Education.
Since beginning her faculty appointment at Northern Arizona University, Blaney's work has been funded by the National Science Foundation and the Spencer Foundation. Her newest projects explore community college transfer pathways as a mechanism for advancing gender equity in computer science and other STEM fields.
Blaney earned a B.A. in music at Roanoke College, graduating as valedictorian in 2014.
Jeremy Holmes '00 has been named executive director of the Roanoke Valley-Alleghany Regional Commission.
Holmes has served as director of the Commission's RIDE Solutions Commuter Assistance Program for the past 15 years. In January of 2020, he became the Commission's associate executive director.
The Commission is described as "a political subdivision of the Commonwealth of Virginia established to encourage and facilitate local government cooperation and state-local cooperation in addressing, on a regional basis, problems of greater than local significance."
In addition to his leadership of the RIDE Solutions program, Holmes has been involved in a number of regional community advocacy efforts, including the Roanoke Valley Cool Cities Coalition, the Greater Roanoke Valley Asthma and Air Quality Coalition, Roanoke Valley Reads, and Healthy Roanoke Valley.
"As the region emerges from the COVID-19 pandemic, this period presents not just the promise of recovery from the worst of its impacts, but a once-in-a-generation opportunity to tap into resources for growth in areas like expanding broadband access, enhancing our regional transportation system, and promoting regional economic growth," Holmes said. "I am excited at the chance to serve the region's local governments in achieving these goals."
Holmes holds a B.A. in English from Roanoke College and a M.A. in Liberal Studies from Hollins University.

The first book from
Kara Lissy '11 is now for sale.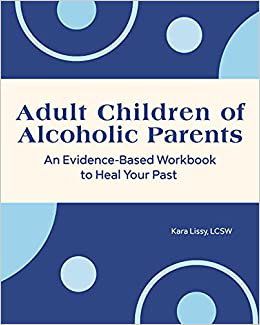 Kara Lissy '11 has released her first book "Adult Children of Alcoholic Parents: An Evidence-Based Workbook to Heal Your Past."
Lissy, clinical director and psychotherapist of A Good Place Therapy & Consulting in New York City, describes the publication as "a workbook designed to walk people who grew up with alcoholic or otherwise dysfunctional parents through healing and recovery using vignettes, psychoeducation and evidence-based exercises."
Lissy, who earned a B.A. in psychology from Roanoke, shared in an email that she studied closely under the late Dr. Curt Camac, who chaired the College's psychology department in the early 2000s, and his wife, Dr. Mary Camac who retires this year. "Dr. Angela Allen [psychology department lecturer] supervised me on my senior thesis, which was also about alcoholism."
Lissy also holds a M.S.W. from New York University. Her book can be found here.