Faculty recognized with Dean's Exemplary Awards
April 24, 2023
Four faculty members have been honored with Dean's Exemplary Awards for their outstanding commitments to service, professional contributions and teaching excellence.
The awards were announced at an April 13 celebration. More than 30 nominations were received, reflecting the competitiveness of the awards and the talent on campus, said Vice President of Academic Affairs and Dean of the College Kathy Wolfe. "I'm so proud and honored to work among such an amazing group of faculty and staff," she said.
Read on to meet the 2023 honorees and hear from their nominators.
---
Dean's Exemplary Service Award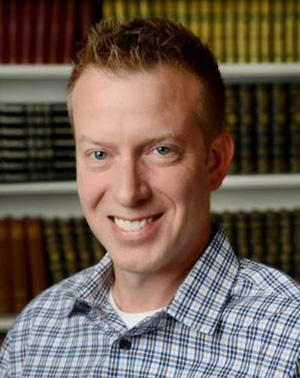 Associate Professor Christopher Buchholz is described by peers as someone who lives and breathes the Maroon spirit and commitment to service. The psychology faculty member has earned a reputation as a thoughtful leader and an advocate for students.
One nominator praised him as a role model, writing, "I have also observed the more indirect contribution of him being a stabilizing agent — consistently working to consider, respect, and understand various perspectives on a range of issues, and modeling such behavior not only to students, but also to junior faculty who are themselves striving to serve students."
Buchholz gives his time to numerous service roles on campus including nine different committee and task force assignments. He also is a faculty marshal, and he recently helped lead a months-long effort to develop a new model for supporting first-year students.
The Dean's Exemplary Service Award recognizes him for his outstanding work that advances the College's mission to develop students as whole people and prepare them for lives of purpose and meaning.
---
Dean's Exemplary Professional Life Award
Alice Kassens, John S. Shannon Professor of Economics, is known for her tireless commitment to advancing research and scholarship. In just the past year, she's published on numerous topics — "The Great Resignation," "Mental Health Crisis during the COVID-19 Pandemic" and "Leaving the Blackboard Behind" — that reflect a prodigious scope of expertise.
She also dedicates herself to mentoring student researchers. Last year alone, she supervised eight student projects and worked with another 13 students in her ECON Lab. "Her research and writing informs and enriches her teaching, as students are invited to join her in thinking about the relevant economic questions of the day," one nominator wrote.
Kassens also leads the Institute for Policy and Opinion Research's consumer sentiment report of Virginia. In 2022, she was named a research fellow for the Federal Reserve Bank of St. Louis' Institute for Economic Equity. The Dean's Exemplary Professional Life Award recognizes her outstanding accomplishments that contribute to the intellectual vibrancy on campus and highlight the value of inquiry and discovery for students.
---
Dean's Exemplary Teaching Award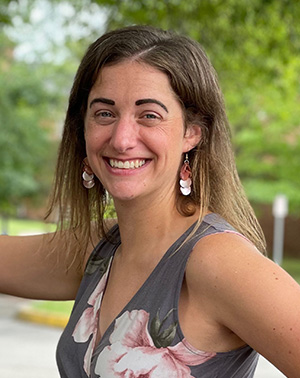 Assistant Professor Margaret Rahmoeller has a knack for making high-level math fun. Her welcoming demeanor, passion for the subject and firm belief that mistakes aren't a failure but instead a learning opportunity have made her known even among students who haven't yet taken one of her courses.
Rahmoeller's philosophy illustrates the power of building community in the classroom, said one nomination, which summed up her reputation in four words: constant enthusiasm and professionalism. She "aggressively seeks out new pedagogical ideas and is constantly working on ways to engage and motivate students in classes that they often approach with fear and trepidation," it continued.
Her peers described her as the type of enthusiastic, innovative professor needed to reach new generations of students. The Dean's Exemplary Teaching Award recognizes her commitment to not only teaching information but to helping students develop as whole people by blending rigor with mentorship.
---
Dean's Exemplary Teaching Award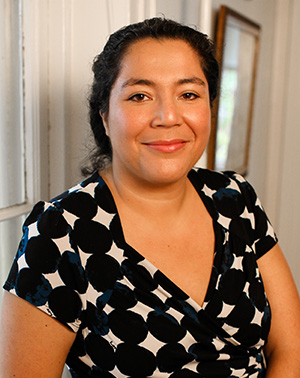 History Professor Ivonne Wallace Fuentes was described by her students as the embodiment of what a teacher should be: passionate, caring, energetic.
She's not afraid to let students take the lead in lively classroom discussions, and she works through initiatives such as the Young Historians to help her students become part of the campus community — what undergraduate will ever forget belting out karaoke with their professor during History Homecoming?
Wallace Fuentes' engaging teaching style is also recognized by her peers. Her recent Teaching Collaborative session on the emerging technology of ChatGPT and what it means for educators drew a standing-room-only audience.
"During my semester taking classes with this professor, I became a better student, a better historian, and a much more active student at Roanoke College," one nominator wrote. "... She speaks with such a passion for history, and it made me even more excited about it."
The number of nominees and the enthusiasm of the nominators spurred Wolfe to decide to bestow two Exemplary Teaching Awards this year.