Roanoke team to deliberate on "Ethics and Digital Media" at statewide Ethics Bowl
January 26, 2023
Three Roanoke College students are set to compete this weekend in the 23rd annual Ethics Bowl sponsored by the Virginia Foundation for Independent Colleges.
The team will go head-to-head against other students from leading independent colleges and universities across the state. The two-day competition will kick off Sunday at Virginia Wesleyan University in Virginia Beach.
This year's Ethics Bowl will challenge students to deliberate on a range of case studies centered on the theme: "Ethics and Digital Media."
Roanoke College's competitors are (pictured below from left): Alexander White '23, Trevor McFall '23 and Gregory Fisher '23. The team's faculty coordinator is philosophy professor Hans Zorn.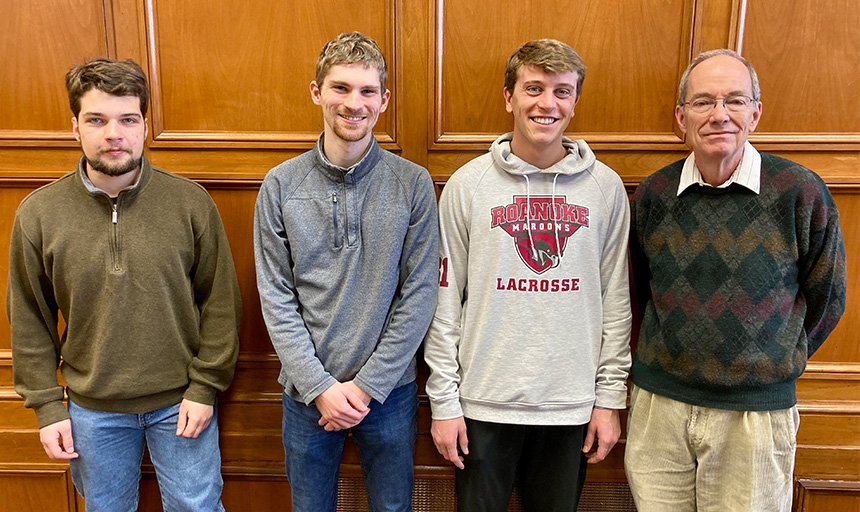 Each team's presentation in the bowl will be assessed by a panel of notable people from diverse professional backgrounds including business, law, education, finance, journalism and more.
This year's event will kick off at 2:45 p.m. Sunday in Virginia Wesleyan's Blocker Auditorium. The public is invited to attend all proceedings free of charge.
Rounds will take place at 3:30 p.m. Sunday, 8:45 a.m. Monday and 11:30 a.m. Monday. Teams will present in different rooms within Blocker Hall, the Greer Environmental Sciences Center and the Susan S. Goode Fine and Performing Arts Center. The winning team will be announced at 12:45 p.m. Monday.
More information about the competition is available here. Roanoke College served as the host for the 20th annual Ethics Bowl in 2019.
READ MORE: Virginia colleges compete in Ethics Bowl hosted at RC
###
Established in 1952, the Virginia Foundation for Independent Colleges aims to advance the distinctive values and strengths of the 16 Virginia colleges in its consortium. That work includes generating financial support for a range of programs that support vibrant, rigorous educational experiences and prepare students for fulfilling careers.
VFIC schools collectively educate more than 30,000 students. The consortium members are: Bridgewater College, Emory & Henry College, Hampden-Sydney College, Hollins University, Mary Baldwin University, Marymount University, Randolph College, Randolph-Macon College, Roanoke College, Shenandoah University, Sweet Briar College, University of Lynchburg, University of Richmond, Virginia Union University, Virginia Wesleyan University, and Washington and Lee University. For more information, visit www.vfic.org.