Roanoke student recognized for spirit, enthusiasm in Washington internship program
January 27, 2017
A Roanoke College student was recognized for her standout spirit as an intern this past fall with the Lutheran College Washington Semester Program.
Out of 48 students in the program's fall semester, Hayley Moe '18 received the Dean Nancy D. Joyner Spirit Award. Joyner is the first and longest-serving dean of the program, where she worked for 25 years, and the award recognizes a student who emulates the dean's enthusiasm.
Moe is the second Roanoke student to receive the award, which has been given each semester since 2013. Reed Walter '17 was the fall 2015 recipient.
The Washington program matches students from 13 Lutheran colleges and universities with internships and offers classes and opportunities for them to explore the nation's capital.
Moe, who is majoring in Religious Studies and Communication Studies, interned at the Steinbruck Center at Luther Place, a non-profit that educates people about poverty and homelessness. There, Moe worked at different kitchens and food banks for the center and led visiting groups and those that stayed at its hostel.
Aside from her daily internship, Moe of North Dakota said she loved exploring Washington, D.C.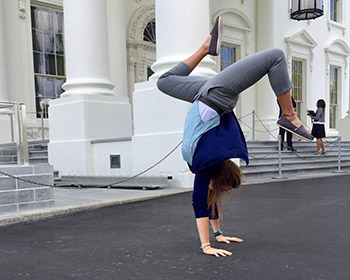 "I wanted to make the most of being there," Moe said, explaining that she sought out new places to see in the city each weekend, crossing them off her Washington bucket list. The list included doing handstands in front of the White House and the U.S. Capitol building.
Moe said one of her favorite activities was running from Arlington, Virginia, to the Washington Monument, where she liked to spontaneously sign up for 5K races happening there.
"Her positive attitude, upbeat energy, and warm personality enabled her to connect with her peers from the outset of the Fall 2016 semester," said Dr. Douglas Clark, dean of the Washington Semester program, about Moe. "Quite simply, Hayley's enthusiasm was contagious."
Moe said she is interested in a possible future career working for a non-profit organization.