Hudon is Rhodes Scholar Finalist
November 16, 2016
Roanoke College senior Rebecca Hudon, from Burrillville, Rhode Island, has been named a Rhodes Scholar finalist. Hudon is Roanoke's first Rhodes finalist in more than 100 years. She will interview with the regional Rhodes committee in Indianapolis, Indiana, later this week.

Hudon is a senior biology major, with minors in chemistry and music, as well as a concentration in neuroscience. She is a pre-med student, she works as a research assistant with Dr. Chris Lassiter, associate professor of biology, on a genome editing tool to create mutant lines of zebrafish.
"I'm interested in the perspective of caring for people, rather than caring for the disease," Hudon said. She also aspires to become a surgeon.
"We are very pleased and excited for Rebecca," Dr. Richard Smith, vice president and dean of the college, said. "As a finalist for a Rhodes Scholarship, she has achieved a level of personal distinction that few students ever achieve. We wish her the best in her interview with the Rhodes Committee. The experience will be one that she will always remember."
Hudon has already been elected into several honor societies, including Phi Beta Kappa and Omicron Delta Kappa.
She works as a student manager with the event staff in the Colket Center. Hudon plays clarinet in the wind ensemble and is the musical director for the women's a capella group Mainstreet. She volunteers with a local hospice and works as a medical scribe at Lewis Gale Medical Center. Hudon also works with Habitat for Humanity. Hudon is a figure skater. She skated with the Ocean State Ice Theater, which won four national gold medals and competed internationally for a bronze medal at the World Cup.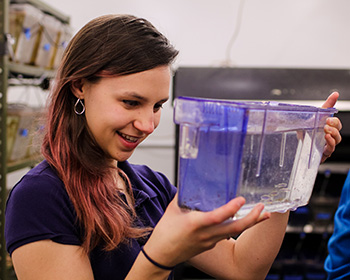 Only 32 Rhodes Scholars will be selected this year from across the U.S. The Rhodes Scholarships are the oldest and most celebrated international fellowship awards in the world. Rhodes Scholars are chosen not only for their outstanding scholarly achievements, but for their character, commitment to others and to the common good, and for their potential for leadership in whatever domains their careers may lead. The Rhodes Trust, a British charity established to honor the will and bequest of Cecil J. Rhodes, provides full financial support for Rhodes Scholars to pursue a degree or degrees at the University of Oxford in the United Kingdom.
If Hudon is elected as a Rhodes Scholar, she would study genetic disease for a master's degree from the University of Oxford.