Creature comfort in the clinic
December 15, 2022
The newest employee in Roanoke College's Jim Buriak Athletic Training Clinic has an affable demeanor, is exceptionally caring in his work with students, and even wears a cute vest.
But once in a while, he does lie down on the job.
Milo, whose official title is student-athlete wellness supporter, can be excused the occasional office nap because in addition to being a very hard worker, he is a very good boy. As a certified therapy dog, Milo has quickly become an adored addition to the training clinic, where he sidles up to students for pets and takes their minds off the pressures of being a student-athlete.
"I met Milo at the beginning of the fall semester, and he has always been there to put a smile on my face," said Morgan Micallef '23, a member of the women's basketball team. "Especially when I have had a long day of classes and I am not in the right state of mind to have a great practice, he immediately calms me down and puts me in an awesome mood."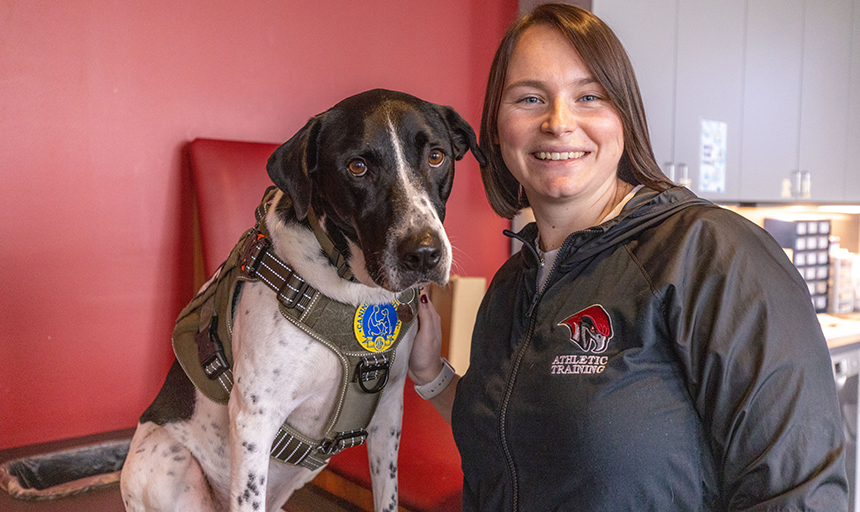 Milo and Gabi Oney '17, his owner and the head athletic trainer in the training clinic.
Milo's mom, Head Athletic Trainer Gabi Oney '17, adopted Milo while working as an athletic trainer at a high school in Washington state. She had moved across the country for the job and a new adventure, but living alone – far from family in Ohio and friends in Virginia – turned out to be harder than she thought. She didn't know what to expect with an adult rescue dog, but she hit the jackpot with Milo. "He has been a godsend," she said.
Oney, who earned a degree in athletic training at Roanoke and an advanced master's in the same field at the University of South Carolina, returned to Roanoke in 2020 to run the Sports Medicine Department and manage a team of athletic trainers. She is also the primary athletic trainer for the wrestling, men's volleyball and golf teams. Each day, 40-50 students visit the clinic to work with athletic trainers, who specialize in preventing, diagnosing and treating injuries.
Milo first came to work with Oney earlier this academic year "a little bit as a joke," she said. She figured with the stress of classes, practices, games and the post-COVID landscape, it couldn't hurt to have a fluffy animal in the clinic for students to pet. After approval from her supervisor, Director of Student Health and Counseling Services Sandy McGhee, Oney brought Milo to work – and he quickly became the star of the clinic.
That's when Oney decided to make Milo a certified training animal and a more permanent addition to the clinic staff. "Sometimes our profession looks casual," she said, "but we are really medical professionals, and this is technically a medical facility, so I wanted to make sure we were not being lax. He has proven time and again that he is respectful and responsible."
MEDIA SPOTLIGHT: "It's that little bit of home." Roanoke College Athletic Training Clinic gets therapy dog via WSLS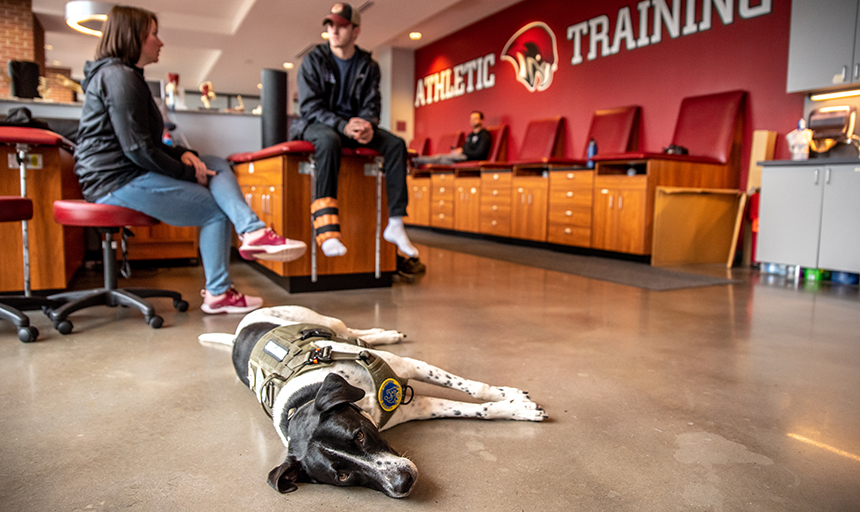 Milo takes a break while Oney works with wrestler Michael Policarpio '26.
With help from Cregger Center Housekeeper Lewis Redd, who trains dogs on the side, Milo was given the American Kennel Club (AKC) Canine Good Citizen Test in the Salem High School parking lot. The test covers skills such as walking on a leash, meeting other dogs, lying down, staying and getting petted. Milo passed with flying colors despite seeing a squirrel during the test.
Because continuing education is very important to both Oney and Milo, though, they decided to pursue an advanced degree. Oney reached out to Pet Partners, a national, AKC-recognized nonprofit that registers volunteer therapy teams across the country. Through Pet Partners, Oney was able to take a handler course and learn to be a good advocate for her pet. Milo was so well-behaved that he didn't need additional training; he only had to pass an evaluation exam, which involved assessing his condition, testing him on basic obedience, and observing him during awkward situations, such as crowds of people or loud noises.
Milo passed his exam on Nov. 19, earning a graduation celebration in the training clinic that included a party hat and a bowl full of biscuits. According to Oney, he was fed so many congratulatory biscuits that he took a long office nap that afternoon.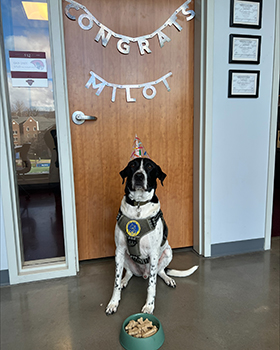 Now, Milo shares the nameplate on Oney's office door and has an official bio on the athletics website that describes his duties as "providing support to student athletes and staff when visiting the sports medicine clinic, keeping athletes company during rehabilitation and exercises, receiving all the pets and scratches, hamming it up for anyone with a snack, professional hugger, and fetching any balls thrown his way."
Sam Francis '25 needed Milo's special brand of love in early October, shortly after he underwent surgery for a torn meniscus that ended his wrestling season early. When he visited the training clinic for physical therapy one day, Milo seemed to sense his glum mood and hopped up on the training table to lie down beside him.
"With it being a training room, a lot of people who come in are injured or maybe mentally not in a great place," Francis said, "but Milo is like a beacon of comfort. He brings a lot of joy."
Students aren't the only visitors who look forward to seeing Milo in the clinic. Oney said a number of coaches and other staff members stop by specifically to see the four-legged therapist.
MEDIA SPOTLIGHT: "That bit of comfort that they were needing." Roanoke College adds therapy dog to its staff via WFIR
"Milo brings tremendous value to the Athletic Department," said Aaron Fernandez, assistant women's basketball coach. "It doesn't matter if you're the leading scorer on the team or coming off a bad game, whether you just hit the game-winning shot or missed it, whether you're excelling in all things or finding the balance of academics and athletics difficult or emotionally draining, Milo will gladly come up to you for some pets and belly rubs and listen to whatever you need to talk about with zero judgement. Even as a coach, I make time out of my day to stop by and share some time and thoughts with Milo, and I always leave feeling so much better. I know our athletes feel the same way."
Adventures of Milo the Therapy Dog