Kate Clatterbuck '22 crowned Miss Virginia Volunteer
August 26, 2022
Kate Clatterbuck '22, who graduated from Roanoke College in May with a degree in education profession studies, has been crowned Miss Virginia Volunteer 2023.
The Miss Virginia Volunteer organization recognizes young women who contribute to their communities in meaningful ways. Its mission is to educate and empower women across the state through events including workshops, volunteerism and pageants. This year's pageant, which is just the second in the organization's history, took place Aug. 8-13 at the Academy Center of the Arts in Lynchburg, Virginia.
Clatterbuck's grand prize is a $10,750 scholarship that she plans to put toward graduate school after completing a year of service as Miss Virginia Volunteer 2023.
"My goal is to be a connector between this organization and our communities," Clatterbuck said, "and to improve our communities by volunteering and growing together."
Other prizes include use of the official Miss Virginia Volunteer apartment in Lynchburg and the keys to the Miss Virginia Volunteer vehicle, which she described as silver and glittery with a crown on the roof. "I'm very excited to be whipping around with a sparkly car," she said.
Clatterbuck, a native of Danville, Virginia, is currently teaching 6th grade English for Albemarle County Schools. Her ultimate goal is to attend graduate school and become an education policy analyst, but she felt it was important to spend some time in a classroom first.
Although she has always admired pageant title holders, she said she was too busy with academics and extracurricular activities to get involved for most of her college career. At Roanoke, she was a Campus Ministry fellow, head academic coach with RC Success, a sports writer for the Brackety-Ack, and a student peer mentor with RC peer orientation.
Then, in the winter of 2021, she saw an ad for Miss Virginia Volunteer on Instagram, contacted the organization and was accepted as a contestant. She competed in the inaugural pageant in August 2021 and was the second runner-up.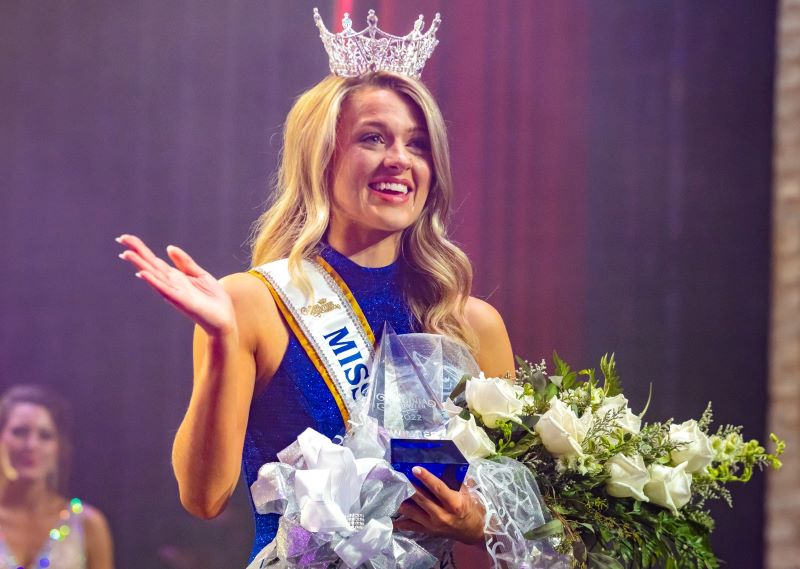 During her time in the organization, she said, she has immersed herself in her community, working with a hunger-fighting group in Danville called God's Storehouse. And after discovering that Virginia history SOLs name 77 men but only eight women, she created the PowHerful Voices Initiative, which advocates for the inclusion of women's history in the Virginia history curriculum.
"I created the initiative to go into schools and talk about women in history that we should be admiring," she said. "That has turned into an opportunity to speak with students about how they can believe in who they are and in the power of their own story. The opportunity for students to believe in themselves is important."
Jennifer McCloud, associate professor of education at Roanoke College, had Clatterbuck in her classes and was the advisor for her honors project, which focused on the influence of K-12 teachers of color on the academic and social development of college students. McCloud said she wasn't the least bit surprised to hear that Clatterbuck had been named Miss Virginia Volunteer 2023.
"So many things stand out about Kate in that she is just incredibly dedicated and also an incredibly analytical and reflective person," McCloud said. "She is also very community-oriented and wants to improve issues of poverty and racism and inequality in her hometown, and that really spoke to me when she got this award. Other than that, she is really just exceptionally nice. She has the intellect that she could get away with some arrogance if she wanted to, but she clearly doesn't."
Clatterbuck said being a student at Roanoke College was a transformative experience that gave her the knowledge and confidence to succeed in the competition.
"I think Roanoke College is really the reason I went outside my comfort zone and tried this experience," she said. "Before college, I was not as confident in my speaking abilities or my ability to work with others. Through classes and connections with peers, teachers and other students, I saw the importance of my own passions and speaking with others in collaboration. Every class taught me a new skill, whether academic or organizational, that created the person I am today and the woman who is Miss Virginia Volunteer."