Literary icon Nikki Giovanni to receive Roanoke College honorary degree
May 04, 2023
Roanoke College's Class of 2023 will gain an extra special member at this year's Commencement when Yolande "Nikki" Giovanni joins its ranks as the recipient of an honorary Doctor of Humane Letters.

Giovanni is a prolific poet and author who has received a long list of awards and other accolades over a writing career that has spanned more than five decades. She is also a lifelong teacher, recently retiring from Virginia Tech after 35 years of service, and a force for social and racial justice. She will read one of her poems as part of Roanoke's Commencement ceremony on May 6.

Born in Knoxville, Tennessee, Giovanni grew up in Cincinnati, Ohio, and earned a history degree at Fisk University, a historically Black college in Nashville, Tennessee. Soon after publishing her first volume of poetry in 1968, she received grants from the National Endowment for the Arts and the Harlem Arts Council. She received a Master of Fine Arts from Columbia University in 1969 and is known as an early member of the Black Arts Movement.

Giovanni has been called a "firebrand" and a "truth-teller."

"The role of the poet in society is to tell the truth," Giovanni said in an interview with Virginia Public Radio. "I've not been afraid to say it."

Giovanni is the author of more than two dozen volumes of poetry, essays and edited anthologies; 11 illustrated children's books; and 10 albums or recordings. Her most recent children's book, "A Library" (Versify, 2022) is about her experience going to the library when she was growing up.
Among Giovanni's laurels are an American Book Award, Caldecott Award, Carl Sandburg Literary Award, Langston Hughes Award and Gwendolyn Brooks Award, as well a Grammy Award nomination for best spoken-word album.

She has also been honored extensively for her contributions to American culture as a voice for the Black and Appalachian experience. That recognition includes seven NAACP Image Awards; the Rosa Parks Women of Courage Award; Woman of the Year Awards for Ebony, Ladies Home Journal, and Mademoiselle magazines; the Appalachian Medallion Award; the John Henry "Pop" Lloyd Humanitarian Award; the Legends and Legacies Award; and a United States Senate Certificate of Commendation.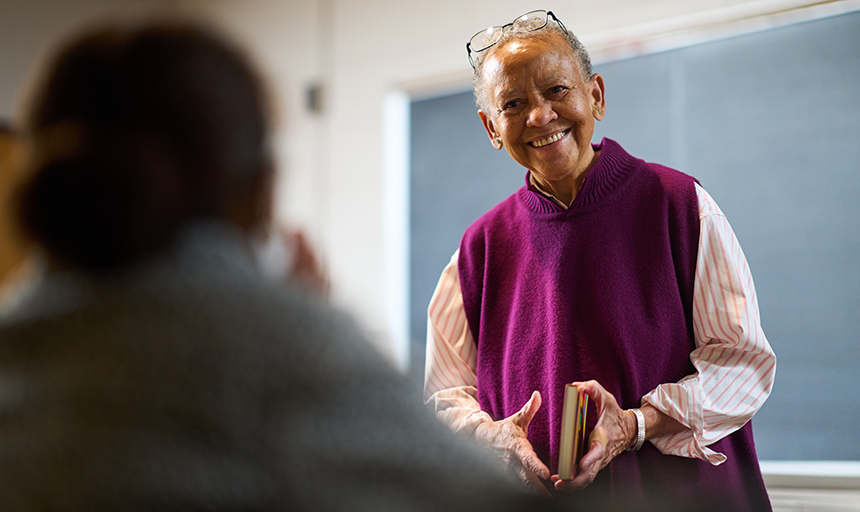 Nikki Giovanni. Image courtesy of Virginia Tech.
Giovanni has devoted much of her life to teaching, retiring from Virginia Tech last year as a University Distinguished Professor Emerita. Prior to joining Virginia Tech's English Department, she taught at several other universities, including Livingston College of Rutgers University, Queens College and The Ohio State University.

Giovanni's work on social issues, including racial justice, has earned her an international reputation. Throughout her career, she collaborated with renowned figures in the arts, sports and entertainment, including James Baldwin and Muhammad Ali. Oprah Winfrey named her one of 25 living legends, and she was the first recipient of the Rosa Parks Women of Courage Award.

Giovanni is proud of her Appalachian heritage, and she is a powerful voice for the Appalachian experience. She continues to travel as a speaker, visiting writer, educator and scholar.

"At Roanoke College, we are deeply committed to helping students prepare for lives of purpose, build meaningful careers, and meet the world's greatest needs. Nikki Giovanni is a remarkable example of these three things," said President Frank Shushok Jr. "As a poet, teacher, and cultural icon, she bravely calls it like she sees it, challenging us to be better versions of ourselves—both as individuals and communities. Her poetry is a masterclass on what love looks like in all its forms—from friendship, quiet moments with nature, debilitating grief, and righteous anger towards injustice. It's an honor to welcome her to the Roanoke family."