Roanoke physics program earns national recognition
June 15, 2022
A recent honor places Roanoke College's physics program in the top 10 percent nationally and internationally.
The Roanoke College chapter of the Society of Physics Students (SPS) has won an Outstanding Chapter Award from the SPS National Office. That designation is given to fewer than 10 percent of all SPS chapters at colleges and universities in the United States and worldwide.
The honor recognizes chapters for their excellence as top-tier, student-led physical sciences organizations. SPS chapters are evaluated on their level of interaction with the campus community, the professional physics community, the public, and with SPS national programs. The Outstanding Chapter Award recognizes high levels of outreach as well as unique approaches to fulfilling the mission of SPS to "help students transform themselves into contributing members of the professional community."
Dr. Dan Robb, associate professor of math, computer science and physics (MCSP), said the closeness of physics students helps make the department great. Physics students begin their college careers with a seminar the fall of their first year, which builds community among the students. That sense of community grows as the years go by, and by the time students take their senior seminar, they've formed meaningful bonds with their physics classmates.
"The physics group within the MCSP Department is a close-knit group of students and professors who seek to support one another as we grow personally and in our knowledge of physics," Robb said. "Despite our modest numbers, we do feel that the Physics Group is thriving. We have ranked in the top 15 percent annually in student experience and strive to promote equity for underrepresented populations above their national averages."
Roanoke College faculty members conducted a study delving into the growth of the physics program over the past eight years (2013-2021). That study showed that the number of physics majors and graduates has increased by 200 percent since 2013. It also showed that the program has become increasingly diverse, as the number of female graduates (during the 2013-2021 time span) has increased by more than 10 percent above the national average and the number of Black graduates has increased by more than 5 percent above the national average.
Morgan Hale '22 (left)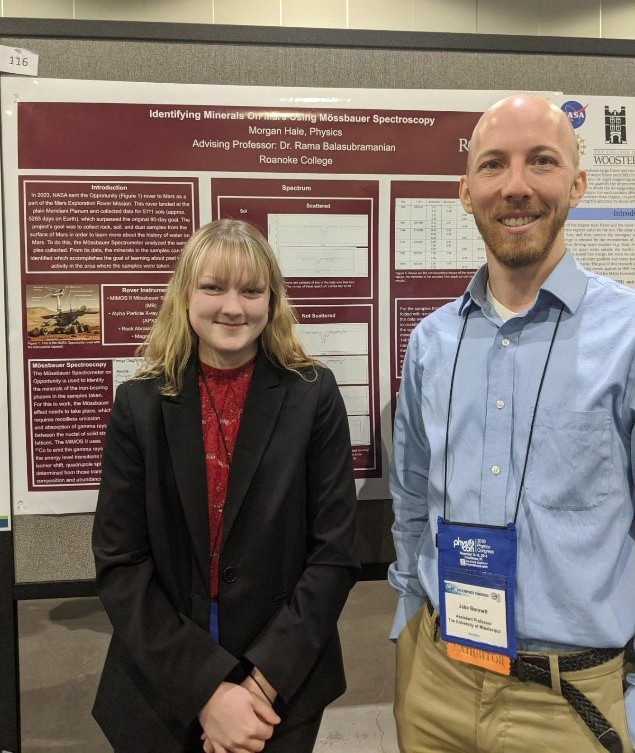 During her time as a physics major, Morgan Hale '22 conducted research both at Roanoke and through a program at Georgetown University, and she also completed an honors project in the major. Hale will be working in software development at L3 Harris Technologies, a global aerospace and defense technology company. She plans to pursue a Ph.D. in physics and has already been accepted into multiple grad schools.
Hale, who is from Salem, said she was initially hesitant to go to college in her hometown, but now says she wouldn't change her decision. The small class sizes at Roanoke made it easier for her to get involved in class and connect with professors, she said.
"It's really easy to get help from your professors," Hale said, "because they're not dealing with hundreds of students. They're dealing with, like, up to 20. And everyone's super nice and super passionate about what they do."