Roanoke's Urecki receives prestigious Truman Scholarship
April 15, 2015
The Harry S. Truman Scholarship Foundation has named Zahava Urecki '16 a 2015 Truman Scholar - making her the first Roanoke College student ever to receive the prestigious award.

"This is the Holy Grail of the prestigious scholarships," said Jennifer Rosti, director of major scholarships and fellowships at Roanoke College. "The Truman Foundation awards these to students they view as having the potential to be change agents in the world. And Zahava exemplifies that mission."

Created by Congress in 1975 to honor President Harry S. Truman, the Truman Scholarship goes to college juniors aiming for careers in public service. This year, 688 candidates were nominated by 297 colleges and universities to apply for the honor. Only 58 students were ultimately selected.
Each Truman Scholar receives $30,000 for graduate school. But the bigger prize for Urecki, Rosti maintained, will be the chance to network with other Truman Scholars, a group that includes the likes of broadcaster and former political advisor George Stephanopoulos, National Security Advisor Susan E. Rice and New York City Mayor Bill de Blasio. Urecki "has received admittance into a very elite society," Rosti said. "This truly is her ticket."
A political science major from Charleston, W.Va.,Urecki first set her sights on a career in Washington, D.C. as an 11-year-old. That's when she first started watching the "The Daily Show with Jon Stewart," and "The Colbert Report.""
Every day the shows got me more excited about looking into what was going on in the world," Urecki remembered.
Urecki's career plans took on a more specific focus after she spent the summer before her sophomore year interning for U.S. Sen. Joe Manchin III (D-W.Va.) and former U.S. Rep. Nick J. Rahall II (D-W.Va.). Urecki again interned for Sen. Manchin last summer and through Roanoke College's Lutheran College Washington Semester Program last fall. She decided she would like to write legislative policy.
"I saw a lot of the behind-the-scenes people," she said of her experience working in government. "They were at the heart of everything, getting everything done. I really wanted to be a part of that.
"Since Urecki was clearly committed to a career in public service - with a strong grade-point average along with a resume that listed her tenure as a writing center tutor and president of the Hillel Jewish Student Group at Roanoke College - Rosti and Public Affairs Associate Professor Todd Peppers, the Truman faculty representative, considered Urecki a natural fit for the Truman Scholarship. Rosti met with Urecki in the spring of her sophomore year to talk about the award, careful to note just how much work the application process required.
Urecki decided to go for it, and she had a lot of support. Rosti and Peppers along with Assistant Professor Bryan Parsons, worked with Urecki as she assembled and polished a lengthy entry package.
"The Truman Scholars application itself is harder than a graduate school application," said Peppers. "She did a very good job, and I thought we had a fighting chance.
"Urecki, on the other hand, never expected to be among the finalists. For her, the honor was about representing Roanoke College.
"I thought it was nice the nomination came from the school," Urecki said. "I was really proud they had faith in me.
"Urecki remembered feeling more jitters than euphoria when Rosti called to tell her she was among the 200 students who'd made the cut, students who would all have to sit down for face-to-face sessions with a panel of interviewers who were free to ask them anything."
The interview process is a very grueling, very intense process," Urecki said. "I was anxious about going into that.
"To boost Urecki's confidence, Rosti organized mock interviews with Peppers, Parsons and Dr. Richard Smith, vice president and dean of the College. On top of that, Rosti met with Urecki regularly at a downtown Salem coffee shop to talk strategy and ask even more practice questions. "We drank a lot of coffee," Rosti said.
When Urecki arrived in D.C. for her interview on April 2, she faced a panel that included a former chair of the Equal Employment Opportunity Commission, an affordable housing and community development guru, and CNN legal analyst Jeffrey Toobin, all Truman Scholars themselves. Over the course of 20 minutes, the panelists asked her questions about West Virginia politics, the Israeli-Palestinian conflict and what it was like for Urecki, the daughter of a rabbi, to attend a Catholic high school in Charleston.
"I was just happy I survived it," Urecki said of the session. "I thought it was going to be a crash-and-burn type situation, and it was definitely not that."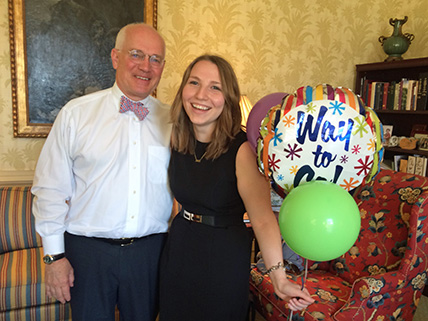 Not even a week after her interview, Urecki received an e-mail from Roanoke College President Michael Maxey's executive assistant asking her to come by his office the next morning.


Urecki figured Maxey wanted to let her know personally she hadn't made the final cut. When she got to his office, though, she found him with Rosti, Peppers and Smith, who were holding balloons that read "Congratulations" and "Way to Go."

"I'm like, 'Is this a thanks-for-getting-this-far kind of thing?'" Urecki said. "There was a lot of disbelief. I don't think it has fully sunk in yet.
"Urecki is quick to credit Roanoke College for her success. She isn't at all sure she'd be a Truman Scholar if not for the close, one-on-one relationships she formed with the faculty, who encouraged her to apply in the first place.
"Really, they're your cheerleaders," she said. "They believe in you and say that even when you don't believe you can make it.

By Beth JoJack