Sandborgs sing final notes at Roanoke after 38 years
May 11, 2023
Jeffrey and Marianne Sandborg, the husband-and-wife musical team who have been synonymous with Roanoke College's vocal performance and choral music programs, retired at the end of the spring semester after having served the College and its students since 1985.
Jeffrey Sandborg, the Naomi Brandon and George Emery Wade Professor of Music at Roanoke, has grown the College choral program in his 38 years of leadership. Choir membership increased and opportunities abounded as Sandborg recruited students and found new ways to showcase student singers.
Marianne Sandborg came to Roanoke College as a voice instructor in the College's preparatory division in 1985 and became an adjunct faculty member, teaching voice, in 1987. In 1993 she was named a teaching associate and resident artist.
Marianne Sandborg has been in hundreds of performances with the Roanoke College Choir. She also is a frequent collaborator with Gordon Marsh, professor of music, as a soprano soloist in his programs, including world premieres of his works. She also works closely with students in the music major.
"When you teach a one-on-one class, you really get to know one another," she said. "It's been a privilege and a joy."
Under Jeffrey Sandborg's leadership, the choir held "Lessons and Carols of Christmas" at the magnificent St. Andrew's Catholic Church in downtown Roanoke. The now-annual event has become known as the unofficial opening of the Christmas season in Roanoke, and over 38 years, the choir raised more than $60,000 for charities in the Roanoke region.
Jeffrey Sandborg initiated spring break choir tours, often coordinating with Lutheran churches in the region, including performances at the National Cathedral in Washington, D.C., in cooperation with the Metro Washington D.C. Synod of the Evangelical Lutheran Church in America.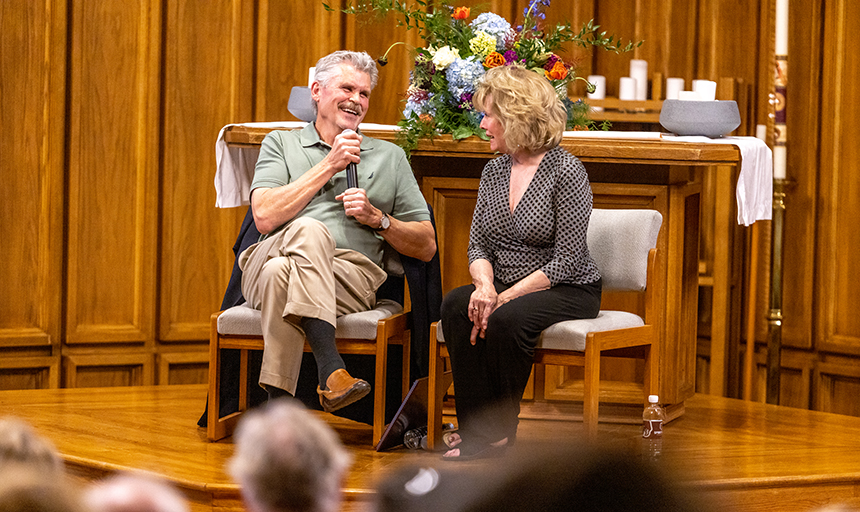 Jeff and Marianne Sandborg at their Alumni Weekend retirement celebration, which was attended by many former Roanoke College choral students.
In addition to U.S. tours, the Sandborgs have traveled with the choir to Normandy and Brittany in France. That work began years ago when Jeffrey Sandborg met D-Day veteran Bob Slaughter. On one of the trips, the Roanoke College Choir sang in Normandy on the 75th anniversary of the D-Day invasion.
"Dozens of our singers have walked the beaches of Normandy and the cemetery at Vierville sur Mer and will never forget those experiences," Jeffrey Sandborg said. "Singing in great spaces in the world like Notre Dame Cathedral in Paris and Chartres Cathedral will remain a vivid memory."
Jeffrey Sandborg's involvement and connections in the regional music scene meant students often had the opportunity to perform with professional musicians in collaborations with Roanoke Symphony Orchestra, Opera Roanoke and the Roanoke Valley Choral Society.
Andrew Miller '08 said both of the Sandborgs were mentors to him. Miller is now the choral director for Hidden Valley High School and Hidden Valley Middle School in Roanoke.
"Mrs. Sandborg helped me understand my own voice and potential," Miller said. "She was patient and kind while also being clear with her expectations. As an educator, I learned from her how to set expectations while being compassionate to my students.
"Dr. Sandborg taught me how to be unabashedly passionate about choral music and everything it has to offer," Miller added. "His energy and enthusiasm were contagious, and he really brought out the best in his singers. My best memories as a choral singer are in the Roanoke College Choir."
Jeffrey Sandborg also created Oriana Singers, which he directed for 14 years.
During Alumni Weekend 2023, Roanoke College choral alumni from near and far gathered in Antrim Chapel for an emotional farewell to the Sandborgs. On May 5, Jeffrey Sandborg directed the choir one final time in a "Songs of Farewell" concert in Olin Hall Theater.
Sandborg said that after he retires, he will miss the students most.
"Anything we've been able to accomplish in the choirs over the years is the result of the hard work of our smart, talented and committed Roanoke College students." he said. "I'll miss our daily collaboration creating beauty for a world that needs it. It's been an honor and joy to be able to work with them these years. Along the way, I'm hopeful that they've acquired musical/vocal skills that they can use the rest of their lives."