Summer Scholars challenged to explore the unknown through rigorous research
July 14, 2023
Category: Research
The reading that Virginia Graves '24 is doing this summer is anything but light.
The communication studies major is immersed in a research project examining how hate speech has evolved — or stayed the same — over the course of decades. From World War II Germany, 1994 Rwanda and continuing all the way up to the present day, she's poring over historical media archives and modern message boards to analyze how hate is spread.
"It's definitely a heavy topic to read about, but I also think it's important, especially when you consider the outcomes of that kind of influence and groupthink," Graves said. "With social media nowadays, a message can spread so quickly. If anything, it will only become more prevalent and more important to understand how people become transfixed by these mindsets."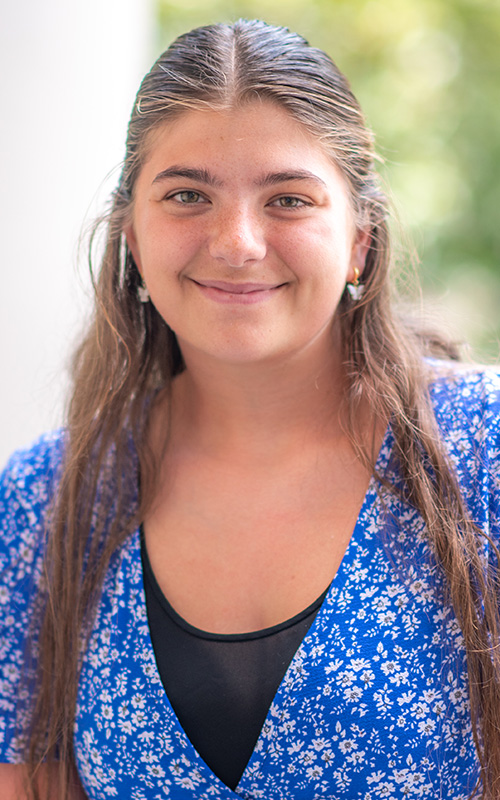 Graves is part of a cohort of students on campus devoting their summer break to intensive research on diverse topics ranging from nanoparticles to wetlands to the future of K-12 education. The Summer Scholars program supplies funding, housing and a summer course credit to enable selected students to focus on one important project for a full 10 weeks.
Each scholar carries out their work under the mentorship of a faculty advisor. The selection process is competitive. Graves said she was thrilled when her proposal was accepted. Being a Summer Scholar is allowing her not only to do a deep dive into an issue that fascinates her but to get experience managing a project with rigorous requirements.
"I'd definitely recommend the program to anyone," she said. "A lot of students think research is just for people who want to go to grad school or want to publish. But I've learned so much about myself by taking this on. It's made me more confident about what I can do."
Challenging students to tackle research as undergraduates is a core part of Roanoke's approach to education. The demands of the work deepen their skillsets and spur them to think about issues in more complex, multi-dimensional ways.
In the research world, there are questions whose answers haven't been uncovered yet. Student researchers contribute to shedding light on those unknowns and advancing our understanding of the world.
For Dennis Hepworth '24, a chemistry major, wrestling with the mysteries of the unknown is part of what makes research projects rewarding.
"One thing I was always told about college is to study things you don't fully understand," he said. "From the beginning, I knew doing research would be a big goal for me. It's actually one of the reasons I picked Roanoke. There were so many opportunities for undergraduate research here through fellowships and the honors program and things like Summer Scholars. I knew I could get extremely valuable experience."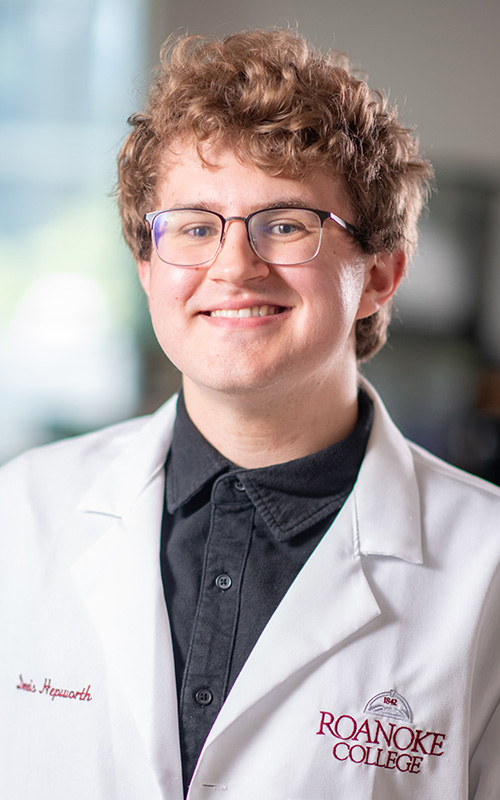 Hepworth was able to start working with Associate Professor of Chemistry Kelly Anderson on computational research exploring energy issues as early as his freshman year. She's now his advisor on his Summer Scholars project creating computer simulations to test how carbon nanotubes might be used to improve the utility of metal nanoparticles in thermal energy storage.
Thermal energy storage is a means of capturing energy as heat and storing it for later use — a timely topic as the importance of energy efficiency and green infrastructure grows.
The Summer Scholars program marks the start of Hepworth's fourth year of undergraduate research but his first opportunity to devote himself to it full-time with no other classes or projects competing for his attention.
"I can see clearly how all the parts of the project have been unfolding since I started it," he said. "There's a real sense of accomplishment to that. That feeling of seeing how everything that I've been learning and doing at Roanoke can come together and play out in a practical setting."
In addition to presenting his research on campus as part of the Summer Scholars, Hepworth has been invited to present later this summer at a conference in South Carolina organized by the MERCURY (Molecular Education and Research Consortium in Undergraduate Computational Chemistry) Consortium.
These opportunities — to do original research and engage with others in the field searching for answers to the unknown — have immeasurable value for students, said Anderson, Hepworth's faculty mentor.
"I think one of the important benefits of research for students is that sort of awakening moment that a theory won't always work out," she said. "In chemistry, students start out doing exercises in the lab that for the most part have been done many times before. You follow the directions and, if it says that you're going to get a white powder at the end or that something is going to turn blue, that's probably what will happen. But in the research lab, it doesn't work that way. We don't know what will happen yet."
"That process of moving into the more exploratory side of learning is an important part of their growth and the emergence of their understanding of the field. Throughout the college, I think, we really emphasize those opportunities."
2023 Summer Scholars
Talia Cartafalsa '24, an environmental studies and chemistry major, is working with Assistant Professor Chelsea Peters on the research project: "Adaptive Management at Roanoke College's Environment Center: Assessing Previous Research and Implementing New Strategies for Wetland Restoration."
Virginia Graves '24, a communication studies major, is working with Assistant Professor Nadia Martinez-Carrillo on the research project: "The Role of Mass Communication in Genocide: Rwanda, Germany, and the USSR."
Dennis Hepworth '24, a chemistry major, is working with Associate Professor Kelly Anderson on the research project: "Simulation of Low-Density Lead Nanoparticles in Carbon Nanotubes."
Timothy Hoffstaetter '24, a psychology major, is working with Assistant Professor Julie Cannon on the research project: "The Impact of Consumption of Sports Media Talk Shows on Aggressive Tendencies, Racial and Gender Bias, and Socio-Political Beliefs."
Noah Isaacs '24, a mathematics major, is working with Associate Professor Gary Whitt on the research project: "Re-thinking Mathematics: Reworking the Modern-Day 6th grade Math Curriculum."
Raegan Middelthon '24, a psychology major, is working with Associate Professor Christopher Buchholz on the research project: "The Effect of Tik Tok on Relationships and Ability to Connect With Others from an Evolutionary Perspective."
Austin Parker '24, a biochemistry and biology major, is working with Professor Chris Lassiter on the research project: "Using CRISPR/cas9 to model Lipoid Congenital Adrenal Hyperplasia (LCAH) in zebrafish (Danio rerio)."
Madison Smith '24, a history major, is working with John R. Turbyfill Professor of History Stella Xu on the research project: "'Is A Heathen Worth Educating?': Korean Student's Perspective on Racism in the Heart of 19th-c. American South."
James Suleyman '24, a criminal justice and sociology major, is working with Lecturer Kristin Richardson on the research project: "Perceptions of Supportive Discipline Programs in a Virginia Middle School."
Emma Valcourt '24, a biology major, is working with Professor Marilee Ramesh on the research project: "Histone Modifiers in Coprinopsis cinereal."
Jordan Young '25, a computer science major, is working with Professor Anil Shende on the research project: "Effective Drone Delivery Service in a Non-Uniform Metric Space."