Peppers and Hill collaborate on Supreme Court and poetry
January 10, 2022
If there was one brighter side of the COVID-19 lockdown for Dr. Todd Peppers, Henry H. & Trudye H. Fowler Professor in Public Affairs, it was that he had plenty of time to research and fall into what he admittedly calls "research rabbit holes."
Peppers' exploration led him to a topic that he later developed into an article for the Oct. 13, 2021 issue of the Journal of Supreme Court History, titled "'Destructive to Judicial Dignity': The Poetry of Melville Weston Fuller." The article also featured a collaboration with Mary Crockett Hill '91, assistant professor of English and communication studies and director of the "Roanoke Review."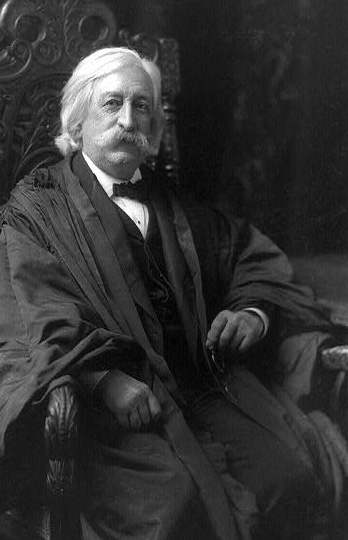 The article explores the life and career of Supreme Court Justice Melville Weston Fuller. Fuller, who was appointed by President Grover Cleveland and served as the eighth chief justice of the United States from 1888 until his death in 1910, is best known for his successful administrative aptness and his ability to lead with a "kind soul and gentle hand," said Peppers.
Hill and Peppers focused their article on one element of Fuller's legacy that is often overlooked: his penchant for writing poetry.
Peppers' interest in Fuller's talent for poetry started when he stumbled upon a New York Sun article criticizing Fuller's nomination as chief justice of the U.S. Supreme Court on the grounds that Fuller had a mustache, a first for a justice of the United States. Falling even further down the "rabbit hole," Peppers found continued criticism about Fuller, this time targeting his affinity for writing poetry, sparking Peppers to reach out to Hill to collaborate.
"Mary is an accomplished author and poet, and I knew that she would be perfect to work with," said Peppers. "While I focused on Fuller the person and the controversy over the poetry, Mary did all the poetry analysis. We really struck a great balance seeing as how this article was for a general audience."
Hill and Peppers discovered that the attacks on Fuller were not about his lack of state and federal judicial experience but rather about how he was appointed to the Supreme Court. The criticism stemmed from the editor of the New York Sun, Charles Anderson Dana, who opposed Cleveland's presidency. Criticizing Fuller's ability to write poetry, which Hill said was "unremarkable but held its own for the time period," was Dana's avenue to passively lambaste Cleveland.
"When I analyzed Fuller's poetry, I noticed he did a nice job of writing about moments in time," said Hill. "He wasn't breaking any boundaries necessarily with what he was writing about or how he wrote, but the fact that he had such a presence in the court system and was still writing poetry actually was quite remarkable."
Peppers said he was surprised by the amount of criticism Fuller endured from Dana, as no other justice had faced such condemnation on physical appearance or personal hobbies.
"It's really strange," said Peppers. "It was clear that Dana focused in on anything he could to attack, and this just happened to be the focal point."
Beyond the process of researching, analyzing and writing, Peppers said that the power of collaboration is what stood out the most about this endeavor. Peppers and Hill now plan to continue their research on another U.S. Supreme Court justice and low-profile poet — David Josiah Brewer, who served on the Supreme Court from 1889 until his death in 1910.
"A benefit of teaching at a small, liberal arts college is that it fosters and encourages opportunities for interdisciplinary partnerships," said Peppers. "When I first met Mary, I was stunned with the breadth of her interests and creativity, so when this chance came up to work together, I just had to ask her. She's such an asset to her students and the College."
Hill especially credits Roanoke College with cultivating the autonomy of exploring academic research projects that not only benefit faculty publication but also generate student interest.
"It's not necessarily the norm as a creative writing teacher that I get to step outside that and use the skills... in this entirely different way," Hill said. "At a place like Roanoke, there is this sense of community and a focus on liberal arts that drives faculty and students to know things far beyond their field or ways of thinking. It's really a value of the College and made the collaboration in this article possible."