From the magazine: Shooting for the moon
January 13, 2023
Terry L. St. Clair '65 had never traveled outside Southwest Virginia when he came to study at Roanoke College.
He made up for lost time.
Over the years, his career as a nationally known chemist, respected for innovation in materials science, took him around the world to places like South Korea and Japan.
This July, in recognition of St. Clair's storied career at NASA, which spans more than a quarter century, he was inducted into the Langley Research Center's NACA and NASA Hall of Honor.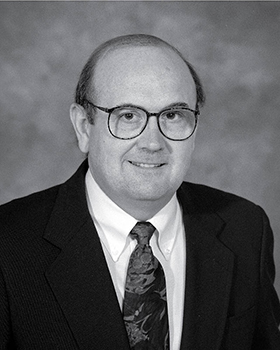 "I don't consider myself that smart," said St. Clair, a Roanoke Valley native who is now retired and living in Mechanicsville. "It's an ability to think and understand chemistry and understand applications and try to understand how to mesh those two together in order to make them useful."
Some scientists develop new materials and publish articles, St. Clair said, but they never figure out how to put those materials to work to benefit humanity.
"You've got to be able to do that integration work," he said, "and work with engineers and people who have much different backgrounds than you have."
A teacher first prompted St. Clair's interest in chemistry at Andrew Lewis High School in Salem. After high school, he elected to go to Roanoke College in part to save money by living at home. In addition to classes in chemistry, his major, St. Clair found himself in religion, psychology and philosophy classes.
"It's always good to have a liberal arts background, even if you didn't know you needed it when you were younger," he said.
Following graduation, St. Clair decided to go straight to work. He got a job at the DuPont plant in Waynesboro monitoring the quality of Orlon fiber, then went to the Radford Army Ammunition Plant as a rocket quality assurance engineer.
One day, on a day off, St. Clair made a trek to the Powell Pharmacy in Salem, where he bumped into his former chemistry professor, Charles Bondurant Jr. Bondurant insisted on taking St. Clair to Virginia Tech the following week to meet the chemistry faculty.
"Before we left that day, they enrolled me," St. Clair said. "He was the one to twist my arm and shove me in there, so that was the reason I went to grad school."
While at Virginia Tech, St. Clair fell in love with fellow chemistry student Anne King. They married in 1971. The following spring, after obtaining a Ph.D. in organic chemistry, St. Clair took a post-doctoral research position at NASA's Langley Research Center in Hampton, Virginia.
"My job was to look at polymer chemistry that had already been made there and see how we could turn those into good adhesives for aerospace applications," he said.
In 1975, NASA hired St. Clair as a senior scientist. He continued working on advanced adhesives for NASA's supersonic aircraft program. Over the first 15 years of his career, he frequently partnered on innovations with his wife, who also worked at NASA. She later moved to another department. "We worked together really well," St. Clair said.
In 1984, St. Clair became head of the Polymeric Materials Branch. Over his career, he served on three NASA shuttle teams, studying problems such as how to eliminate debris during takeoffs and what chemical issues contributed to loss of foam on the shuttle's main tanks.
"He is one of the greatest chemists at NASA," says Cheol Park, one of many scientists St. Clair mentored who is now a senior research engineer at NASA. "He has more than a hundred patents and all kinds of awards. So many of his products have been licensed and commercialized as well."
But St. Clair's legacy at NASA goes beyond scientific discoveries.
"He believed in diversity of thought," said Patricia McDaniel, another mentee of St. Clair's who is now a senior research scientist for the U.S. Army.
Early in St. Clair's NASA career, he found himself surrounded by mostly white, male scientists. If he wanted to work with scientists who came from different backgrounds, he realized, he'd have to find them himself.
When he brought up the lack of diversity to NASA administrators, St. Clair didn't receive a warm response. "They became defensive and I became offensive," he says.
St. Clair set out to recruit women and minorities to his department. One of his early finds was Joycelyn Harrison, an African-American female who was finishing her Ph.D. in chemical engineering. St. Clair's manager said they couldn't afford to hire Harrison, but St. Clair found funding through a national fellowship program.
As a fellow, Harrison set up the first smart materials lab at NASA. NASA administrators insisted that St. Clair give a talk about the new facility even after he suggested Harrison would be a more appropriate speaker. When the big day came, St. Clair told the assembled scientists he'd been ill, so Harrison would give the presentation.
Although St. Clair's manager was "visibly upset," everyone else was wowed by the talk. "The upper management told my manager to 'hire that lady,'" St. Clair said.
Harrison, now a professor and associate dean for the College of Aeronautics and Engineering at Kent State University, describes St. Clair as "the most influential person in my life." She knows at least a dozen scientists, all minorities or women, who were mentored by St. Clair.
"He recognized that it was important to build a pipeline with highly qualified people of diverse backgrounds that could take on, in the future, leading roles in our national labs and in science and engineering," Harrison said. "He took the long view, and he impacted so many people."