Tibetan Buddhist monks give a lesson in compassion and kindness
October 09, 2019
Five Tibetan Buddhist monks from the Drepung Loseling Monastery in southern India visited Roanoke College in September for a weeklong residency. Their visit, part of their Mystical Arts of Tibet tour, included lectures on meditation and on the meaning of mandalas, a geometric figure representing the universe in Hindu and Buddhist symbolism.
The monks' tour was endorsed by His Holiness the Dalai Lama as a means to promote global peace and healing through the sharing of Tibetan sacred performing and visual arts. Throughout their residency at the College, the monks created an intricate sand mandala in the Colket Center Atrium. The mandala was made of millions of grains of sand, carefully measured and placed on a large tabletop. At the end of the week, a ceremony was held to bless the mandala, then wiped away, sending an underlying message that nothing is permanent.
The monks interacted informally with Roanoke College students, faculty and staff during their visit. They ate meals in the Commons, played some hoops, and joined teams for volleyball and soccer.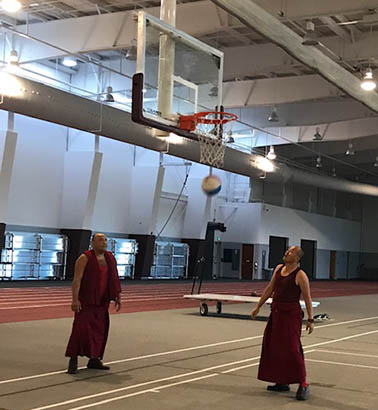 "This is something that I know I will never forget after leaving Roanoke," said Bridgette Whalen '20, a member of the volleyball team. "The monks were enthusiastic to join in and play with us, and I know that the team loved it as well. We were all smiles the whole time we played with them. We were all highly impressed with their skill and how quickly they picked up volleyball."
Piper Cumbo, instruction and research services librarian in Fintel Library, shared on her social media that she watched two of the monks play basketball in the Cregger Center, struggling but gleeful at every missed basket.
"And then, out of nowhere, this gentleman showed up and showed them how to make a shot. He gently held the ball with them, walked them to the basket, and showed them how to lay it up. They practiced with him for a few shots, and then he was gone," Cumbo wrote. "And they started getting every basket. Every. Single. One. Smiles all around. Even more joy. We can always learn from each other, friends."
Hannah Elizabeth Smith '20, said the monks' visit was one of the most rewarding experiences she had encountered during her time at Roanoke.
"I was blown away not only by the serenity and beauty the monks brought to our campus, but also by the openness and hospitality our community showed them during their stay," said Smith, a religion major. "To see students, staff, faculty and community members all open their hearts and minds to the monks by taking part in creating the student mandala, as well as participating in various events hosted by the monks, was incredible. It was truly a once-in-a lifetime experience and I am thankful to have been a part of it."
Dr. Melanie E. Trexler, assistant professor of religion, was responsible for inviting the monks to campus.
"Our guests from Drepung Loseling Monastery — Gonsa Rinpoche, Geshe Jampa, Ven. Palden, Ven. Thupstan, and Ven. Tenzin — gave us a lesson on compassion and kindness during their weeklong residency at Roanoke College," Trexler said. "Throughout the week, I marveled at the subtle shifts I saw among our students: people opened doors for each other more often; people smiled when they said 'Hello' more frequently; and people took multiple pauses each day to watch the creation of a mandala."
"Perhaps the greatest gift our guests gave us is peace," Trexler said. "They reminded us to take time for play, to laugh at humorous moments, and to breathe. These gifts remind us that we are a small part of a much larger world."
The residency was sponsored by the Copenhaver Scholars in Residence program, created by Margaret Sue Copenhaver and Mrs. Gordon Hanes to honor their parents and influence the lives of Roanoke students. The residency helps expose students to scholars of national and international stature.