Campus partnership creates toys that offer representation and inclusion
November 21, 2022
Lily Harmison '24 looked over a stack of stuffed animals and plucked out a Baby Yoda. She gently turned it around and around in her hands as she explained to a tableful of volunteers how to fashion small silver magnets to the Star Wars icon's head to mimic the look of a cochlear implant.
"The idea is for each toy to look like the child who gets it," she explained. "We want them to be able to see themselves in these toys."
That message of representation and inclusion is at the heart of Toy Like Me at Roanoke College, which is now in its seventh year of donating modified toys to children with disabilities and medical needs. The program, founded by Roanoke College lecturer Frances McCutcheon, customizes toys to match requests received from families, schools and hospitals.
This holiday season, nearly 200 toys will be donated, a more than 30% jump from last year, when pandemic disruptions curtailed the scope of the program.
To prepare for the deliveries, dozens of volunteers converged on campus Nov. 13 to do the hands-on work of updating the toys. Teams outfitted action figures and teddy bears with hearing aids, insulin pumps, feeding tubes and other assistive devices.
"This is a great program because it brings people together," McCutcheon said as she watched students, staff and community supporters arrive to help with the work.
"The first time we did a toy delivery, every adult in the room was crying," she said. "Because it's just the most marvelous thing. It's so special to see the children get these toys and feel that they belong — that they're just like other kids with toys that are just like them."
Toy Like Me, inspired by a UK campaign of the same name, started out with an idea and a flurry of donations from Roanoke College faculty that funded a toy delivery to one local school in 2016, recalled McCutcheon, a biology lecturer and co-coordinator of the college's new disability studies concentration.
Today, Toy Like Me is established as a campus club, working with students who've been inspired by its mission and sending toys to families in 19 states and two other countries.
Beth Shearer, who has a granddaughter in New Jersey with cerebral palsy and polymicrogyria, said she was stunned when she stumbled across Toy Like Me online back in 2017. She'd previously written to a major company asking if it would consider making a doll that reflected her then 6-year-old granddaughter. "They wrote back very kindly but said no," she recalled.
She decided to email Toy Like Me. McCutcheon responded within 20 minutes. "She said, 'We would be delighted to modify a doll for you,'" said Shearer, who lives in Roanoke County, adding it was ready in time for her granddaughter's birthday.
"It was really just incredible. It meant so much to me and my family," she said, growing emotional at the memory. "It was just an important thing for me to be able to give her something that she could relate to."
Shearer has been a staunch supporter of the program ever since and was one of the volunteers at this year's modification day, arriving with a basket of homemade cookies for the group.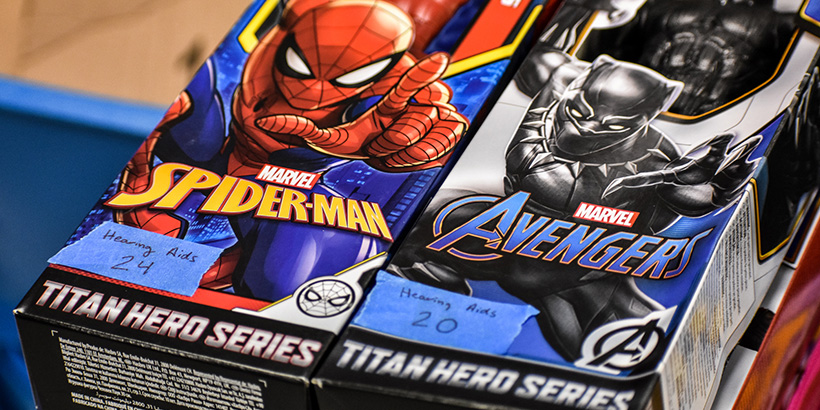 On modification day, nearly 200 toys were updated to represent children with disabilies and medical needs. Each will be donated to local children and organizations. Photo by Kaylen Ayres '25.
The annual holiday drive is Toy Like Me's flagship project. This year's toys will go to Virginia Heights Elementary School, which has a specialized program serving children with hearing impairment, and Carilion Children's Pediatric Medicine – Tanglewood Center.
On toy modification day, Harmison, a public health major and secretary of Toy Like Me's student club, led a table working on a heap of fuzzy stuffed animals. She guided other students in attaching hearing aids or cochlear implants to the toys, and she explained the differences between the types of devices as the group worked.
The mission of Toy Like Me intersects with Harmison's coursework in health equity and advocacy. Putting that research into action to help local children was part of what spurred her to start volunteering with the club last year.
"Empowering young people who are dealing with different needs is an example of great public health," Harmison said. "Things that make them feel heard, seen, welcome and a part of the community are so important and something we need to be thinking of more."
There is still much ground to be gained in the push for representation, said club president Hope Keller '24, a health science major who plans to become an occupational therapist working with children. The toy industry is slowly introducing more options, she said, but still falls short of reflecting the diverse range of conditions facing the world's children.
"I think a lot of people, when they think of disabilities, picture something like a wheelchair," Keller said. "But many don't think about disabilities as a whole and how many different types exist. It's something I've learned a lot more about through Toy Like Me. It's helped me to look at things from a different viewpoint."
Those life lessons are something Keller will carry into her future work providing therapeutic care for children.
"If I can do something to help a child live the best life they can and have as much fun as they can, that's what calls to me," she said. "That's another part of Toy Like Me. Everyone who volunteers is doing something to help a child and help the local community."
Many students answered the call to pitch in on toy modification day. Political science major Chris Pisa-Relli '25 learned of the event from a campus flyer and was one of the first to arrive. He got to work equipping a Spiderman figure with a hearing aid.
"It just seemed important," he said of his decision to spend a weekend afternoon with the group. "Kids with disabilities shouldn't feel left out. They shouldn't feel like outsiders."
Building awareness and deepening empathy around issues of representation and accessibility is part of Toy Like Me's mission, said McCutcheon.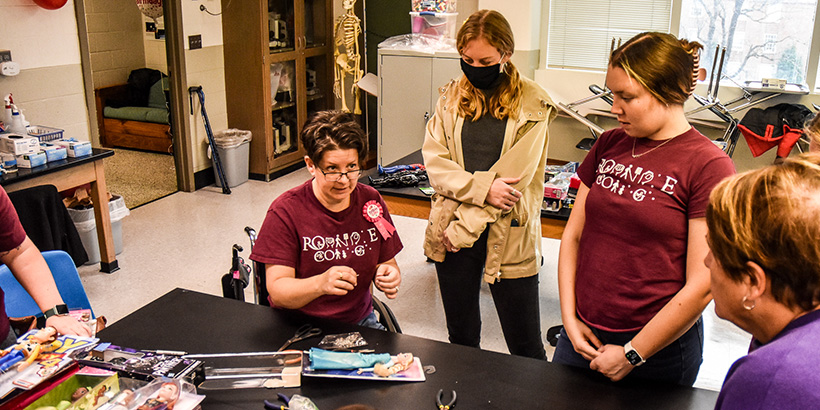 Frances McCutcheon (left) and Hope Keller '24 (right) help guide volunteers through the modification steps during the event held on campus Nov. 13. Photo by Kaylen Ayres '25.
Some requests can be emotional. This year's list included multiple nominations for young children who've undergone open-heart surgery. Their families requested toys with surgical scars.
"That can be a tough thing to take in especially when we're talking about young children," McCutcheon said. "But we want our students to understand the real world. We want them to grow and to go out into the world as someone who truly sees people with disabilities."
The modified toys can also help doctors and parents communicate about a condition. In addition to toys created for specific children, the program donates batches of toys that reflect the most common types of procedures handled by local hospitals.
Those are given out to new patients throughout the year and can help children, relatives and friends better understand what to expect.
Donations also can be tailored to help with therapeutic needs, McCutcheon said. Toy Like Me has created weighted toys that can comfort a child with sensory disorders or toys with extra buttons, snaps and zippers for children with developmental delays who are honing their fine motor skills.
This year's toys will be delivered in December. The first will be received by Virginia Heights Elementary School.
Educators from Virginia Heights were among those who rolled up their sleeves to help with the modification work.
Assistant Principal Dana Witt said it was their way of giving back to a group that has helped many of their students. The school is looking forward to surprising the kids with this year's toy delivery, she added. They see the impact it makes on the children each time they can recognize themselves in a toy, storybook or movie character.
"Oh my gosh, they get so excited," Witt said as she labored with a sewing kit over a Minnie Mouse doll. "They absolutely love it. The joy on their faces is worth it."
Donations to support Toy Like Me's work can be made online at: roanoke.edu/GiveToyLikeMe. To learn more about the partnership and the impact it makes, check out these news interviews:
Toy Like Me at Roanoke College 2022