Roanoke College welcomes Olympic cycling hopefuls to Roanoke Valley
January 22, 2022
On Saturday, Roanoke College President Michael C. Maxey and 2012 Olympian Shelley Olds '03 welcomed a group of female cyclists who are preparing for the Paris 2024 Olympic Games.
The announcement, along with Visit Virginia's Blue Ridge and numerous local and state leaders, was that Virginia's Blue Ridge TWENTY24 — a national cycling team that aims to prepare female cyclists for the Olympics — is coming to the Roanoke Valley. The team has prepared female cyclists for the 2012, 2016 and 2020 games. During those three Olympics, cyclists from the team have earned 14 Olympic and Paralympic medals.
Olds, who captained Roanoke College's women's soccer team and went on to compete for the United States as a cyclist in the 2012 London Olympics, trained with the team (which was called TWENTY12 in advance of the 2012 games) and was instrumental in bringing the team to the Roanoke Valley.
"When I joined the TWENTY12 cycling team, the program and my cycling abilities were in their infancy, but over the years I was privileged to grow with the program and with a strong team of diverse female athletes who went on to achieve success in their own cycling careers," Olds said.
Olds and Maxey spoke at the announcement, which took place at the Hotel Roanoke in downtown Roanoke. Maxey introduced Olds, commenting that he's excited that the College is connected to the team through Olds. He also mentioned that Olds had breakfast with a number of current Maroon female athletes on Saturday morning, and that she's set an excellent example for them to follow.
"Shelley exemplifies what it means to be a Roanoke College Maroon and to pursue one's purpose relentlessly," Maxey said. "Her accomplishments, her leadership and her spirit make us proud to be her alma mater."
Olds spoke about her time at Roanoke College, saying that every time she returns to Roanoke, it feels like she's coming home. She said her time as a Maroon set a foundation for her career.
"I found my purpose playing soccer at Roanoke College here in Virginia's Blue Ridge," Olds said, "an experience which later propelled me to the elite levels of professional cycling and allowed me to fulfill my dream of representing my country in the 2012 London Olympics. At Roanoke College, I learned what it means to be part of a team, to respect and appreciate differences in culture, background and ability. These are the same values that drive Virginia's Blue Ridge TWENTY24 cycling team."
Olds was featured in the Roanoke College magazine in 2012, and you can read that article here.
Olds wasn't the only Maroon on stage. Del. Sam Rasoul, D-Roanoke, a 2002 Roanoke College graduate, was also among the lawmakers who spoke at the event. State legislators Sen. John Edwards, D-Roanoke; Del. Chris Head, R-Botetourt; and Del. Wren Williams, R-Patrick also spoke. There were numerous local officials in attendance, including Roanoke City Council members, Roanoke Mayor Sherman Lea, City of Salem officials, and local government members from Roanoke, Botetourt and Franklin counties.
Multiple speakers pointed out that the Blue Ridge region is a haven for mountain bikers and cyclists. Rasoul said he knows a couple biking enthusiasts in particular who might be paying close attention to the team.
"As the father of daughters who are mountain bikers, now they will have some awesome icons here locally to emulate as we cheer you on to 2024 and beyond," Rasoul said.
Lee Wilhelm, the chairman of Visit Virginia's Blue Ridge Board of Directors, echoed Rasoul's sentiments. Wilhelm said that this team will bring economic benefits to the region, but the effect it will have on young athletes goes beyond that.
"The potential for inspiring local youth and empowering a new generation of female athletes, to me that is fantastic and really the No. 1 thing coming out of what we're doing here today," Wilhelm said.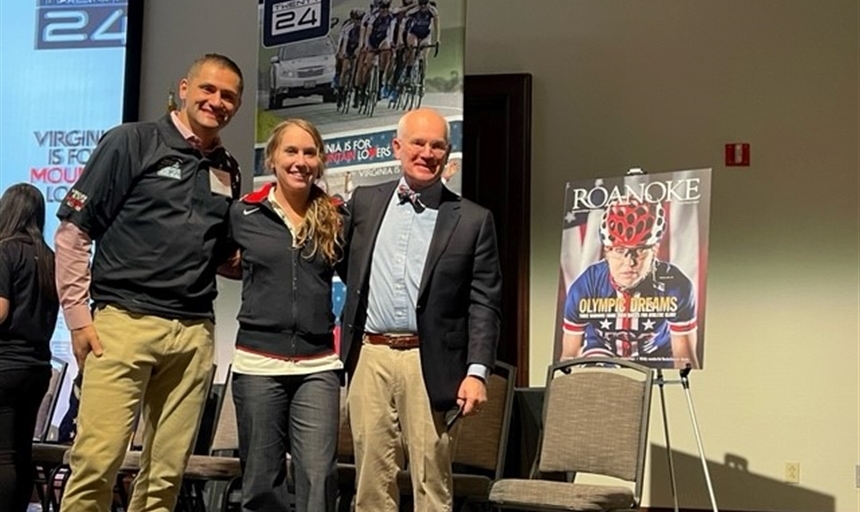 Del. Sam Rasoul '02, Olympian Shelley Olds '03 and Roanoke College President Michael C. Maxey pose for a photo at Saturday's announcement of Virginia's Blue Ridge TWENTY24 coming to the Roanoke Valley.