Washington Semester offering students unique, real-world experience
November 02, 2022
On any given day, Sophia Contini '24 might help file search warrants, gather background data on federal fugitives or brief her supervisors on earlier task force meetings.
In the nation's capital, where she's living and interning as part of the Lutheran College Washington Semester program, she finds herself working with federal agents, local law enforcement and offices across two surrounding states.
"It's really cool being able to see how all these different departments work together to solve cases and catch their fugitives," said Contini, whose internship is with the U.S. Marshals Service's Capital Area Regional Fugitive Task Force. "You get to see all the different things that go into it and how it all works."
That real-world insight is helping Contini hone her skills as she works toward a dual degree in criminal justice and psychology. The Pittsfield, Massachusetts, native is preparing for a career in juvenile justice, where she wants to help children who get caught up in the court system.
Her time in Washington, D.C., where she's one of 10 Roanoke College students doing full-time internships this semester, is giving her hands-on experience working in criminal justice and helping her strengthen skills that will carry forward into her career after graduation.
She's learned to work in settings that demand swift, clear communication, and helped marshals dive into the histories of people who are wanted.
"I really get to do a little bit of everything," she said. "I've learned a lot about the actual process of gathering evidence and finding people, and how that all comes together. Things I didn't know much about before coming into my internship with the U.S. Marshals."
The chance to take part in the unique Washington Semester initiative was part of what stood out to Contini about Roanoke College when she was deciding where to enroll.
"None of the other schools I was looking at had a program like this at all," she said. "It seemed like such a good way to get more experience while also learning how to live in a new city and be more independent. You gain so much in life skills by being here."
The Washington Semester, a partnership of Roanoke College and 12 other schools, allows students to immerse themselves in the professional and cultural landscape of D.C.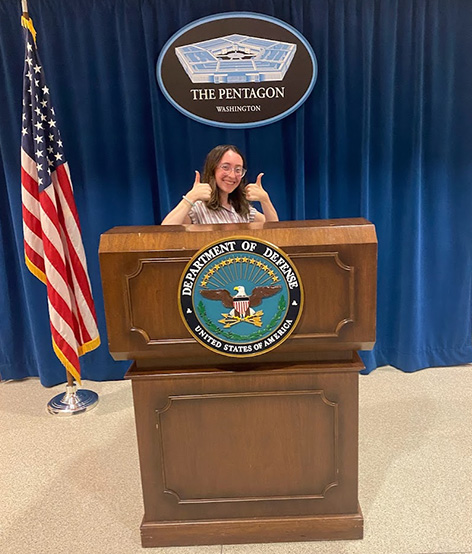 Sophia Contini '24, photographed here during a tour of the Pentagon, is living in D.C. this semester and interning with the U.S. Marshals Service.
Students of all majors carry out internships on Capitol Hill, national museums, think tanks and nonprofits. That experience is buttressed by related classwork and excursions to the White House, Kennedy Center, Embassy Row and other destinations.
"We get them involved in the rich history and culture of D.C.," said Todd Peppers, Washington Semester coordinator for Roanoke College and Henry H. and Trudye H. Fowler Professor of Public Affairs.
"What I love best about this program is the transformative effect it has on our students," he added, noting that working in D.C. doesn't just help open doors to future career opportunities for them.
Learning to navigate the city also imparts a newfound sense of confidence and acumen. "They come back, and they carry themselves differently. They've had all these outside experiences that they can draw on now," Peppers said.
"We talk at Roanoke College about helping our students find their passion, their purpose, their vocation. And I see that in the students who've been to Washington."
James Suleyman '24 said being part of Washington Semester has been a one-of-a-kind opportunity. The Wilmington, North Carolina, native is interning with Offender Aid and Restoration, a nonprofit that helps people rebuild their lives after emerging from incarceration.
Suleyman, a criminal justice and sociology double major, works with clients who need everything from housing to toothpaste.
"Most people come out of the system with nothing but the clothes on their backs, which is really unfortunate and disheartening," he said. "So, we're there to help them take those first steps back. Sometimes we're the only place that returning citizens have to go. We really try to be accessible for those people who are starting from square one."

The work has taught Suleyman both how complex the system is, and how to dig in and find ways to make it work for vulnerable communities.
"I'd say I've become a lot more resourceful," he reflected. "Realizing that there isn't always an easy solution to a problem or that the solution isn't going to be handed to you on a silver platter. You have to go and find it yourself. You have to research and learn where local resources can be found, which I'm enjoying."
Suleyman, who wants to work with children in restorative justice initiatives after graduation, added he had always hoped to have an off-campus study experience while in school. Financial support from Roanoke College's Fowler Legacy Program made it possible for him to go to D.C.
The Fowler Legacy Program, supported by donors, helps dozens of students each year pursue off-campus studies in public issues. The students who benefit go to Washington, professional conferences or international study abroad destinations.
For Suleyman, living in D.C. has helped him expand his professional skills and explore the city's art, cultural history and international scene. His time in the center of U.S. government also drove home how vital it is to be politically engaged.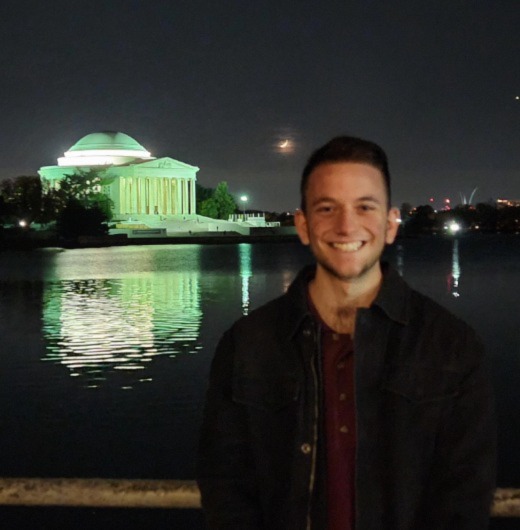 James Suleyman '24, seen here at the Thomas Jefferson Memorial, is spending the semester living in D.C. and interning with the nonprofit Offender Aid and Restoration.
"Being here has helped me see how important it is to be aware of what's going on," he said. "On a local level, national level and global level, there is just so much change happening. I think young people have a lot of power to be a part of that or can have a lot of power if we use our voices."
"I'm so glad I got to be part of this program," he added of Washington Semester. "I would encourage any student to try it and take advantage of the opportunities it offers. There is something here for everyone."
Other Roanoke College students taking part in the Lutheran College Washington Semester program this fall include:
Adelle Mengedoht '24, a criminal justice and literary studies major, is interning with the District of Columbia's Public Defender Service.

Ashley Brown '24, a history major, is interning with D.C. Witness.

Ava Glover '23, a criminal justice major, is interning with the Criminal Justice Coordinating Council.

Klairha Larrabee '24, a business administration major, is interning with Girls on the Run.

Lilly Burns '24, a criminal justice major, is interning with the District of Columbia's Public Defender Service.

Matt Cochis '24, a philosophy major with a legal studies concentration, is interning with the American Enterprise Institute.

Samantha Murphy '24, a political science and international relations major, is interning with U.S. Rep. David Scott's office.

Samuel Lumpkin '25, a political science major, is interning with the U.S. Senate Committee on Health, Education, Labor and Pensions.