Center for Studying Structures of Race
The Center for Studying Structures of Race, based in a renovated slave quarters that adjoins Roanoke College's campus, invokes the historical significance of the slave quarters as a physical structure, while drawing comparisons to other structures at Roanoke College that are connected to the legacies of slavery and institutional racism. The center emphasizes the necessity of examining forms of structural racism in local, national, and international contexts. As such, the center will form a nationally distinctive and intellectually rigorous venue for teaching, research, and community engagement about structural racism. The Center will expand opportunities for student instruction, open up space for collaborative research projects between faculty and students, and further develop community connections in the Roanoke Valley and the state of Virginia.
Roanoke College partnered with other colleges and universities to found the Universities Studying Slavery (USS) consortium in 2014, and hosted a site visit during a USS conference in 2018.
About the Director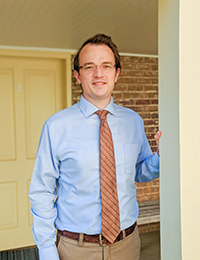 Jesse Bucher is Associate Professor of History, Director of the Center for Studying Structures of Race, and Coordinator of the African and African Diaspora Studies Concentration at Roanoke College. He has a PhD in African history from the University of Minnesota-Twin Cities where he was a MacArthur Scholar at the Interdisciplinary Center for the Study of Global Change. Prior to arriving at Roanoke College in 2012, he was a Postdoctoral Fellow at the Centre for Humanities Research at University of the Western Cape. Bucher's research utilizes postcolonial and critical theory to interpret the history of political violence, colonialism, and racial politics in both Tanzania and South Africa. He has worked on projects related to histories of public commemoration, memorialization, and monuments. At Roanoke College he regularly offers courses on the history of slavery, on African history, and on black political movements throughout Africa and the African Diaspora. He can be reached at bucher@roanoke.edu.