Creativity is evident in many Roanoke College graduates, whether in the film or tv industry, music, art or graphic design. Thanks to all these alumni for sharing their passion for art and their talents with the world.

James "Jay" Alaimo III '96: Alaimo is an American film director, writer and producer. During his time at Roanoke College, he became a member of the Alpha Psi Omega Honors Theater Society. A writer for film and television, Slingshot is his most notable film. It premiered at the 2006 Tribeca Film Festival and was distributed in 2007.
M. Beverly Bartner '63: Bartner is a Broadway and off-Broadway producer, including several shows that have been nominated for Tony awards. She was introduced to theater and opera as a young girl by her father and continued her love for both. She met her husband, Robert Bartner, through her Roanoke College roommate, who married his brother. Robert also has a love for theater and, between the two, they have invested in and produced numerous productions. Beverly's producing credits include these Tony Award nominees: Bea Arthur on Broadway, A Little Night Music, Jerusalem, Wolf Hall Part One, Wolf Hall Part Two and Six Degrees of Separation. She and Robert live in Sarasota, Florida, and travel to New York and London as needed for their work.
Charlie Boswell '74: After graduating with a degree in fine arts from Roanoke, Boswell was an announcer at WSLS-TV in Roanoke before becoming the College as director of public information in 1975. After two years he moved into broadcasting and commercial writing with station WXCL in Peoria, Illinois. He eventually owned three stations in South Carolina. He loves amateur theater and has acted in or directed over 150 productions in Virginia, Illinois, Texas and South Carolina since 1960. His voice-over work includes videos created at Roanoke College. He has served on the boards of various theater and other community organizations.
Robert "Buck" Brown '72: Brown is a performing songwriter as well as a freelance multi-instrumentalist playing guitars, keyboards, mandolin, and dobro. He lives in the Nashville, Tennessee area. Brown is a composer at InSession Audio and played in the Nils Lofgren Band and the Nils Lofgren Acoustic Duo. He has also served as the head instructor at the National Guitar Workshop.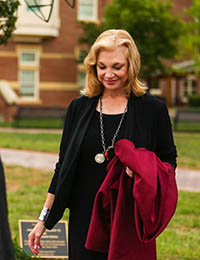 Joanne Leonhardt Cassullo '78: It was an American art history class at Roanoke that Joanne Cassullo said awakened in her "a lifelong passion for art and art history." She received her bachelor's degree from Roanoke and her teaching certificate from the State of Virginia in 1978. She continued her education at Southern Methodist University in Dallas, Texas, completing course work for a master's of fine arts degree in 1983. The same year, Cassullo was awarded the Helena Rubinstein Fellowship in Museum Studies at the Whitney Museum of American Art in New York, which enabled her to co-curate two exhibits. Afterwards, she worked as a gallery assistant at the Washburn Gallery in New York. In 1985, she became the youngest member ever elected to the Whitney's board of trustees, a position that she holds today. Cassullo is also a freelance writer and has had her pieces featured in the Harvard Business Review, Artspace and Countryside. She is the founder, president and director of the Dorothea L. Leonhardt Foundation Inc., which is a private philanthropic foundation, and she was awarded the Aperture Foundation Award in 2007 for her many philanthropic activities. She is a member of the College's board of trustees and is a past member of the President's Advisory Board. In 2001, Cassullo established the Joanne Leonhardt Cassullo Endowed Scholarship at Roanoke, and, in 2004, Cassullo established a new professorship in art history. In addition, she has been responsible for bringing numerous visiting artists and artwork to campus.
Phil Conserva '95: Conserva began his Hollywood career with a junior-year student internship for the TV shows Chicago Hope and The Simpsons. Chicago Hope later offered him a job, and within a few years, he became a producer for CSI: Crime Scene Investigation, working mainly on post-production for its entire 15-year run. He also directed several episodes. He also served as the music industry liaison both for the show and for artists Linkin Park, John Mayer, Rascal Flatts, Taylor Swift, Joe Perry, Van Halen and Black Sabbath. Conserva is the co-founder and executive producer of Boilermaker Media Corporation (formerly Rhino Pictures, Inc.), and the co-creator and executive producer of the Discovery Channel series Cuban Chrome.
Robin Cook '97: Cook is a theater wardrobe professional and has worked in the field in New York, as well as in theater development and fundraising. She helped to facilitate an annual gala, called Celebrity Bowling, at Second Stage Theater in New York.
Joel Gill '01: Gill received his master of fine arts from Boston University and is a faculty member and chair of foundations at the New Hampshire Institute of Art. He is the chairman, CEO and president of Strange Fruit Comics and the author/illustrator of two books from Fulcrum Publishing. He is a member of the Boston Comics Roundtable.
Tom T. Hall: Nicknamed "The Storyteller," Hall was best known for his more narrative approach to singing and songwriting. Hall joined the U.S. Army in 1957, and earned a high school diploma while enlisted. After the Army, Hall enrolled at Roanoke College to pursue writing. He admired Mark Twain and Ernest Hemingway, but discovered that he was actually better at writing country songs than stories and articles. While working as a disc jockey in Roanoke, he sent some of his compositions to Nashville, Tennessee, where music publishers liked his work. One company in particular, New Keys, urged Hall to relocate to Nashville. He did, and his first recorded song, "D.J. for a Day," was sung by country music singer-songwriter Jimmy C. Newman. Hall won a Grammy award for Tom T. Hall's Greatest Hits. He has been inducted into the Nashville Songwriter's Hall of Fame.
Philip Hatter '96: A Roanoke art major, Hatter is the founder and director of Thistledown Puppets, as well as a puppet designer and builder. He works to combine his background in visual arts, sculpture, caricature, and cartooning to create high quality puppets. His puppets have been featured on the television program Pete and Penelope, an educational preschool show not only aims to "help kids with their intellectual quotient (IQ), but also their emotional quotient (EQ) like being kind and sharing."
Brad Hennegan '93: Hennegan is a partner at Hennegan Brothers Creative, which produces documentaries, branded content, commercials and on-air promotions. His client list is impressive and includes NBC Sports, ABC Sports, ESPN, AT&T U-Verse, The American Kennel Club, and The Breeder's Cup. He has been a director at CBS Sports Network and was the director and producer of the horse racing documentary, First Saturday in May.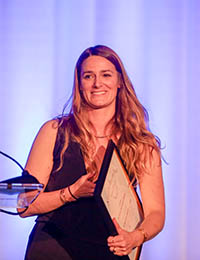 Jill Hoffmeister '05: Hoffmeister, the former RC soccer player, had a passion for jewelry-making even as a student. She found a study abroad program in Florence, Italy, that offered coursework in jewelry fabrication, and it was there that she fell in love with it. Hoffmeister now has her own jewelry line that has been featured in InStyle magazine, Elle magazine, Vogue, and California Style. A Boston area-based jewelry designer, Hoffmeister has established a fan base among Hollywood stylists and celebrities. Academy Award nominee Salma Hayek wore diamond stud earrings by Jill Hoffmeister Jewelry to a Vanity Fair party, and actress Bryce Dallas Howard posed in a photo shoot wearing a Jill Hoffmeister diamond baguette necklace. Hoffmeister juggles creating new pieces for her collection with a full-time position long-distance managing Roseark, a luxury West Hollywood boutique that caters to stylemakers searching for distinctive accessories.
Pendleton Hogan '29: Hogan was a published novelist, world traveler, antiquarian, Hollywood film advisor, art collector, historian, architect, war veteran and, ultimately, philanthropist. During and after World War II, he was a public information officer in the U.S. Army, attaining the rank of lieutenant colonel. In the 1950s, he served on the staff of Gen. Maxwell Taylor in Korea, followed by a stint in Japan. He spent almost five years in Asia, and later, two years in Hollywood advising on films dealing with Army subjects. Hogan began writing professionally shortly graduating from Roanoke. His fiction includes three novels. One, The Bishop of Havana was a Book-of-the Month selection in 1933. Hogan had a passion for studying the life of Mary, Queen of Scots. Over his lifetime he amassed a large collection of art related to her. When his collection outgrew his home, he donated it to Roanoke College, where it has been available for public viewing since 1980. Hogan was awarded the Roanoke College Alumni Medal in 1979 and the Distinguished Alumni Award in 1992.
Tamara Duricka Johnson '98: Johnson is an award-winning journalist, author and dating coach. Her book, 31 Dates in 31Days, won the 2012 Best Dating Book from the About.com Readers' Choice Award and was named among the Top 10 Dating Books of all time from DatingAdvice.com. In the past she has worked for ABC's Good Morning America, where her team won an Emmy for Best Writing. She has won awards from the Associated Press, the Society of Professional Journalists and the Virginia Association of Broadcasters. She has been a news producer for KATU-TV in Portland, Oregon, and currently is a freelance news producer and writer for KTLA in Los Angeles. She received a master's degree from Columbia University's Graduate School of Journalism.
RJ "Bob" Konner '73: After a very successful career in automobile sales, Roanoke fine arts major Konner has created for himself a different role: that of actor, producer and model. His first experience in the field was writing and doing radio commercial voiceovers for his family's dealership; in the late 1980s, he began to get bit parts in TV shows and movies, and, in a moment of serendipity, caught actor Eddie Murphy's eye while shooting a scene from the movie "Meet Dave" in New York City. Murphy, a former customer who'd purchased vehicles from Konner, recognized him on the movie set and soon after flew him to Hollywood, where he landed a role in another Murphy movie, Imagine That! Several years ago, he and two business partners started Who's On First? Productions PR Inc. (now known as WOF Entertainment, Inc.), an independent film production company that develops, produces and finances commercial, feature-length motion pictures. He currently is the vice president and executive producer of the company.
Charlie Lightcap '70: During Lightcap's time at Roanoke he played basketball and helped lead the team to win the Mason Dixon Championship. He went on to play for the Washington Generals, an exhibition basketball team. Following that, he coached young basketball players in Africa, then returned to the states and a counseling career. In retirement, his artistic side took over and he created hand-carved walking sticks and pen and ink works of art, some of which are displayed at Mill Mountain Coffee and Tea. He also self-published a fantasy novel.
Steve Mason '91: Mason is the owner and president of Red Velocity, a video production company. Mason spent over a decade as a sportscaster on WDBJ-7, the CBS affiliate in Roanoke, where he also worked on his photography skills. He left in 2003 to found Red Velocity. His work frequently brings him to campus, and he has filmed and produced numerous video projects for the College.
Miles Sherman Masters '54: Masters was the College's longest-serving full-time professor (1930-1973). After becoming chairman of the classics and fine arts department in the 1930s, he became active in the greater Salem-Roanoke community. He became a member of the Roanoke Art Alliance and served as president of the Alliance in 1941. He instituted training for photographers and artists, and established an annual regional art show that grew to receive entries from New York to North Carolina. In recognition of his lifetime of effort in support of the Salem Fine Arts Commission, he was the first recipient of the Walter Biggs Award for Cultural Achievement. His encouragement led to Walter Biggs' acceptance of a part-time teaching assignment at Roanoke College. In 1933 he was a charter member, and thereafter maintained a lifetime of support, of the Salem Camera Club. Masters also taught photography at the College. He was made an honorary member of Pi Delta Epsilon of the collegiate journalism fraternity and was a life member of the Virginia News Photographers Association. He and his wife Margaret sponsored the Roanoke chapter of Sigma Delta Pi, the classics fraternity, and hosted meetings in their home.
Pam Ogden '60: Ogden is known for her watercolor work, which has been exhibited around the region. She also served as the editor of the Virginia Watercolor Society's newsletter, Waterlouge and taught private art instruction to children. Ogden helped to plan Art in the Alley, an annual exhibit in Salem.
Karen Olson '82: Olson is a longtime journalist and the award-winning author of 12 crime novels. Her first book, Sacred Cows, won the Sara Ann Freed Memorial Award for best debut mystery from Time Warner/Mysterious Press. Her fourth book in the series, Shot Girl, was a Shamus Award finalist. She also was a finalist for the Gumshoe Award, an American award for popular crime fiction literary works.
Cyrus Pace '98: After many years as a performer and music educator and three years as the fine arts coordinator for Roanoke City Schools, Pace became executive director of the Jefferson Center in Roanoke in 2010. As an educator, he facilitated a VH1 Save the Music grant for 18 elementary schools, bringing $450,000 worth of instruments into the hands of children.
John Payne '36: Payne studied at Roanoke College before withdrawing when his father passed away. Eventually he was able to return to school at the Pulitzer School of Journalism at Columbia University. He had a long and successful singing and acting career, appearing and starring in musicals, movies and TV shows. His credits include the lead role of Fred Gailey in The Miracle on 34th Street, The Dolly Sisters, Sentimental Journey, The Razor's Edge, Larce and Gunsmoke. He was awarded two stars on the Hollywood Walk of Fame, one for motion pictures and one for television.
Tim Ribar '74: Ribar was the owner of Tim Ribar Photography in Florida. His client list included USA Today, Time Magazine, and the New York Times. He served as the official photographer for Pi Kappa Phi and covered many Roanoke College events during his career.
David C. Robinson '93: Robinson, an American film producer, is president of Morgan Creek Productions, a highly successful Los Angeles film production company. During his time there, Robinson has overseen a variety of successful films including: The Good Shepherd, starring Matt Damon and Angelina Jolie; Man of the Year, starring Robin Williams; and Georgia Rule, starring Jane Fonda and Lindsay Lohan. The New York and the Los Angeles Film Critics Associations, the Academy of Motion Picture Arts & Sciences and the Hollywood Foreign Press Association have all honored the company's films, which have also won several Grammy Awards.
Marty Snortum '77: Snortum is a commercial photographer-turned-custom boot designer and manufacturer. A love for vintage boots led to Snortum's purchase and ownership of Rocketbuster Boots in El Paso, Texas. He designs custom boots for artists like Taylor Swift, Whoopi Goldberg, Tom Cruise, and Brooks & Dunn. He set the Guinness World Record for the World's Largest Boots. He owns a photography studio as well.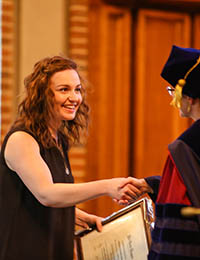 Stephanie Spector '16: Spector has a passion for writing screenplays and she wrote Daylily Day, which premiered on campus in 2016. She is currently the director of contests and conferences as well as a teacher for Gotham Writers. She founded the Karuna Writer's Residency on Animal Care Sanctuary in Pennsylvania. She served as the managing editor for the Roanoke Review and has worked for the Miami Poetry Festival and the New York City Poetry Festival.
Harriet Stokes '35: Stokes co-founded Salem's Art in the Alley, which ran for 40 years, ending in 2010. She was a member of the first class at Roanoke that allowed women. She was inducted into the Salem Alumni Hall of Fame in 1977 and she also helped to start the Virginia Watercolor Society. She received the Walter Biggs Award for Cultural Achievement and the Perry F. Kendig Individual Art award.