Community Service Spotlight
Service to others is one of the core values of the Roanoke College experience. The alumni nominated for the Community Service Spotlight have served their communities in a variety of ways. Deep appreciation and thanks to these service minded alumni and all those who join them in regularly serving their communities.
Clarence P. Caldwell, Jr. '41: Caldwell served Roanoke College as vice president of finance and as treasurer of the board of trustees for 36 years; he was also a part-time teacher of business administration and economics. He was instrumental in the creation of the Roanoke Athletic Hall of Fame, to which he was inducted in 1981. Beyond the campus, Caldwell was very active in the community. He served on Salem's city planning commission for 24 years and was chairman in 1974-1978 and 1981. Caldwell was a member of the Salem Rotary Club for over 40 years, including a stint as president. The list of other civic and educational organizations that benefited from Caldwell's leadership and vision include the Salem Historical Society, the Salem High School Hall of Fame selection committee, Brandon Oaks Retirement Community, and the Lutheran Children's Home of the South. As a member of College Lutheran Church, Salem, Caldwell led the congregation as a council member and council president. He was treasurer of the Virginia Synod of the Lutheran Church of American for five years.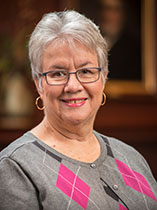 Judy Hall '69: Hall is a member of the historic St. Bartholomew's Episcopal Church in New York City. Since joining in 1996, she has dedicated her life to helping others. Hall has made two trips to Tanzania on behalf of the Carpenter's Kids Program that supports AIDS orphans, and she participated in a Habitat for Humanity build in the Dominican Republic. Hall has served on the Roanoke College Board of Trustees since 1999 and has been a Roanoke College Associate for 22 years. She also is a member of the Society of 1842, and has served as Chapter Chair of the New York Alumni Chapter, president of the Alumni Council, and as a member of the President's Advisory Board.
Kathryn Harkness '73: Harkness is a retired educator, having worked as a teacher in middle and high schools, and as an adjunct professor at Northern Virginia Community College. She has been involved in her community, volunteering in schools, community organizations and with her church, Westminster Presbyterian Church in Alexandria. She has served on the Session for Westminster Presbyterian Church and acts on the Committee of Ministry for the National Capital Presbytery of Washington, D.C. She is the secretary for Snell Construction Corporation, a development and investment company in Northern Virginia. She is a member of the Roanoke College Board of Trustees.
Monique Ingram '04: Ingram is a health educator for Roanoke's Planned Parenthood Services. She became involved in the profession after recognizing a need in the Roanoke area for women to know their choices and find their voice when it comes to reproductive healthcare. In 2016, Ingram traveled to Uganda to work with HIV-positive women and children. She also traveled to Cyprus on a service-learning trip with U.S. high school students. Through Planned Parenthood, Ingram conducts "Are You An Askable Parent?" workshops to help parents and adults feel more comfortable having difficult conversations with teens.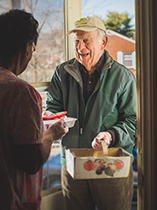 George Kegley '49: Kegley was an English major and a member of Roanoke's Kappa Alpha chapter. Following graduation, he served in the U.S. Army for two years. He soon began a career, which included a number of positions, at The Roanoke Times & World-News. He has continued to use his skills on behalf of numerous organizations. He serves as the editor of the Virginia Lutheran and the Journal of the Roanoke Valley Historical Society. He was chairman of the Endangered Sites Committee of the Roanoke Valley Preservation Foundation. Kegley has served on the boards of the Roanoke Rescue Mission, Pastoral Counseling Center, Western Virginia Land Trust and Brandon Oaks Advisory Board. He was a director of the Virginia History Federation, the Shenandoah Valley Folklore Society and a member of the Ryland Heads Library Board. He is active with the American Red Cross, donating 20 gallons of blood, and was the first person to do this in the Appalachian Region of the American Red Cross Blood Service.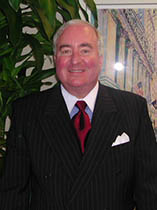 David Marx '65: Marx is a financial advisor with Wells Fargo Advisors in Washington, D.C. Since 1967, he has successfully advised clients and built deep relationships that stood strong through various market conditions and economic environments. For 25 years, Marx has graciously hosted the D.C. Alumni Chapter's Career Night for students and recent graduates. He also has provided internships, individual mentoring and guidance to students and recent graduates interested in the field of financial services. While a student, Marx was a member of Sigma Chi, president of the senior class, executive council, and president of the Commons Committee.

Edward Moore '94: A psychology major, Edward Moore is a special education teacher at Wisdom Lane Middle School in Levittown, New York. He has been teaching for 20 years and also coaches basketball and softball. He is the current president of the Nassau County Firefighters Pipes and Drum Band. The band played the bagpipes for President George W. Bush in 2002 at the Nassau County Firefighters 9/11 Memorial. In addition, the band was invited to perform at President Donald Trump's Inauguration. Moore's nominator described him as "a committed husband, father, volunteer and friend." He has hosted Long Island-Roanoke alumni winter reunions.
Peter M. O'Neill '85: Peter O'Neill received a bachelor's in business administration from Roanoke and a master's in social work from Columbia University, where he later was an adjunct associate professor in its School of Social Work. He also holds a two-year post-graduate degree from the Ackerman Institute for the Family. O'Neill began his career at the Boys and Girls Harbor in East Harlem as a therapist, stepping into other roles in 13 years there, including director of the clinic's training and internship program, and director of the children's clinic. He was president of the Rockefeller Family Fund from 2001 to 2004, and he chaired the Rockefeller Family Council from 2002-2008. O'Neill is chair of the executive committee of the board of trustees for International House of New York, a private, non-profit residence and program center for graduate students, research scholars, trainees and interns. He has served as director or trustee for the non-profit Winrock International, Grace Church School Board and several private companies. He chairs the 5600 Operating Committee for the Rockefeller Family Office.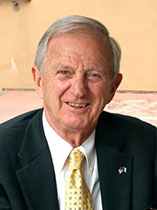 Durward Owen '55: Durward Owen is former executive director for Pi Kappa Phi National Fraternity, a national membership association of more than 62,000 members. During his 35 years as executive director, he created a national philanthropic organization, PUSH, Inc. for Pi Kappa Phi to provide service, awareness and volunteerism on behalf of physically challenged individuals. He also developed the Pi Kappa Phi Foundation, an educational foundation of the Fraternity. Owen has served on the boards of numerous organizations, including the North Carolina School of the Arts, Opera Carolina, and the Western Carolina Children's Foundation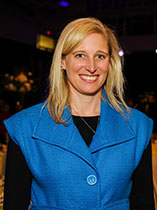 M.C. Belk Pilon '96: Belk Pilon chairs an endowment whose mission is to empower the 21st century workforce by creating pathways to prosperity for underrepresented students. In January 2014, Belk Pilon represented the John M. Belk Endowment at the White House College Opportunity Summit, hosted by President Barack Obama and First Lady Michelle Obama. There, the Belk Endowment announced that it will provide $10 million to the College Advising Corps to increase access to higher education for low-income students in rural North Carolina high schools.
Barb Buehler Royal '92: Royal has spent more than two decades teaching, coaching and mentoring youth. As an educator for more than 20 years, she developed Kids Can Give Too, Inc., a web-based app that makes it possible for children to contribute 50% of their birthday contributions to the charity of their choice. Royal was founding president of the Parent Teacher Organization at Coastal Montessori Charter School in Pawleys Island, S.C. She is also the founder for Pawleys Island Children's Theater in Georgetown County.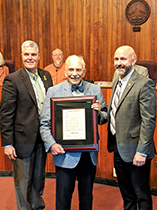 Thomas Henry Row '57: Row retired from the Oak Ridge National Laboratory as a nuclear engineer. There he was recognized with the Martin Marietta Jefferson Cup Award for Management Achievement. Row has become an important part of his community in Oak Ridge, Tennessee by volunteering with more than 40 nonprofit and professional organizations. Row was honored with the Bill Wilcox Bow Tie Award from Aid to Distressed Families of Appalachian Counties. The award is given only to those with a tireless volunteer spirit. He served as chairman of the board and treasure of the American Museum of Science and Energy Foundation, as well as the Girls Incorporated board. He also served as president of Habitat for Humanity and served on the Convention and Visitor's Bureau Board of Directors, as well as the board of the United Way of Anderson County. He also served in various capacities in the Rotary Club of Oak Ridge, the Oak Ridge Sister Cities organization. Row was named Sertoma Man of the Year in 1998 and received Tennessee Governor's Volunteers Stars award in 2008.
Jim Sears '68: Dr. Sears is president and general manager of Center in the Square, a unique home for regional arts and cultural organizations, located on the historic Roanoke City Market. The center creates and drives opportunities that enhance education, economic development and quality of life. Sears initially retired from the position in 2013, after serving for 20 years, but returned to Center in the Square in 2014.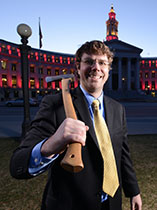 Scott Segerstrom '02: Segerstrom's work has enabled him to serve thousands of young people across Colorado. As executive director of the Colorado Youth Corps Association, he works with legislators, land management agencies and other stakeholders to put young people to work on public lands, where they perform conservation projects across the state while learning about the environment and themselves. While the association's measurable outcome is conservation of natural resources, its primary impact is to provide meaningful service opportunities that create the spark of leadership in young people.
Stuart Sullivan '87: Sullivan has nearly 30 years of experience in development for higher education and non-profit entities. Most recently, he served as executive vice president and chief development officer for The Children's Hospital of Philadelphia. Prior to that, he worked as senior vice president for external relations at Temple University; director of development for schools and centers at the University of Pennsylvania; and director of major gifts and planned giving at Roanoke College. In 2017 he became the president of Graham-Pelton Consulting, a global consulting firm focused on non-profits, including higher education, independent schools, faith communities and social change organizations.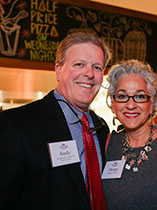 Andrew K. Teeter '71: Teeter is senior vice president of USI Insurance Services in Charleston. A member of Sigma Chi Fraternity, he holds membership in the Contractors Association of West Virginia, the Independent Insurance Agents of West Virginia, National Association of Surety Bond Producers and the Associated Builders and Contractors, West Virginia Chapter. Teeter has served on the Roanoke College President's Advisory Board and on the board of the Clay Center for the Arts and Sciences of West Virginia, among other organizations and interests. Teeter was appointed to the Roanoke College Board of Trustees in 2015.
David Thornton '48: Thornton served as vice-president of development at Roanoke College and also as a development officer at Harvard University. He helped lead the some of the college's earliest capital campaigns, which led to the construction of the library, several residence halls, the science center, Antrim Chapel and F.W. Olin Hall for the Fine Arts. From 1970 to 1975, Thornton served as a member of the Virginia State Senate for the 22nd district. He was named to the Virginia State Library Board and the Roanoke College Board of Trustees in 1976. For his outstanding contributions to the College, Thornton received the Roanoke College Medal in 1993. He was a district director and trustee of the American College Public Relations Association and member of the board of directors of the Roanoke Fine Arts Center, the Roanoke Symphony and the Roanoke Rotary Club. He and his wife, Dimity, were founding members of the Showtimers Community Theatre and he served as president of the theatre's board. He also served on the board of directors of the Provincetown (Massachusetts) Center for Coastal Studies and supported other Cape Cod non-profit organizations.
Allen O. Woody III '70: Woody had an entrepreneurial spirit even while a student at Roanoke, where he initiated a business whereby parents could send care packages to their students. He went on to have a very successful career as president of the SPM Corp, a precious metals reclamation and fabrication company. Woody is perhaps best known for his tireless service to the Pi Kappa Phi fraternity. Initiated to the College's Xi chapter in 1967, he subsequently served as the chapter advisor for more than 30 years. He also served at the national level, where he was a regional governor, member of the national council and chairman of the Pi Kappa Phi Foundation. He also was a chartering officer for numerous chapters. In 2007, Woody was chosen as Mr. Pi Kappa Phi, the fraternity's highest honor. His spirit of community service included working with Feeding America Southwest America, where he was a board member and led a fundraising campaign that won a $60,000 grant for the food bank.
Dudley Woody '74: Woody is an attorney with Woods Rogers PLC, where he represents management and provides training in all aspects of labor and employment law, including the Americans with Disabilities Act and Family and Medical Leave Act, HIPAA, OSHA, sexual harassment, and union-free management. He is a regular contributor at the annual Woods Rogers Labor and Employment Seminar series. In addition, Woody works with real estate clients and has experience representing homeowners associations. He is a past national president of Pi Kappa Phi Fraternity, past president of Blue Ridge Literacy, and is active in the Society for Human Resource Management.
Robert Wells Woody '35: He was president of Roanoke Hardware Company, and later chairman and president of Nelson Roanoke Corporation. In 1968, he was elected President and CEO of the Vance Company. Woody served on the Roanoke City Council from 1952-1956, first as Vice Mayor for two years and then as Mayor of Roanoke for a two-year term. He was president of the Chamber of Commerce in 1980, and he chaired the restoration of the Mayor's Monument in Elmwood Park in 2009. Woody believed strongly in giving back to his community, with both time and money. He served on the Board of Carilion Health System and Roanoke Hospital Association for nearly 40 years, 18 years of which he was chairman. He also served for many years on the boards of the Roanoke Gas Company, Walker Machine and Foundry, First National Exchange Bank, First Federal Savings & Loan, Roanoke College and the Virginia Foundation for Independent Colleges. He was active in the arts community with leadership roles in the Roanoke Historical Society, the Roanoke Symphony Society, and the Roanoke Fine Arts Museum -now the Taubman Museum of Art. In addition, he led the General Campaign for the Southwest Virginia Center for The Arts and Sciences, now known as "Center in the Square." Woody died in 2011.