Roanoke alumni across the country and the world teach others and better society as they fulfill that important mission.
"The most momentous duty of one generation to another is its education." - Rev. Dr. David Bittle, first president of Roanoke College.
Michael Baker '81 A biology major at Roanoke, Michael Baker has been a dedicated mentor to countless young people through his 34 years of teaching and coaching. Serving as a role model for his entire community, Michael has coached multiple varsity sports in addition to teaching high school science. He is the athletic director of Fairmont High School in Robeson County, North Carolina. He has served on several boards, including the North Carolina High School Athletic Association Board of Directors.
Denvy A. Bowman '78: A history major at Roanoke, Bowman holds a master's degree in ancient history from the University of Virginia and a doctorate in ancient history from the University of North Carolina at Chapel Hill. He spent his career in education, including teaching history and serving as associate dean of the Thomas W. and Robin W. Edwards College of Humanities and Fine Arts at Coastal Carolina University in Conway, South Carolina, and as dean of the arts and humanities division at Keene State College in Keene, New Hampshire. In 2003, Bowman was hired as provost and vice president for academic affairs at Capital University, a Lutheran institution in Columbus, Ohio. In the fall of 2006, he was named interim president for the school; he was elected president the following spring. Under his leadership, Capital enjoyed historic high enrollment, significant reinvestment in campus programs and buildings, and seven years of operating surpluses. He retired as president in 2016 and returned to the classroom to teach.
Morgan Currie '13: Currie selflessly joined the Peace Corps and has been serving in recent years as a teacher in Mozambique. Currie blogged, "In the past year, I've heard people call Peace Corps a ridiculous waste of time and resources with little lasting impact on the communities we wish to serve. Padding for your CV, a political stunt to boost the USA image. I've been called a spy and a neocolonialist. But sitting on the porch with my students, closing the distance between our cultures, feeling and seeing understanding and respect grow in front of my eyes is everything."
Stephanie Doyle '99: Doyle was honored as Virginia's Teacher of the Year in 2009. Once she became a teacher at James Breckenridge Middle School, she immediately knew she was in a fantastic position to become a mentor to countless students. Doyle began a program at Breckenridge called Girls Rising Onto Womanhood, a support group that emphasizes good decision-making throughout adolescence in addition to a myriad of academic services. Despite the multiple financial and personnel challenges in Roanoke City Public Schools at the time, Doyle strived tirelessly to provide a quality and whole education to all of her students.
Anna Dyer '78: Dyer graduated from Roanoke College with a Bachelor of Science in Biology. Upon her graduation, she taught at Lord Botetourt High School, where she was an influential member of the community. She started a Science Club within the school, sponsored various classes and clubs, coached gymnastics and was assistant coach for the women's track team, all while earning her Masters of Arts in Liberal Studies from Hollins University. Dyer graduated from Hollins and began teaching at Salem High School in 1983, where she has remained for almost 35 years. She has taught various science classes, served as head of the science department and as sponsor for many graduating classes, and, in 2003, she was named Salem High School Teacher of the Year. She continuously supports her students in academics and sports, and serves as the secretary of the Salem Sports Foundation.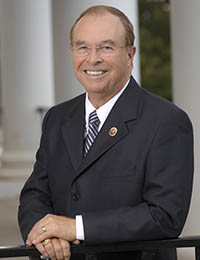 Kenneth R. Garren '62: After graduating from Roanoke College with a degree in mathematics, Garren spent his early career as an aerospace engineer at the NASA Langley Research Center, working on the Gemini and Apollo space programs. He also served the National Guard, U.S. Army Reserve, where he achieved the rank of Colonel, Infantry, U.S. Army Reserve. During that time, Garren also earned a master's degree in mathematics from the College of William & Mary and a Ph.D. in mathematics from Virginia Tech. In 1967, he accepted a position at Roanoke College as a mathematics professor, leaving NASA's aerospace program for an emerging passion for teaching. As a mathematics professor, he motivated and inspired young adults with a genuine concern for their success. Seventeen years later, Garren moved into administration as associate dean of academic affairs and later served as the vice president and dean of the College. In 2001, after 34 years of service in higher education, Garren was inaugurated as the tenth president of Lynchburg College. In 2010, he received the Humanitarian Award by the Virginia Center for Inclusive Communities.
Monica Adams Hatchett '97: Hatchett was an English major and education minor at Roanoke College. She has served her community as an outstanding student, teacher, and leader. She holds the position of director of communications and organizational learning for Henry County Schools, a district holding accolades for its energy efficiency and digital initiatives.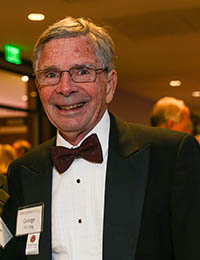 George Herring '57: Herring, a history major, carried his interest in the past into his future. After graduation, he served in the U.S. Navy in New London, Connecticut, for two years before resuming his studies in history. He pursued his doctoral studies at the University of Virginia, completing his degree in 1965, and then taught for four years at the University of Ohio. During that time, Herring, now considered one of the nation's foremost experts in the Vietnam War, began researching and writing "America's Longest War: The United States and Vietnam 1950-1975," which is in its fifth edition. He is a professor emeritus at the University of Kentucky's Patterson School of Diplomacy and International Commerce and has served on historical advisory committees at the CIA and U.S. State Department. He authored a volume in the prestigious Oxford History of the United States, "From Colony to Superpower: U.S. Foreign Relations Since 1776," which was published in 2008 and was a finalist for that year's National Book Critics Circle award. After that, Herring continued writing shorter pieces and lecturing. In 2010, he gave a talk on the Vietnam War at the State Department at an event attended by then-Secretary of State Hillary Rodham Clinton, former Secretary of State Henry Kissinger and other Cabinet-level dignitaries. Herring has won the admiration of his peers and former students for his candor, caring and intellectual rigor.
Maria J. Howard '05: Howard graduated from Roanoke with a bachelor's in philosophy and went on to pursue a master's and Ph.D. in the subject at Loyola Chicago. A former assistant professor of philosophy at Notre Dame of Maryland University, Howard is an assistant professor of philosophy at Gonzaga University with research specializations in normative and applied ethics in the field of health care. Her research investigates the ethical questions surrounding the topic of assisted suicide.
Catherine Huemer '85: Graduating from Roanoke College with a bachelor's degree in elementary education, Huemer continually gives back to the public school community through her hands-on work in the classroom and her oversight as a member of the board of directors for Smart Beginnings Virginia Peninsula. Following her graduation from George Washington University with a master's degree in curriculum and instruction, she worked for the Newport News Public School System for 20 years, working her way up to curriculum and development supervisor for early learning. An advocate for project-based learning, Huemer and her classroom were featured in the George Lucas Educational Foundation's video on Edutopia.org. Huemer's dedication to the betterment of education of the community led her to be invited to present at such events as the National Association for the Education of Young Children National Institute for Early Childhood Professional Development and the Virginia School Board Conference on Education.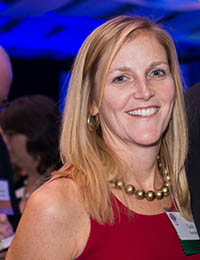 Cara Kenney '98: Kenney has been teaching for over 18 years and is currently a reading specialist at Highland Park Elementary. She received her master's degree from the University of Virginia, and she volunteers her summers running a bookmobile for children in the Roanoke Valley. Colleagues describe her enthusiasm as contagious, and her passion and dedication for reading have improved the lives of many children across Roanoke. Thanks to her efforts, many children have access to books who would not otherwise, thus starting them on a lifelong journey of learning and discovery.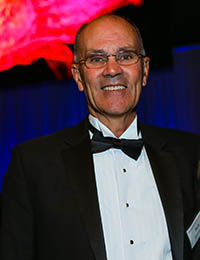 Lorraine Lange '69: Lange is a lifelong educator in the Roanoke Valley, having earned a master's degree from Hollins College and an Ed.D. from Virginia Tech. She served as the superintendent for Roanoke County Public Schools and was named the 2011 Virginia Superintendent of the Year. Lange was later selected as one of the four finalists for National Superintendent of the Year, and she was appointed to the Virginia Board of Education by Governor McAuliffe in 2015. After retiring from Roanoke County Public Schools after 44 years of service, she became director of graduate teaching programs at Hollins University, managing multiple masters programs.
James Pennix '88: After Pennix graduated from Roanoke, he completed a master's in social work at Radford University, and he is pursuing a doctorate in higher education leadership with Walden University. He returned to Roanoke and served as the director of admissions from 2007-2010, followed by a year as the dean of admissions and enrollment management at Radford University. He currently serves as the vice president of enrollment for Ferrum College. His nominator worked with Pennix at Radford and praises him for his "energy, insight and ability to recruit new students," and says that, "Through his outstanding leadership, he has taken our admissions program to a new level, and I believe that he is an outstanding representative of a Roanoke education."
Martha Kime Piper '53: Piper was involved in education for over two decades as a professor and university administrator. She was the eighth president of Winthrop College in Rock Hill, South Carolina, becoming the first woman president of a public four-year college in the Carolinas when she was named to the post in 1986. Prior to that she was the first woman chancellor of the University of Houston-Victoria, after several years as a professor and as assistant to the president of the University of Houston System for Academic Affairs. Piper served on national committees for the American Association of State Colleges and Universities and the American Council on Education. She received national recognition for developing new teacher-training programs and for contributions to her respective field, and she was the author of over 25 articles published in national publications. Piper became a member of the Roanoke's board of trustees in 1980, becoming the third generation of her family to serve in that capacity and capping a family tenure that spanned 87 years. She also was active in civic and cultural affairs in her local area, serving on numerous local boards.
James Scherer 1890: Scherer was a Lutheran minister and did extensive missionary work in Japan, working to found the Japanese Lutheran Church. He served as president of Newberry College and Throop College of Technology, which was later renamed to the California Institute of Technology.
Michael Wessells '70: Now serving as a professor and clinical population and family health at Columbia University, Wessels has been recognized repeatedly for his teaching and commitment to the health of children and families. He received Randolph-Macon's Thomas Branch Award for Excellence in Teaching and Roanoke College's Samuel Nelson Gray Distinguished Professor Award. In 2009, Wessells received the International Humanitarian Award from the American Psychological Association and the Lifetime Achievement Award of the Division of Peace Psychology. He regularly advises United Nations agencies, governments and donors on issues of psychological support.
Mabel "Jo" Umberger Wilson '60: After graduating from Roanoke College in 1960, Wilson's passion for education and teaching began when she noticed learning and reading difficulties in her own children. During her search for answers, she discovered a little-known but highly successful approach to learning called the Orton-Gillingham method, a multisensory approach for teaching struggling readers. Wilson was asked by school systems around Washington, D.C., and Roanoke to help train their teachers in this method. She headed summer camps at Ferrum College for children that needed help with reading and learning. Don Sutton of Roanoke College often called on Wilson to help struggling individuals. She continues to advocate for early recognition of learning differences and dyslexia in young children so that they may be given the tools to succeed in school and in life.