Industry Leaders and Entrepreneurs Spotlight
Whether leading a major corporation or starting their own business, the leadership skills of Roanoke College graduates are evident in a variety of settings.

Carol Bernick '85: Previously a partner at the Davis Wright Tremaine law firm, Bernick is now the CEO of the Oregon State Bar Professional Liability Fund. She also travels as a speaker on various topics such as harassment, FMLA, and investigations. Bernick counsels and trains employers on how to prevent such situations from arising in the workplace. Her numerous community service endeavors include providing pro bono representation to numerous nonprofits, participating in a number of Habitat for Humanity builds, and mentoring new lawyers. In 2013, she received the Peter Perlman Service Award from the Litigation Counsel of America for contributing "in meaningful ways to society...in an effort to improve the lives of others."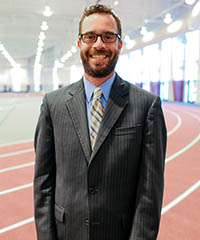 Joseph H. Carpenter, IV '99: An economics and political science major at Roanoke, Carpenter received his law degree from the University of Virginia in 2002. He is the general attorney and E-discovery counsel for Norfolk Southern Corporation. He is active in the Virginia Bar Association and served on its board of governors. As a student at Roanoke, he was very involved in campus life, and he continues his service to the College by serving on the College's board of trustees and as president of its alumni association.
Michener Chandlee '91: Chandlee is a global finance and strategy executive currently serving as vice president corporate audit and chief risk officer for Nike, Inc. He has been involved in the company since 2001. Prior to that, he held managerial finance positions for NACCO Materials handling Group and General Motors. He received his MBA in finance and strategy from the IESE Business School after earning his bachelors in international relations at Roanoke.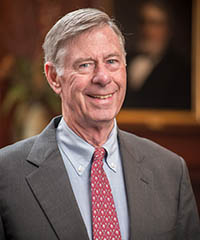 W. Morgan Churchman '65: Churchman serves as one of the trustees of the College and is the vice-president and chief financial officer of Agvant Solutions, a company that produces organic agricultural products. He previously served as the president of Central Atlantic Distributors, Inc., a wholesale HVAC company. Churchman has been an active member of his community, serving on various educational and non-profit boards.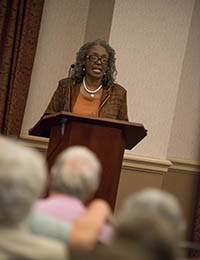 Dorothy Colom '74: Colom received her J.D. from the Antioch School of Law in 1978 and began her career as a staff attorney with North Mississippi Rural Legal Services. Subsequently, she joined Colom & Colom (now The Colom Law Firm). She practiced there for fourteen years, eight years of which she also served as the project director of a legal services program, Judicare of Mississippi, Inc. In 1987, she was appointed as a special youth court referee for Lowndes County, Mississippi. She is currently the senior judge for the Mississippi Fourteenth Chancery Court District.
Karen Consiglio '95: Consiglio earned two bachelor's degrees: a B.S. in physics from Roanoke and a B.S. in civil engineering from Virginia Tech. She is a senior project engineer for the Dulles Corridor Metrorail Project. She previously worked as the transportation program manager for the Virginia Department Transportation, as a manager for the Virginia Department of Rail and Public Transportation, and in various positions for the Florida Department of Transportation. She also is active with the Metropolitan Washington, D.C. Synod of the Evangelical Lutheran Church in America.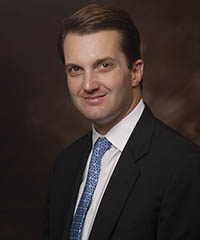 Malon W. Courts '92: Courts is currently the president and CEO of the Atlantic Investment Company, a family company established in 1936 that focuses on public and private equity investments as well as real estate. Courts, a business administration major, also is a managing partner, member of the investment committee and chief compliance officer at Colony Capital Management, LLC. He serves on the executive committee of the College's board of trustees and has served on boards for The Lovett School, the Atlanta Speech School and Atlanta Celebrates Photography.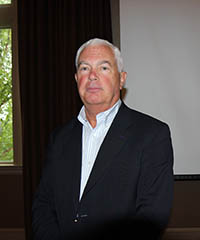 Tom Coyle '76: While at Roanoke, Coyle was senior class president and Student Senate member. A political science major, Coyle began his career as a police officer before serving as an NCIS special agent for 20 years. He enjoyed a distinguished career, serving in various capacities around the world and earning two Department of the Navy Meritorious Civilian Service Medals. He later spent ten years as a national security consultant supporting the Office of the Director of National Intelligence and the Office of the Secretary of Defense, including a tour as the security and counterintelligence advisor to the provost marshal general of the US Army. He also served as the special advisor for insider threat at the Defense Intelligence Agency's Office of Counterintelligence and Security and as counterintelligence advisor on the National Insider Threat Task Force in Washington, DC. He is the president and CEO of Talon Security Solutions, LLC, and the chief security office for BREAKWALL Technology. Coyle has served the College in numerous ways, including starting the Hampton Roads Alumni Chapter and serving as its first chair, and then later as chair of the Washington, D.C., chapter. Coyle was one of the early members of the Society of 1842 and currently serves on the President's Advisory Board.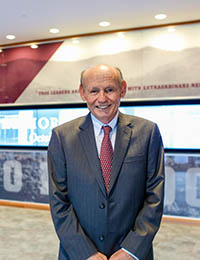 Morris Cregger '64: A basketball standout as a student, Cregger has used the lessons he learned on the court throughout his very successful business career. In 1978, he purchased the plumbing division of Kline Supply Company and founded the Cregger Company in West Columbia, South Carolina. Cregger continues as the owner and CEO, but the company now has almost 30 locations. He and he wife have generously supported both his and her alma maters. He joined the board of trustees at Roanoke in 1999 and has served as its chairman since 2011. The couple provided the lead gift for the Cregger Center campaign, as they believe that students learn self-discipline and teamwork through athletics.
Sigmund Davidson '43: A veteran of the U.S. Army, Davidson became the president of Davidsons, Inc., in Roanoke and served as the president of the Retail Men's Clothiers Association. He volunteered with the United Fund, Red Cross, Roanoke Valley Chamber of Commerce, Jaycees, Center in the Square and Downtown Roanoke, Inc. Davidson received the National Brotherhood Award for a "lifetime devotion to the ideal of the Brotherhood of man" from the Board of the National Conference of Christians and Jews. Davidson served for many years on the Roanoke College Board of Trustees.
Tom Field '88: Field is a business advocate for the Roanoke region. He worked for several Roanoke-based corporations as a marketing executive until starting his own business, Berryfield Incorporated, a marketing, advertising, and media firm that includes local business publishing as a flagship in its product and service offering. He managed the Blue Ridge Business Journal and then launched Valley Business FRONT, a monthly magazine publication serving the Roanoke Region and covering business in the 16-county area. Field serves on multiple boards and is particularly active in the advertising federation, technology council, and chambers throughout the area. Through Valley Business FRONT, Field has contributed generously to local nonprofit organizations. He was awarded the Perry F. Kendig Award for "Outstanding Literary Artist" by the Arts Council of the Blue Ridge in 2009.
Jack Fishwick '37: After graduating from Roanoke, Fishwick attended Harvard Law School, where he graduated in 1940 with an LL.B. He practiced law for two years before serving for three years in the U.S. Navy. He served in both the Pacific and Atlantic theaters and attained the rank of lieutenant colonel. Following his service, Fishwick joined the Norfolk & Western law department in 1945. He rose through the ranks from assistant to the general solicitor to vice president and general counsel. In 1972, he became the CEO of Norfolk and Western Railway Company and served with distinction until 1982. Fishwick was a member of the Virginia State Bar Association, the State bar and Kappa Alpha and Tau Kappa Alpha Fraternities. He also helped found Center in the Square and served as president of the Chamber of Commerce. He served on the board of trustees and from 1964-1972 and was a recipient of the Alumni Medal.
Ashley Gilliam '07: After receiving her B.A. in English at Roanoke, where she was inducted into Phi Beta Kappa, Gilliam earned her master's at Emerson College. Since then, she has been rising through the ranks of American publishing and currently works at Simon & Schuster as online marketing manager for its Scribner division. Previously, Gilliam was Scribner's publishing manager and an editorial assistant at Houghton Mifflin. In her present position, Gilliam manages social media campaigns and online ads, creates magazine content, provides and implements ideas for book promotions and serves as an editor.
Michael P. Haley '73: Haley is the managing partner at Fenway International, Inc., a New York-based private-equity investment firm. Prior to that, he served as CEO for MW Windows, a Fund I portfolio company. He led a successful turnaround of that company, creating a significantly larger and more profitable business. Before joining MW Windows, Haley was CEO of American of Martinsville and Lowenstein Furniture.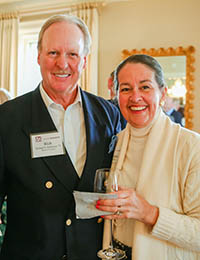 Richard S. Hathaway '73: Hathaway has served on the College's board of trustees since 2005. He was a business administration major and is a managing director for J.P. Morgan, where he has been employed since 2008. He was at Bear Stearns for 30 years prior to that. Hathaway works primarily with high net worth individuals, corporations, investment vehicles and businesses.
Richard Hite '54: A political science major, Hite served in the Navy for two years following graduation. Upon returning to Roanoke, he was appointed to work as the area's representative of the Savings Bond Division of the U.S. Treasury. He served in that position for five years before obtaining his broker's license and opening Hite-Thompson Realtors in 1991. Hite soon met Antonio Lopez, a Mexican immigrant who had moved to Roanoke with the dream of opening his own restaurant. Hite helped Lopez open the first El Rodeo restaurant in Roanoke, and Lopez opened the door for Hite's association with the Mexican culture. In 1992, Hite moved back to Virginia Beach, where he opened his first two Mexican restaurants. He eventually owned eight Mexican restaurants located in Virginia Beach, Richmond, Suffolk, Chesapeake and Fredericksburg. Not only did Richard Hite share his business success with the Mexican people, but his kindness and generosity were carried over in the many charities that he supported and through his generous support of education. At Roanoke College, Hite established three scholarships and also was a generous supporter of the annual fund, and a member of the Roanoke College Associates and the Society of 1842.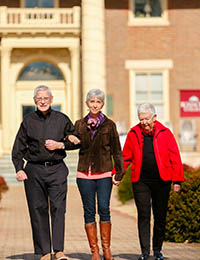 Peggy Fintel Horn '78: The daughter of the College's eighth president, Dr. Norman Fintel, Horn graduated with degrees in business administration and economics. She currently is a managing partner at Morneau Shepell SBC, Ltd., and previously was president of SBC Systems Company, Inc., director of global employee benefits at The Coca-Cola Company and a senior manager at Ernst and Young. She is on the College's board of trustees and has helped support a number of campus projects and fundraising campaigns.
Donald Kerr '60: During his time at Roanoke College, Kerr served as secretary and president of the Pi Kappa Phi fraternity. He set the Virginia State Tournament scoring record as a senior for soccer and led the College to the Virginia State Championship in 1957. He has since been inducted into the Athletic Hall of Fame and made possible the Kerr Stadium turf facility. His career included stints at various companies, but he retired as president and CEO of Crestar Foods in 1999 to form his own company, Kerr Industries, Inc., where he is currently president and CEO. On campus, he is known as "the sweet potato man" because of his generous donations of huge quantities of sweet potatoes to a prior campus service project, the "Potato Drop." He was a member of the board of trustees, is a member of the Society of 1842 and is a lifetime distinguished member of the Roanoke College Associates.
John E. Lang '72: While a student, Lang was a member of Roanoke's 1972 NCAA championship basketball tem. Today he is a business coach and the president and CEO of the Pinnacle Development Group, a real estate development company that specializes in high-end residential and mixed-use development. Lang led the company through its development of a $150 million premier residential community and country club project, Estancia. Its golf course was selected by Golf Digest as the best new private course in America. Prior to forming Pinnacle Development Group, Lang was president of Dixons Arizona Properties, a publicly traded $4.3 billion international retail firm based in London. A major project there was the successful $62 million Racquet Club at Scottsdale Ranch. He has been involved in real estate projects in several states and in Salzburg, Austria, and shared his expertise with a number of noted corporations as a consultant.
S. Lewis Lionberger '31: After attending Roanoke, Lionberger graduated from the University of Virginia with an engineering degree. One of the original surveyors of Skyline Drive, he took over and ran Lionberger Construction, which he established as one of the most respected and successful construction firms in the Roanoke Valley. His firm built numerous significant buildings in the valley, including Christ Lutheran Church, where Lionberger was a devoted member and trustee for many years. He served as chairman of the Roanoke Regional Redevelopment and Housing Authority and, in 1993, was named to the Southwest Virginia Junior Achievement Hall of Fame. However, his nominator said that his greatest legacy was "his integrity and his caring for others." A plaque dedicated to his memory is located in the study/meeting room named after him in the Fintel Library.
Clifton "Tim" Miller '93: When Miller graduated from Roanoke, he thought that he would pursue a career as a professional cyclist. However, he realized that he had skills to offer on the business side of the sports world, and his first job after graduation was with Medalist Sports, the Richmond-based sports marketing and event management firm that organized the Tour DuPont. Since then, he has led the development and production of numerous local, national and international events, including the 2015 Union Cycliste Internationale Road World Championships in Richmond, Virginia. In 2017, he became the director of business development at InProduction, a company that provides large-scale equipment rentals for sporting, entertainment and corporate event venues. He is based in Richmond, Virginia.
Nancy Mulheren '72: Mulheren is president and CEO of Rumson Management, a real estate management company that oversees the Mulheren family's businesses, including residential, commercial and retail properties in New Jersey. The family also has extensive holdings in Paint Bank, Virginia, including a working buffalo and Scottish Highlander cattle farm, a bed & breakfast, a restaurant, and an old-fashioned General Store. Mulheren has used her business success as a springboard into a life of significant philanthropy, generously donating time and money to numerous causes. She has taken a leading role in the "Stately Homes by the Sea Designer Show House," an event benefitting the Visiting Nurse Association of Central Jersey. She has served on the boards of the Canterbury School, Count Basie Theater, and J.A.M. Anonymous Foundation, and as president of Dakota Foundation, Inc. She has been on the board of trustees at Roanoke since 1985 and has been a major contributor to numerous campus projects and campaigns, including a $2.5 million dollar contribution in honor of her late husband, John Mulheren '71, which helped to build Caldwell and Ritter halls. Mulheren especially enjoys helping to upgrade and maintain Roanoke's beautiful grounds.
Josh Nazarian '00: An international relations major, Nazarian has been involved in the consulting and staffing industry since 2000. He is the co-founder and CEO of Principle Solutions Group, which became a $100+ million dollar firm and earned "Best Places to Work" awards in each city in which it operates. Nazarian is a two-time Entrepreneur of the Year award winner in Business to Business magazine's list of Top 25 Entrepreneurs in Metro Atlanta. In 2017, Principle Solutions Group merged with the Eliassen Group to become a U.S. Top 15 IT staffing and consulting firm. Based in Reading, Massachusetts, they have offices throughout the country. Nazarian is Eliassen's chief business development officer and he also is an active community volunteer, sharing his time with Habitat for Humanity, Crohn's and Colitis Foundation of America, and local youth football programs.
Randall Neely '91: Neely, who holds a business administration degree, is a successful entrepreneur and interior designer. He developed the very successful interior design firm, Joran's Interiors, which has served clients throughout the east coast region of the U.S. and beyond since 1993. Neely's design talent and business acumen have enabled him to make significant aesthetic contributions to numerous residential, commercial and academic settings, including Roanoke College. Neely is known and respected for his integrity, strong work ethic and his long-standing client relationships.
Andrew O'Keefe '80: A business administration major, O'Keefe is a successful entrepreneur. His business acumen was developed and honed in New York's financial district. He has been a securities broker for over 35 years and is currently the director, president, CEO and owner of First Broker's Securities, located in Jersey City, New Jersey, but serving six states. Over the past two decades, O'Keefe also has opened more than a dozen restaurants throughout the East Coast. A former member of the College's board of trustees, O'Keefe was inducted into the Roanoke Athletic Hall of Fame. He was a member of the 1978 NCAA College Division Championship lacrosse team and named an All-American player in 1979 and 1980.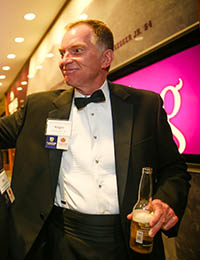 Roger Petersen '81: Petersen, a political science major, was the valedictorian of his Roanoke College class and went on to graduate from the University of Virginia's School of Law. He has worked for Norfolk Southern for over 30 years and currently serves as its general counsel for litigation. He has funded an endowed scholarship at Roanoke, chaired the Hampton Roads Alumni Chapter and served on the College's executive committee of the board of trustees.
Jay Piccola '74: Piccola had an impressive career in in the world of sports apparel. He gained experience with Converse, Diadora and Nike before becoming the vice president of sales at Pro Player, the sportswear division of Fruit of the Loom that specializes in officially-licensed sports apparel. Subsequently, he became the president of Puma's North America division, where he was responsible for all business activities in the U.S. and Canada, including growth, profit and loss, and brand positioning. Piccola retired after a 20-year career at Puma, but he continues to serve Puma as a non-executive director of the board. He is a 1980 inductee into the Roanoke Athletic Hall of Fame and was named to the College's all-century team for his outstanding collegiate basketball career, including helping to lead the Maroons to a win at the 1972 College Division NCAA Championship. He was drafted in the eighth round of the NBA draft by the New Orleans Jazz after graduation.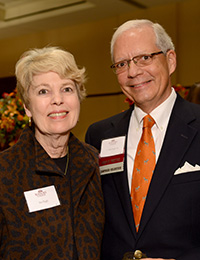 J. Tyler Pugh '70: A political science major at Roanoke, Pugh also attended the Graduate Center for Urban and Regional Studies at Virginia Tech and is a graduate of the Securities Industries Institute at the Wharton School, University of Pennsylvania. He is a retired managing director/investments manager of Wells Fargo Securities and is a managing member of Kebu, LLC, an investment property organization. Throughout the years, Pugh has given much to his community and served on numerous boards, including the College's board of trustees, Planned Parenthood Federation of America, Opera Roanoke and the Jefferson Center. He has served as director of the Guttmacher Institute, chairing the finance committee and serving on the executive committee.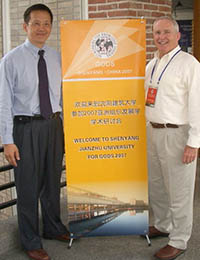 John. J. Scherer '62: Scherer has worn many hats during his career, starting with a magician's hat in high school. After graduating from Roanoke with history and philosophy degrees, he attended U.S. Naval Officer Candidate School and later served as combat officer aboard the USS Eaton in the Atlantic, Mediterranean and Caribbean Fleets. In 1966, after finishing his four-year Navy tour of duty, he earned his master's degree at Lutheran Theological Seminary in Columbia, South Carolina and subsequently served in street and campus ministry until 1973. After that period, his career became focused on leadership and executive development and, since 1982, he has been a consultant, author and speaker in that field. He is the founder and president of the Scherer Leadership Center and splits his time between Seattle, Washington, and Krakow, Poland. In 2007 Scherer was named one of America's Top 100 Thought Leaders for 2008.
John S. "Jack" Shannon '52: After graduating as valedictorian of his class at Roanoke, Shannon attended the University of Virginia Law School, where he earned his juris doctor degree and served as editor-in chief of the Virginia Law Review. He began his career with the Richmond law firm of Hunton, Williams, Gay, Moore and Powell before beginning his long career at Norfolk & Western as a solicitor. He spent 40 years with the railroad in various capacities before retiring from his position as executive vice president-law for Norfolk Southern in 1996. Shannon has been a strong supporter of civic organizations and served as president of the Legal Aid Society of Roanoke Valley and president of the board of trustees of North Cross School. He became a member of the College's board of trustees in 1974 and was appointed chair of the board's executive committee in 1978, where he served until 1982. He later served on many other committees of the board and, with his wife Betty, hosted receptions for Hampton Roads, Virginia, alumni.
Ed Steele '64: Steele graduated from Roanoke College with a degree in chemistry and earned his master's in business administration, management, at Adelphi University. He had a distinguished 30-year career with the Food and Drug Administration, beginning as a chemist and later working with the Center for Food Safety and Applied Nutrition. He also worked with the division of management systems in the office of commissioner, where he recommended organizational changes for the entire agency. This led to the formation of the Bureau for Foods and the Bureau for Drugs. After retiring from the FDA, he served as vice president of AAC Consulting Group and Kendle International. In 2006, he acquired a division from Kendle and founded EAS Consulting Group, LLC, where he serves as the chairman and chief executive officer. The company specializes in FDA regulatory matters, focusing primarily on assisting domestic and foreign pharmaceutical, medical device, tobacco, food, dietary supplement and cosmetic firms comply with applicable laws and regulations. EAS has consultants and auditors located throughout the U.S., Europe and Asia.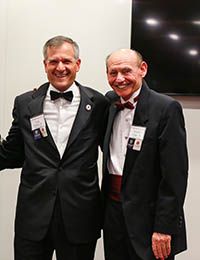 Tom Stevens '90: Two years after his graduation from Roanoke College, Stevens started his career in media at Turner Entertainment Networks. For nearly twenty years, he worked his way up through several positions with Turner in New York, Atlanta and Los Angeles. For the past five years, Stevens has been the senior vice president of ad sales of the NBC News Group and CNBC.
Charles "Cappy" Stults, III '73: A business administration major, Stults has spent over 40 years in the insurance industry. He is president of Allen & Stults Co., Inc., a family business that was founded by his great-grandfather in 1881. He has been very active in the Independent Insurance Agents & Brokers of New Jersey organization, serving a state president, New Jersey's director on the national board of directors, and as a member of the finance committee. In 2017, he was awarded the Woodworth Memorial Award by the IIAB of America, which is the organization's highest award and which recognizes "the meritorious and outstanding contributions of an independent agent or broker to the national association, to his or her...colleagues and to the insurance industry."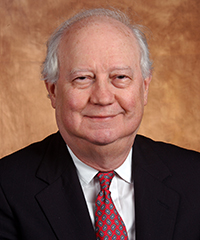 John Turbyfill '53: Turbyfill had a distinguished career in law and corporate management and was a long-time member and chair of the Roanoke College Board of Trustees. He earned a law degree in 1956 from the University of Virginia Law School. In 1960, he joined Roanoke-based Norfolk & Western Railway as assistant general attorney. He rose through the management ranks to become executive vice president/chief financial officer in 1975. In 1982, he became CFO for the newly merged Norfolk Southern Railway. He was named vice chairman of Norfolk Southern in 1993, a position he held until his retirement in 1996. Turbyfill was very active in civic affairs and served the College in numerous ways, including as president of the Alumni Association, chairman of the Annual Fund Leadership Campaign, charter member of the Society of 1842 and national chair of the College's Sesquicentennial Plan.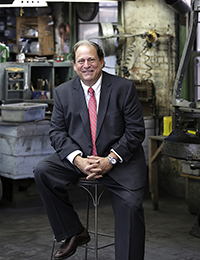 Andrew F. Ward '82: Ward is the owner, president and CEO of P.E. Guerin, a 158-year-old metal-working business that has been in his family for four generations. The business is the oldest decorative hardware businesses in the U.S. and the only metal foundry in New York City. Ward's work and that of his family can be found at the Library of Congress, the Biltmore Estate and the homes of Oprah Winfrey and Howard Stern.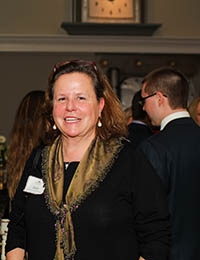 Helen Twohy Whittemore '80: Whittemore was the vice president and secretary of Capital Concrete, a business that has been in her family since 1951. Previously, she was the quality control inspector and project manager for Conrad Bros. and H&S Corp. She is a member of the board of trustees at the College.