Politics and Government Service Spotlight
Roanoke alumni have excelled at government service. From Henry Fowler, who served as Secretary of the Treasury, to longtime Congressman Rick Boucher and those who served at the local and state level, Roanoke graduates have made an impact. Richard Poff was instrumental in drafting the Twenty-fifth Amendment to the U.S. Constitution relating to succession to the Presidency in cases of death, disability, or removal. In Massachusetts, Bob Spellane was one of the first elected officials to support marriage equality in the Commonwealth of Massachusetts, eventually leading it to be the law of the land.
Douglas W. Ayres '53: Ayres was the former town clerk for Salem, Virginia, and served as city manager in Melbourne, Florida; Salem, Oregon; and Inglewood, California. Ayres also worked with the Public Administration Service, an international governmental consulting organization. In this position, he was the only person to assist in drawing up the constitutions for both Alaska and Hawaii upon their transitions into statehood. He advised on and wrote major portions of nine city charters, including Oak Ridge, Tennessee; Richland, Washington; and several cities in Venezuela. The College Avenue building that once housed the Salem municipal offices and now houses the College's Resource Development department, is named in honor of Ayres.

Rick Boucher '68: Boucher served as the U.S. Representative for Virginia's Ninth Congressional district from 1983 to 2011. A member of the Democratic Party, he is a native of Abingdon, Virginia, where he currently lives. He earned his B.A. from Roanoke College, where he was a member of Kappa Alpha Order fraternity, and received his law degree from the University of Virginia School of Law. He has practiced law on Wall Street, initially as an associate at Milbank Tweed in the firm's New York City office, and later in Virginia. Prior to his election to Congress, he served for seven years as a member of the Senate of Virginia. Boucher currently is a partner at the prominent Washington law firm Sidley Austin, where he leads the firm's government strategies practice.

Charles R. Brown 1910: Upon receiving his Ph.D. from Princeton University, he first taught at Carnegie Institute of Technology and Grove City College, before coming to the Roanoke College faculty in 1918. In 1920 he became the first dean of the College and served for nearly 20 years. He was a member of Salem Town Council for 12 years and served as mayor of Salem for four years. The Charles Brown Award recognizing someone who contributes to the quality of life in Salem is named in his honor.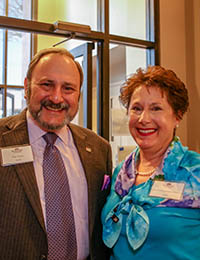 Raphael Ferris '76: A former prosecutor, Ferris is a trial attorney experienced in both the civil and criminal courts and is listed as one of the "Best Lawyers in America". He is named one of the Legal Elite among Criminal Defense Attorneys in Virginia by the Virginia Business Journal. Mr. Ferris belongs to the American Association for Justice, the Virginia Trial Lawyers Association, the National Association of Criminal Defense Attorneys and the Virginia Association of Criminal Defense Attorneys. He frequently lectures on criminal and traffic law for the VTLA and VSB. He served on the Board of Governors for the Criminal Law Section from 1998 until 2002. Ray is listed in Best Lawyers in America, and has been named as one of Virginia's Super Lawyers for four consecutive years by the publishers of Richmond Magazine.

Henry Fowler '29: After earning his B.A at Roanoke, Fowler obtained his LL.B. and J.S.D. degrees from Yale. Fowler's 12-year career in government started when he became the assistant general counsel with the Tennessee Valley Authority specializing in constitutional litigation. He soon took charge of important international cases, such as his special advisor position to Averill Harriman of the U.S. Mission for Economic Affairs in London, England, which coordinated Lend-Lease between the United States and Great Britain, and he served in a top legal capacity under General Lucius Clay in Germany. When he wasn't serving under Presidents Roosevelt and Truman, he worked for his own private law firm in Washington, D.C. In 1961, President John Kennedy appointed him Undersecretary of the Treasury. From 1965-1968, he served President Lyndon Johnson as Secretary of the Treasury, where he presided over the last balanced budget in recent American history. At the helm of one of the most important financial positions in the modern world, Henry Fowler appeared on the cover of Time magazine in September 1965. After leaving the Treasury, he became partner in the prestigious New York investment firm of Goldman, Sachs, and Company through the early 1980s. From 1977 through 1982, he also served as chairman of the Roanoke College Board of Trustees, where he was an active member continuously from 1954 until his death in 2000.

Diana Rossiter Harbison '02: Harbison graduated from Roanoke College with a Bachelor of Arts with a Major in Criminal Justice and a minor in Foreign Politics. She went on to study at the University of Denver, where she received a Master of Arts. She accepted a job as the country manager for South and Southeast Asia, working for the United States Trade and Development Agency. She rose within the company to become the director of the program evaluation office, and later the director of the program monitoring and evaluation office. During her time at Roanoke College, she was involved in the choir and the Model United Nations Club, and she stays connected to Roanoke as a Maroon Mentor for current Roanoke College students.

Matthew Holman '95: Holman earned a Ph.D at the Univeristy of Maryland, College Park, and worked for 15 years in public health service at the FDA. He was recently promoted to director of the Office of Science at FDA's Center for Tobacco Products, where he leads over 300 scientists in work to reduce death and disease caused by tobacco products. Dr. Holman served as director of the Division of Product Science within CTP's Office of Science for six years. In this position, he was involved research on tobacco products, resulting in numerous publications in peer-reviewed scientific journals. He served in a few positions within CDER, with his last position being deputy director of the Division of Nonprescription Regulation Development. In this role, he was involved in the publication of approximately 50 rulemakings, guidance documents, and other Federal Register notices.
R. Sagen Kime 1914: Serving as an attorney for the Salem municipal government for over 40 years, Kime also served the Salem Town Council as its official legal counsel from 1926-1981. He served as the third secretary of Roanoke College in 1931 and, in 1975, he was awarded the honorary Doctor of Laws degree by Roanoke College.

Hon. William H. Logan, Jr. '69: For 16 years, Logan served as district court judge for the 26th Judicial District's Juvenile and Domestic Relations District Court in Virginia. He heard his last case in March 2015 before retiring from the bench. Logan, who received his J.D. from the University of Richmond School of Law, now serves as a substitute judge. In 2015, he told a reporter this about something he once saw hanging in a courtroom in Harrisonburg, Virginia: "There's a big round sign that has three words: justice, wisdom, compassion. I think that probably emulated what we should do as a judge. You've got to have knowledge of the law, you've got to make sure justice is done but you also have to show compassion."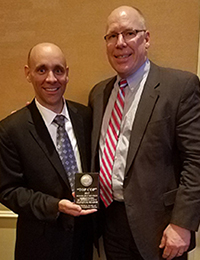 Stanley Meador '96: An FBI agent, Meador has been recognized with a national tribute award for law enforcement officers. He received a National Association of Police Organization "Top Cop" honorable mention award at a ceremony in Washington, D.C. Meador, the Supervisory Senior Resident Agent with the FBI in Wilmington, was recognized for his role in locating a girl who was abducted from her home in 2016. Meador played a crucial role in helping locate the 6-year-old, who was found alive chained to a tree in the woods. Just three days before finding the girl, Meador, who was battling colon cancer for a second time, had completed his 24th round of chemotherapy. On September 11, 2001, Meador, a then Virginia Alcohol Beverage Control Agent, responded to the Pentagon moments after the attack. He and a group of co-workers spent several days sifting through the post attack rubble. For their efforts, he and his fellow Agents received Declarations of Valor presented by then Virginia Governor James Gilmore.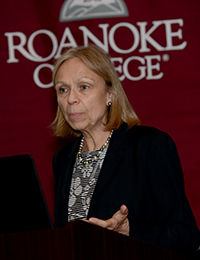 Patricia Flynn Moore '71: After graduating from Roanoke College with a Bachelor of Arts in French, Moore earned a juris doctorate degree from the University of Colorado at Boulder. She now works as an independent international legal expert and has worked in over thirty countries across Africa, Asia, Europe and Latin America. Moore has authored or co-authored five separate publications and has worked as a short-term consultant, as well as in long-term positions. Most recently, she has worked as an independent international legal expert in Bangkok, Thailand. Previously, she worked for the International Union for Conservation of Nature as the head of the Ecosystems and Livelihoods Group in Asia, as well as the Coordinator for the Regional Environmental Law Program.
William J. Paxton Jr. '53: Paxton served the town, and later the city, of Salem for 31 years, ending his career as city manager after serving as town clerk, administrative assistant to the town manager, and assistant town manager. In the years he served the citizens of Salem, the budget grew from $1 million to $50 million. Among significant accomplishments during his tenure: Salem's move from town to city in 1968; the planning, construction and opening of Salem High School; the planning and establishment of a new school system in 1983; the planning and construction of the Civic Center; the development of three shopping centers and four industrial parks. He influenced the planning and construction of Virginia's first energy recovery plant that brought national attention to Salem as a pioneer in the field of solid waste management. All told, Paxton administered and implemented more than $150 million in capital improvements for the City of Salem. Paxton was the first recipient of the College's Charles Brown Award, presented in 1997.

E. Dwight Phaup'68: E. Dwight Phaup was a longtime and honored professor of economics at Union College in Schenectady, N.Y., who took his knowledge and skills beyond the classroom and into the public service arena. Phaup joined the Union faculty in 1972 after earning a bachelor's degree in economics at Roanoke and a Ph.D. in economics from the University of Virginia. He served as Economics Department chair at Union from 1981 to 1985. In 1986, he was named to the distinguished Chauncey H. Winters Professor of Economic Thought at Union. He was a frequent witness at Congressional hearings, called upon to refute inflated claims by international financial organizations such as the World Bank and the Export-Import Bank of the United States. He also was a consultant to commercial banks, the Congressional Research Service of the Library of Congress, local governments and other entities. In 1989, Phaup took a year's leave of absence from Union to serve as director of the Planning and Economic Analysis Staff at the U.S. Department of State. In 1990, he returned to teaching at Union, but he died on Sept. 26, 1990 at the age of 44. Phaup was the brother of Dr. Marvin Phaup. Jr. '62, a former economics professor at Roanoke, who currently is a research scholar and lecturer in the Trachtenberg School of Public Policy and Public Administration at George Washington University.
Marvin M. Phaup, Jr. '62: A Fulbright scholar who received his Ph.D. from the University of Virginia in 1966, Phaup taught at Roanoke for two years before he became a lecturer at the University of Lancaster in England. He later served as a senior economist at the Federal Reserve Bank of Cleveland for six years and in numerous positions in the U. S. Congressional Budget Office for 31 years. From 2009-2010, he was the Director, Federal Budget Reform Initiative for The Pew Charitable Trusts, having previously served the organization in an advisory capacity. Phaup is the other of many publications. He was awarded the National Distinguished Service Award in 1995 and was recognized by the College as a Sesquicentennial Distinguished Alumnus in 1992 and as a Medalist in 2009. He currently is a research scholar and lecturer in the Trachtenberg School of Public Policy and Public Administration at George Washington University. Marvin Phaup is the brother of E. Dwight Phaup.
Hon. Richard H. Poff '45: The Honorable Richard H. Poff was a member of Congress and a senior justice of the Virginia Supreme Court. After graduating from Roanoke, he was a bomber pilot in World War II, completing 35 missions and earning several military honors. He then enrolled in the University of Virginia Law School, where he graduated in 1948 and began the practice of law in Radford. In 1952, at age 29, he was elected representative of the Sixth District of Virginia to the 83rd Congress. He served ten terms in the House, where he was the second-ranking Republican member of the powerful judiciary committee and first-ranking member of two subcommittees. He was chairman of the House Republican Task Force on Crime and was named vice-chairman of the Presidential Commission on Reform and Revision of Federal Criminal Statutes. He was elected as the only Southerner and the youngest man ever named secretary of the Republican Conference in the House. Poff was instrumental in drafting both the Twenty-fifth Amendment to the U.S. Constitution relating to succession to the Presidency in cases of death, disability, or removal and the Racketeer Influenced and Corrupt Organizations (RICO) Act. In 1972, he was appointed to the Virginia Supreme Court and served there until his retirement in 1988. The Richard H. Poff Federal Building in Roanoke is named for him.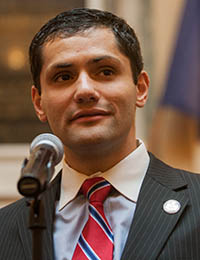 Sam Rasoul '02: Delegate Rasoul (D-Roanoke) '02, was elected to the Virginia House of Delegates in January 2014. Rasoul, the only Muslim member of the Virginia General Assembly, represents the 11th District, which is made up of part of the City of Roanoke. He served as class president during his junior year at Roanoke. "I never thought about running for public office," he says, "never took a political science class, but my professors gave me a very well-rounded liberal arts education that has allowed me to take a holistic view of the world around me."

Ambassador Gil A. Robinson '50: In 1959, he was consultant to the director of the Peace Corps and then coordinator of the American National Exhibition in Moscow. In 1978 he was the Chairman of the New York Board of Trade, he led the country's first business delegation to China. He was appointed key positions for the Pres. Eisenhower administration and Ronald Reagan. He was named Ambassador-at-Large in 1983. Chairman of the Corporations to End World Hunger, he was also honored the College's Sesquicentennial Distinguished Alumni Award in 1992 and is a member of the Society of 1842.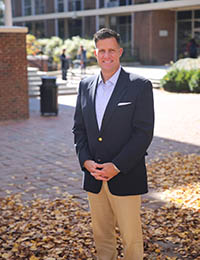 Hon. Robert P. Spellane '92: Robert Spellane served as a Democratic member of the Massachusetts House of Representatives, representing the 13th Worcester from 2001-2011. Spellane, who has worked as a mortgage broker and vice president of sales, is a member of the Worcester Democratic City Committee; Alliance for Education; Central Massachusetts Housing Alliance Board of Directors; Junior Achievement Board of Directors; Knights of Columbus; Public Policy Committee, Chamber of Commerce, among other organizations. Said his nominator for Maroon Spotlight: "Rep. Spellane was one of the first elected officials to support marriage equality in the Commonwealth of Massachusetts, eventually leading it to be the law of our land. As vicechair of Financial Services, Spellane personally worked with then-Governor Romney and his inner staff on mass. Health Care Reform, which served as the blueprint for the federal Affordable Care Act of 2010."
Rose Stephens-Booker '08: Stephens-Booker's student internship with the U.S. Environmental Protection Agency eventually led to her current position as the EPA's ENERGY STAR appliances and consumer electronics program manager. After graduating from Roanoke with a degree in environmental policy, she served for three years as an analyst with The Cadmus Group's marketing and media team, which provided services to the ENERGY STAR program. She has been with the EPA since 2011, working to market ENERGY STAR products and to educate consumers about best practices and products as relates to energy efficient appliances and electronics.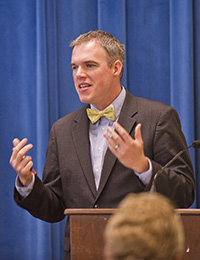 Andrew Sturmfels '05: Sturmfels is deputy director - legislative affairs, for the California Department of General Services, a position he has held since 2016. Sturmfels had served as deputy director of legislative and intergovernmental affairs in the Governor's Office of Business and Economic Development (GO-Biz) since 2014. He was a senior permit assistance specialist at GO-Biz from 2013 to 2014. Prior to that, Sturmfels was manager of planning and performance management at the California Department of Toxic Substances Control from 2011 to 2013. Before starting his public service career, Sturmfels served on the leadership teams for Larkspur Hotels and Restaurants and the San Francisco Marriott Marquis. Andrew holds a B.A. in political science from Roanoke and a Master of Public Policy and Administration degree from California State University, Sacramento. Sturmfels and his family live in West Sacramento, where he also serves as a Planning Commissioner.
Rodney L. Whitlock '87: Whitlock is vice president, health policy for the Washington, D.C. office of ML Strategies, a subsidiary of the Mintz Levin law firm. Whitlock is a veteran health care policy professional with more than 20 years of experience working with U.S. Congress, where he served as health policy advisor and as acting health policy director for Finance Committee Chairman Sen. Chuck Grassley of Iowa and, earlier, on the staff of former U.S. Rep. Charlie Norwood of Georgia. During his years with Rep. Norwood, Whitlock managed the Patients' Bill of Rights, which passed the House in 1999 and 2001. In February 2005, Whitlock left the office of Congressman Norwood to join the Finance Committee Staff as a health policy advisor to Chairman Grassley. In that capacity, he was lead Senate staffer for the Medicaid provisions of the Deficit Reduction Act of 2005 and the Tax Relief and Health Care Act of 2006. In 2007, Rodney worked on the Children's Health Insurance Program (CHIP) Reauthorization Act, which passed Congress twice and was subsequently vetoed twice by President George W. Bush. Whitlock spent 2009 and 2010 deeply engaged in health care reform legislation. Late in 2010, he became the Acting Health Policy Director for Sen. Grassley, and shepherded the Medicare and Medicaid Extenders Act of 2010 into law. Following his tenure in Senator Grassley's Congressional office, Whitlock served as Health Policy Director in the Senator's personal office.
Hon. Ian R.D. Williams '69: In 2015, Williams was appointed by the General Assembly to serve as Frederick County General District Court Judge. Prior to his appointment, Williams had served as a substitute district court judge since 2004 and partner with the Harrison & Johnston law firm from 1989 to 2015. Williams, who served on the Westmoreland County Board of Supervisors from 1979 to 1988, earned a law degree from the University of Richmond in 1974.