Many accomplished scientist have graduated from Roanoke College. Several were nominated for the Maroon Spotlight. The list below is just a sampling of the Roanoke science graduates who have gone on to become inventors, researchers, science educators, health care providers, authors and more. Alumni are listed in alphabetical order.
Today, science majors typically make up about a third of Roanoke's graduating class. As the College embarks on an ambitious new science center project, we can expect even more from Roanoke science graduates in the future.
Christina Abraham '97: After graduating summa cum laude from Roanoke College, Abraham earned a medical degree from Eastern Virginia Medical School. She has been practicing medicine in the Roanoke Valley since 2001 and has been named as one of the top allergists by The Roanoker magazine and has been listed as one of the top doctors in the Roanoke Valley with the best bedside manner by Our Health magazine. She publishes and lectures and has taught medical students and residents.
Craig Bayse '94: Bayse received a Ph.D. in Chemistry from Texas A&M and is a professor of chemistry and biochemistry at Old Dominion University. He has published over 70 peer-reviewed articles and received numerous research grants from the NIH and NSF. Bayse's research has focused on understanding elements in the body. He also has done extensive work mentoring undergrads for success in grad school and was recognized in 2015 with an award from the ODU College of Sciences for this service.
Christopher Berndsen '03: Berndsen received his doctorate in biomolecular chemistry at the University of Wisconsin. He has been involved in research at Wisconsin, Johns Hopkins and the Howard Hughes Medical Institute. Berndsen has published his work frequently, and since 2012 has been an assistant professor of chemistry and biochemistry at James Madison University.
G. Howland Blackiston '73: Blackiston is the owner of a branding, design, and retail consulting firm, King-Casey, but his scientific interest focuses on bees. He's been keeping bees since 1981 and written many articles and books on beekeeping, including Beekeeping for Dummies and Building Beehives for Dummies. He has appeared on CNBC, CNN, NPR, The Discovery Channel, and Sirius Satellite Radio. He is a frequent speaker at garden clubs and nature centers around the USA and is the past president of the Back Yard Beekeepers Association.
David "Biv" Bonham '82: Bonham is a principal with Kacvinsky Daisak Bluni PLLC, concentrating on patent matters. He earned the JD at the Georgetown University Law Center and he has Ph.D. and masters degrees in Chemical Engineering from the University of Virginia, with research topics in the areas of semiconductors and bioengineering, respectively. His research has been published in the American Institute of Chemical Engineers Journal, Biotechnology and Bioengineering, and the Journal of the Electrochemical Society.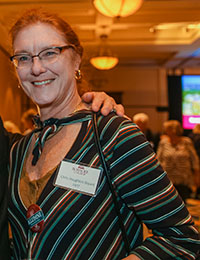 Chris Bryant '77: Bryant is a chemist and forensic scientist at the Virginia Dept. of Forensic Science in Roanoke. She performs forensic analyses on evidence, testifies in court, trains new forensic chemists, and coordinates with other divisions of the DFS.





Noel Burkhead '73: Burkhead co-authored Freshwater Fishes of Virginia with fellow alumni Dr. Robert Jenkins. He was a research fish biologist and is a scientist emeritus with the U.S. Geological Survey Wetland and Aquatic Research Center in Gainesville, Florida. He has published many research articles.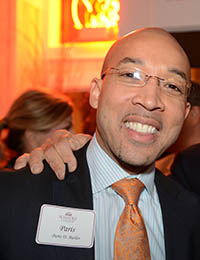 Paris Butler, M.D. '00: Butler graduated from RC with a double major in biology and sociology. He was also a member of the men's basketball team, where he held the record for 3-point shots. He attended med school at UVA, where he also did his residency. Butler took a post-doctoral fellowship at Stanford and also earned an MPH from UC Berkeley. He is now an assistant professor of plastic surgery at the University of Pennsylvania Hospital. Butler serves on the Roanoke College Board of Trustees.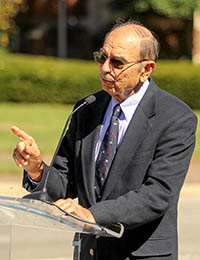 Paul Capp '52: Dedicated to sports at Roanoke, he was named the College Athlete of the year in 1951 and later was the charter member of the Athletic Hall of Fame in 1971. After graduating, Capp signed a professional baseball contract with the Boston Braves playing for the Welsh West Virginia Miners. He then chose to pursue medical school, serving as associate professor, chief of pediatric and cardiac radiology, and vice-chair of the Duke Department of Radiology. He received three gold medals from the Association of University Radiologists. Capp served as chair of the Department of Radiology at University of Arizona for 23 years. Capp is a member of the Roanoke College Board of Trustees and is member of the Society of 1842.


Tim Carlson '86: Carlson is drug metabolism and pharmacokinetic (DMRK) scientist with extensive experience in drug discovery, lead optimization, and preclinical development. He is the senior director of DMRK with MyoKardia, Inc., in San Francisco. The company is pioneering a precision medicine approach to discover, develop and commercialize targeted therapies for the treatment of serious and neglected rare cardiovascular diseases.
Diane Catley '81: Catley received her master's degree in forensic science from George Washington University and works as a supervisor at the Virginia Department of Forensic Science in Roanoke. She served as an instructor for the Virginia Institute of Forensic Science and Medicine and an instructor of Forensic Chemistry at Radford University for several years.
Chip Cody '75: Cody is the development manager at Jeol USA, Incorporated, and co-inventor of the Direct Analysis in Real Time ion source (DART), which is used to help analyze drugs and other trace evidence in criminal cases. It's also been used by NASA to analyze particles on space debris.
Mark Davies '78: Davies received his D.D.S. from Howard University and has been a practicing dentist in Maryland for nearly 20 years. He is an Academy of General Dentistry fellow.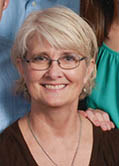 Lisa Wilson Farthing '84: Farthing received her doctorate in veterinary medicine at the Virginia/Maryland Veterinary College, graduating with honors in 1988. She has been a practicing vet at the Brandon Animal Hospital for 29 years. Farthing served as president of the Virginia Academy of Small Animal Medicine and was on the founding board of the Roanoke Valley Emergency Veterinarian Clinic, where she is now an owner. She excels in horsemanship and teaches riding and knowledge courses to young riders.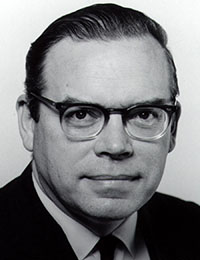 Carl Gottschalk '42: Gottschalk, a biology major from Roanoke, graduated in 1945 from the University of Virginia School of Medicine. He was the recipient of a research fellowship with the Harvard University laboratory of Dr. Eugene Landis and established his own research lab in 1952 at the University of North Carolina School of Medicine.
Gottschalk was a kidney physiologist whose experimental research shed light on how our kidneys work to control the status of body fluids and how they impact the function of other physiological processes. His work was important to public health, working to make dialysis treatment widely available to individuals suffering from kidney disease.
For all of his efforts, Gottschalk was awarded the first Berliner Award for Excellence in Renal Physiology, granted an honorary doctorate from Roanoke College in 1966 and was recognized as the Sesquicentennial Distinguished Alumnus for Roanoke College in 1992.
Joseph Hall '77: Hall holds a Ph.D. in chemistry and serves as the director of the Dept. of Chemistry at Norfolk State University, as well past Vice President of Research and Economic Development. His scientific research led to the discovery of a protein in sperm cells which controls their ability to attach to the egg wall, as well as a complex sugar which temporarily blocks that protein, making way for the development of a male birth control pill. His research has brought millions of dollars of NIH funding to Norfolk State, a historically black college.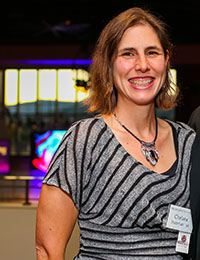 Chelsea Hamman, M.D. '98: Hamman earned a medical degree at UNC Chapel Hill School Of Medicine in 2003 and is a family medicine doctor with Smyth County Family Physicians in Marion, Virginia.






Burt Hollandsworth '99: Hollandsworth received his Ph.D. in chemistry from Ohio State University. He has been an associate professor at Harding University and is a visiting assistant professor at the University of Central Arkansas. His teaching specialty is advanced inorganic chemistry.
Samantha Hoopes '08: Samantha Hoopes, Ph.D. is a research scientist with expertise in cell and molecular physiology, vascular biology, and animal models. She works as an Integrated Product Development Associate at Rho, Inc., a contract research organization. She is involved in clinical product development and regulatory affairs and has been published in numerous scientific journals. She completed a fellowship at the National Institute of Environmental Health Sciences.
Bob Jenkins '61: A vertebrate zoologist with expertise in ichthyology, Jenkins is a professor emeritus at Roanoke College. Among his writings, he co-authored Freshwater Fishes of Virginia with fellow Roanoke graduate Noel Burkhead. As a student, Jenkins was involved in cross country and track and field and was inducted into the Roanoke College Athletic Hall of Fame in 1980.
Kim Lane '98: Lane received her Ph.D. in biochemistry from Duke University and is an associate chemistry professor at Radford University. In March 2017, she co-directed the Blue Ridge Highlands Regional Science Fair.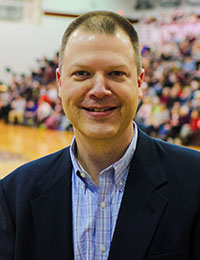 Jon Maher '97: Maher earned his medical degree from Jefferson Medical College in Philadelphia and completed an internship and residency at Naval Medical Portsmouth and a fellowship at New England Baptist Hospital. He subsequently served for 14 years in the U.S. Navy, providing medical and surgical care for Marines and Navy SEAL teams. Maher also served as a team physician for the Boston Celtics and for the Harvard University athletic programs. Most recently, he was selected as the team physician for the Virginia Tech Corps of Cadets. He currently works as a Sports Medicine Orthopaedic Surgeon at Carilion Clinic in Blacksburg.


Dawn Manjoney '80: Manjoney received her medical degree from the Medical College of Virginia after majoring in chemistry at Roanoke. She is an internal medicine physician specializing in cardiology, practicing for over 28 years. Manjoney has completed several fellowships in cardiovascular disease at UNC Chapel Hill, Duke University and St. Vincent's Medical Center.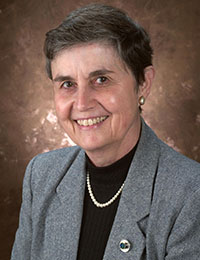 Bettie Sue Siler Masters '59: Masters came to Roanoke College after winning a scholarship from the Westinghouse Science Talent Search. Another college refused to honor a science scholarship for a woman so she came to Roanoke instead where she was a double major in biology and chemistry. Masters earned a Ph.D. in biochemistry from Duke University. Masters accepted her first faculty position in the Department of Biochemistry at The University of Texas Southwestern Medical School in Dallas in 1968. In 1982, she moved to the Medical College of Wisconsin, where she held the distinction of being the first female chair of a biochemistry department in the nation. She returned to Texas as the first Robert A. Welch Distinguished Chair at the University of Texas Health Science Center at San Antonio.
Roanoke College awarded her an Honorary Degree of Doctor of Science in 1983. In 2005, Charles University in Prague, Czech Republic honored Masters with Doctorem Medicinae Honoris Causae (Honorary M.D.) In 1996, she was elected to the Institute of Medicine, National Academy of Sciences.
Masters' research interests include a class of intracellular, membrane‐bound enzymes involved in the metabolism of therapeutic drugs, cancer‐causing agents, and hormonal mediators within organs such as the liver, kidney, and lung. Masters later studies focused on determining the structure and function of the nitric oxide synthases, which produce nitric oxide in various organs for mediation of neural signaling, dilation of blood vessels, or killing of foreign cells such as tumors and bacterial or fungal agents. Continuously funded by NIH throughout her 50‐year career, her NIH grant awards totaled over $17.6 million.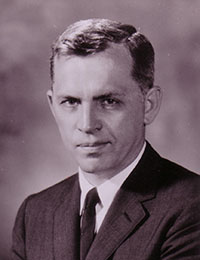 Vernon Mountcastle '38: Mountcastle earned a baccalaureate degree in chemistry from Roanoke College and graduated from Johns Hopkins Medical School in 1942. During World War II, he served as physician-in-charge of an orthopedic ward at a field hospital in the Atlas Mountains and later served aboard several landing ship tanks.
In 1948, Mountcastle joined the Johns Hopkins faculty, serving as director of the Department of Physiology and as head of the Philip Bard Laboratories of Neurophysiology at Hopkins from 1963 to 1980. He chaired the Department of Neuroscience at Johns Hopkins and was central to the establishment of Hopkins' Zanvyl Krieger Mind/Brain Institute.
Mountcastle's discovery of how nerve cells in the cerebral cortex are arranged in vertical columns, and that this arrangement directly relates to their collective function in processing sensory information was published in a classic 1957 paper.
Mountcastle was elected to the National Academy of Sciences in 1966. In 1978, he was awarded the Louisa Gross Horwitz Prize from Columbia University together with David Hubel and Torsten Wiesel, both of whom would later receive the Nobel Prize in Physiology or Medicine. In 1981, Mountcastle became a founding member of the World Cultural Council. He received the United States National Medal of Science in 1986. In 1998 Mountcastle was awarded the NAS Award in the Neurosciences from the National Academy of Sciences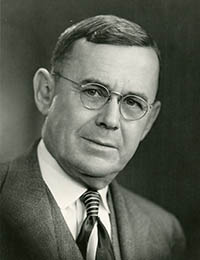 Theophilus Painter, 1908: Painter earned his doctorate at Yale University, where he returned to teach zoology for a few years before accepting a position at the University of Texas in Austin. He spent the rest of his career there, including serving for eight years as the university's president. However, he worked on the structure and function of chromosomes, especially the sex-determination genes X and Y in humans. Painter was a recipient of the National Academy of Sciences' Daniel Giraud Elliot Medal in 1934.



Michael Patrick '78: Patrick is an internal medicine physician. In 2008, he affiliated with Smyth County Community Hospital, where he assisted in building a full-time hospitalist program and developing a new inpatient rehab program. He served as medical director for both programs. In 2014 he was awarded the Servant's Heart Award, Mountain States Health Alliance's highest honor, for modeling the philosophy of patient-centered care.
Elgin Perry '74: Perry is a statistics consultant with Mogee Research & Analysis where he provides research design and data analysis expertise. Previously, Perry held positions with the Academy of Natural Sciences of Philadelphia (now the Academy of Natural Sciences of Drexel University) and the University of Maryland. He is a member of the American Statistical Association (ASA) and the Biometrics Society.
Christopher Rhodes '94: Rhodes earned his Ph.D. in chemistry from UVA and his J.D. from Suffolk University Law School. He is an Intellectual property attorney at Rhodes Donahoe, P.C.
Jen Runyon '00: Runyon majored in chemistry at Roanoke. After receiving the bachelor of science, she earned a masters degree in international relations from George Washington University. Runyon was a research associate in chemical and biological arms control and went on to become the director of the International Council for the Life Sciences. She is now the vice president of The American Beer Company in Meadow Bluff, West Virginia.
Tom Rutherford, M.D. '76: Rutherford is a nationally recognized gynecologic oncologist and an expert in ovarian cancer treatment and research. He leads the University of South Florida's Gynecologic Oncology Division at the USF Health Morsani College of Medicine Department of Obstetrics and Gynecology. Previously, he was a professor and division director of gynecologic oncology and director of the gynecologic oncology fellowship at Yale University School of Medicine and the network physician director of cancer services for the Western Connecticut Health Network.
Russ Schmehl '76: Schmehl earned his Ph.D. at the University of Carolina and is currently a chemistry professor at Tulane University. His areas of interest are photochemistry, materials, and transition metal chemistry as related to renewable energy resources.
Peggy Soublo '08: Soublo works for Agilent Technologies as a team leader field service engineer in the Capital District in and around D.C. Agilent provides laboratories worldwide with instruments, services, consumables, applications and expertise.
Norman Uhl '57: Uhl spent most of his professional life as an educator, but in his early career he worked as an electronic engineer with the National Security Agency, during which time he developed a system to intercept auditory and visual signals from the Sputnik satellite. He and three other engineers under his direction completed this project in just 90 days-as daunting task that many thought impossible. Uhl was just 25 at the time and was offered a promotion to a grade of GS 14, which he declined to accept a three-year fellowship to the University of Maryland, though he remained a consultant to the NSA for three more years.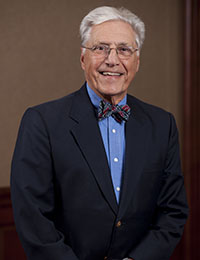 Dr. Munsey Wheby '51: Wheby is an Emeritus Professor of Medicine with the University of Virginia Health System, where he also served as chair of medicine and senior associate dean. A noted authority on blood diseases and nutrition, he has won many distinguished awards for his teaching at the University of Virginia, including the Walter Reed Distinguished Achievement Award in 1999. He was also active in the American College of Physicians, where his service included terms as president.



Ken Whitmire '77: Whitmire earned his masters and Ph.D. in chemistry from Northwestern University and currently is a chemistry professor at Rice University and associate dean for academic affairs of the Wiess School of Natural Sciences. His research and teaching experience includes work at the University of Göttingen, Germany, and a collaboration at the Université de Rennes, France. He was a visiting professor at the Université de Rennes in 1990 and again in 2000 and at the Korea University in 2007. He served as an associate editor for the American Chemical Society journal Organometallics from 1996 through 2007 and has also served as chair for the Greater Houston Section of the American Chemical Society.
Beulah C. Wood '40: Bea Wood graduated from Roanoke College in 1940 with a B.S. in chemistry. Wood was a distinct minority as a female science major at Roanoke College in the late 1930s and early 1940s. Wood went on to work for American Viscose Corporation in Roanoke before embarking on a 40+ year career with Union Carbide Corporation in Charleston, WV, New York City and Tarrytown, NY.

Carroll Wood '41: Wood received the M.S. degree at the University of North Carolina, University of Michigan and Harvard. He joined the staff of the Arnold Arboretum at Harvard in 1954 and devoted most of his activities to research of the classification and evolution of flowering plants. Wood served on two international committees to name plants. He was an editor of the Journal of the Arnold Arboretum, a member of the Harvard faculty of arts and sciences and was a lecturer on biology.
Edward Zovinka '87: Zovinka is a professor of inorganic chemistry at Saint Francis University. He completed his doctorate at the University of California at Davis. He is the founder and director of Rural Outreach Chemistry for Kids (R.O.C.K), a volunteer organization that provides local schools and youth organizations with the opportunity to experience chemistry in real life situations.