The Roanoke graduates nominated in the Young Alumni category are already off to a great start in their careers. This is just a few of the fantastic careers Roanoke graduates are exploring today.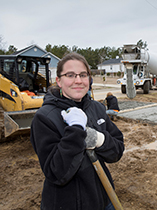 Talisha Beha '12: Beha has been involved in Habitat Humanity as a volunteer with the AmeriCorps VISTA program. She has managed volunteer projects and operations for multiple Habitat for Humanity entities and is incredibly passionate about empowering people through her nonprofit work. She previously served as the president of Habitat for Humanity at Roanoke College.



Chase Bourdelaise '08: Bourdelaise is an entrepreneur and inventor, and he is currently the managing director of research and analytics at Transwestern Consulting Group and the CEO for Fiesta Five, a novelty party and event item that blasts confetti from your hands whenever you give a high-five. With a special interest in automation, efficiency, and big data, he enjoys taking the lead and managing projects.
Lauren Byrnes '12: Byrnes is involved in strategic planning as an analyst for NBC Universal Media in New York City. She began her career with NBC Universal in 2013 as an ad sales assistant before rising quickly through the company to her current position.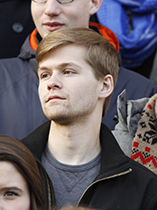 Geoffrey Cole '16: Cole is an internet security expert for Chick-Fil-A, Inc. and has a background in Microsoft information systems. He is dedicated to making ties between his company and Roanoke College in order to obtain future Roanoke graduates as interns and employees. Cole recently began his own clothing company, "The Everyman Brand," which aims to provide high quality clothing to customers at lower prices.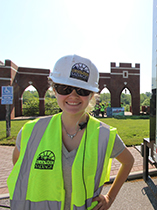 Meagan Cole '13: When Cole discovered her passion for video production, Roanoke did not yet offer a screen studies program. She would be one of the last students to tailor her theatre arts degree for her desired career. Days after graduation, she received her first job offer as a production assistant for local reality television series, Salvage Dawgs. Since then, she has been credited with over 20 freelance productions and received recognition in Production Link Atlanta's 2014 Rising Star Showcase, an honor awarded to a recent college student or graduate with connections to Atlanta and an impressive three-minute demo reel and showcased as "the next best upcoming specialist in the field." Now, she is a full-time producer at Bclip Productions in Asheville, North Carolina, and is realizing her dream.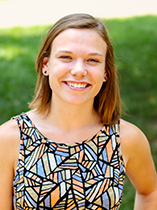 Hannah Cline Curtis '15: Curtis is a public relations specialist for Carilion Clinic in Roanoke. She and Roanoke graduate Chris Turnbull '00 received the Silver Anvil, a national award from the Public Relations Society of America, for their work in crisis communications for their team's quick, effective response to the on-air shooting of two WDBJ-7 television journalists. Curtis worked with media and families to release information about patient conditions, in addition to dispatching psychiatrists to discuss workplace violence and other topics. She has worked for several organizations, contributing written work for everything from news blogs and feature stories to nonprofit donation campaigns and local business branding.
Adam Fariss '07: Fariss is part of a father-son alumni team that has opened a winery, Fariss Farms/Iron Heart Winery. Both he and his father, Bruce '57, grew up on the property. Fariss Farms has been open for approximately four years and offers vacation cabin rentals and a wedding venue. They also sell grapes commercially. Fariss works full-time for Volvo in Dublin in a business executive capacity; he and his father started the winery as a side project.
Brandi Milewski '11: Milewski serves as a national sales recruitment team lead at Total Quality Logistics ("TQL"). Recently ranked as the #1 Best Place to Work in Charlotte, Milewski recruits highly motivated individuals who are passionate about sales and welcome a challenge. She has been recognized by her company as top talent, and she supervises a team of recruiters. In addition to achieving great success professionally, Milewski serves on the leadership team of the Roanoke College Charlotte Alumni Chapter. She has devoted her time to developing relationships with other Charlotte Roanoke College alumni and increasing donor retention rates for the college. In her position with TQL, she has recruited and hired several Roanoke College recent graduates and has helped many recent graduates transition from Roanoke to a working environment through her mentoring efforts.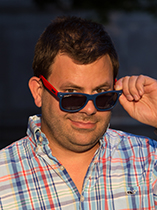 Tyler Puckett '05: Puckett, who has lost, dropped or stepped on at least 10 pairs of sunglasses, each valued at more than $100, turned his frustration into a money-making avocation. He is one of three entrepreneurs behind Fed Thrill, a business that creates and sells polarized sunglasses. The shades come in numerous styles, from aviators to the ever-popular tortoiseshells. He currently is the director of membership sales at Dominion Valley Country Club and has previously worked as an account executive of membership sales for the Washington Nationals.
Adam Skaff '12: Skaff recently completed medical school at West Virginia University and holds a B.S. in biochemistry from Roanoke College. He is currently serving a pediatric residency at the University of Virginia in Charlottesville.
Hannah Updike '11: Updike currently works as the development associate for the Virginia League for Planned Parenthood (VLPP). She recently founded the VLPP Young Professional's Council. Updike is in charge of grants, reports, special events and donor cultivation. She serves as vice chair of the Young Women's Leadership Alliance, Richmond's YWCA young professionals' board. She is a leader and project committee member with the RVA Urban Farm Project with Tricycle Gardens, a part of HandsOn Greater Richmond. Updike also is a Virginia Master Naturalist - a citizen scientist and volunteer educator, working to conserve and manage Virginia's natural resources and public lands.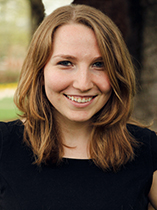 Zahava Urecki '16: Urecki is Roanoke College's first recipient of the Harry S. Truman Award. Throughout her college career, Urecki worked many summers for United States Senator Joe Manchin (D-WV). She worked in his office as part of the Lutheran College Washington Semester and continued to work in his office after graduation. Today she is a legislative correspondent for Sen. Manchin's office. Her passion to ensure the wellbeing of her fellow West Virginians shines through every aspect of her life.

Paul Wagner '08: Wagner is currently a digital advertising executive for the collegiate sports marketing firm IMG College. He is also the co-inventor, with Chase Bourdelaise '08, of the product Fiesta Five, which is a novelty party and event item that blasts confetti from your hands whenever you give a high-five.